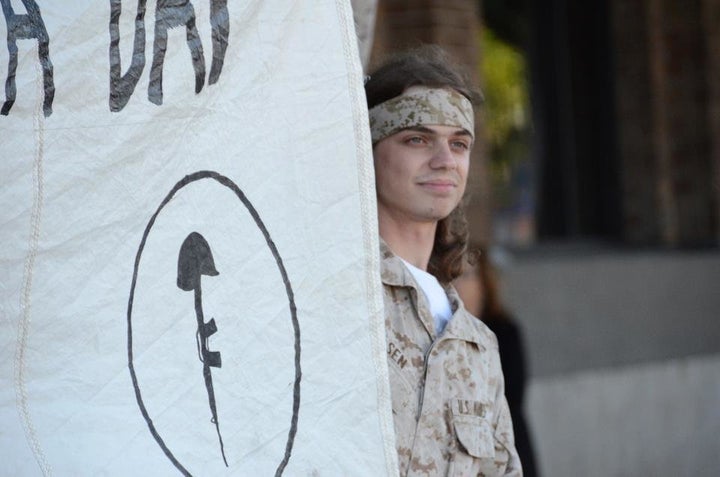 WASHINGTON -- Scott Olsen, the 24-year-old Iraq War veteran and Occupy activist suffering from a head injury after being hit with a police projectile in Oakland, has had his condition upgraded to fair and is now breathing on his own.
His roommate, Keith Shannon, who is also an Iraq War veteran, first reported the progress in an email. Olsen will still need surgery, Shannon wrote. "The neurosurgeons have decided he needs surgery to relieve the pressure on his brain and it will happen in a day or two," Shannon added. "Scott's parents should be arriving at the hospital any moment now."
By mid-day, Olsen's parents arrived at Highland Hospital to be at their son's side in the intensive care unit. Dottie Guy, a friend and military vet, talked to The Huffington Post from the hospital. Of the scene she said, "It's really chaotic. It's a lot of people showing up." Everyone from friends to community activists to "concerned citizens" have made the pilgrimage to Highland, she said.
Outside, Guy counted 10 reporters and two or three TV trucks. The previous day, another friend and Iraq veteran, 27-year-old Jordan Towers, said there were 60 people at the hospital waiting for word about Olsen.
His injuries, which were caught on tape and posted to YouTube, caused public outrage. On Wednesday night, Occupy activists from all over the country marched in support of Occupy Oakland and Olsen. His name even became a Twitter hashtag.
The fallout over the Oakland Police Department's razing of Occupy Oakland's encampment and the brutal clashes that followed. Olsen's friend Jordan said he was at the march as well. Although he did not see his friend that night, he said the police were out of control. "It's been really disgusting to see them fire indiscriminately into a peaceful crowd," he said. "Being in the military, I know about escalation of force. The police started out at a higher rate of that escalation of force than what was necessary."
At a Wednesday news conference, Police Chief Howard Jordan said the Olsen case would be investigated "as vigorously as a fatal police shooting," according to a CBS news account. "It's unfortunate it happened," Chief Jordan said. "I wish that it didn't happen. Our goal, obviously, isn't to cause injury to anyone."
Mayor Jean Quan has vowed to hold the police accountable and said that she would "personally monitor" the investigations into the incidents.
Tonight, Guy and Towers say an "International Solidarity Vigil For Scott Olsen" has been planned for 7 p.m. at 14th Street and Broadway near Occupy Oakland's original encampment at Oscar Grant Park. According to the Facebook page set up for the event, as of 6 p.m. EST, 255 people plan to attend. Vigils have been confirmed for Austin, Texas, New York City, Tampa and Wenatchee, Wash., among other cities.
A press conference will be held at 5:10 p.m. Thursday at the hospital, according to Guy. Of Olsen's parents who flew in from Wisconsin, she said, they are only thinking about one thing. "Right now, they want time with their son," Guy said. "The family said no visitors."
[UPDATE] - At 7:45 p.m., Keith Shannon called to tell me that Olsen is awake and responding to his mother who is at his side. He can write a little bit as well. Doctors are still expecting to perform surgery on Olsen to relieve the swelling in his brain.
Calling all HuffPost superfans!
Sign up for membership to become a founding member and help shape HuffPost's next chapter