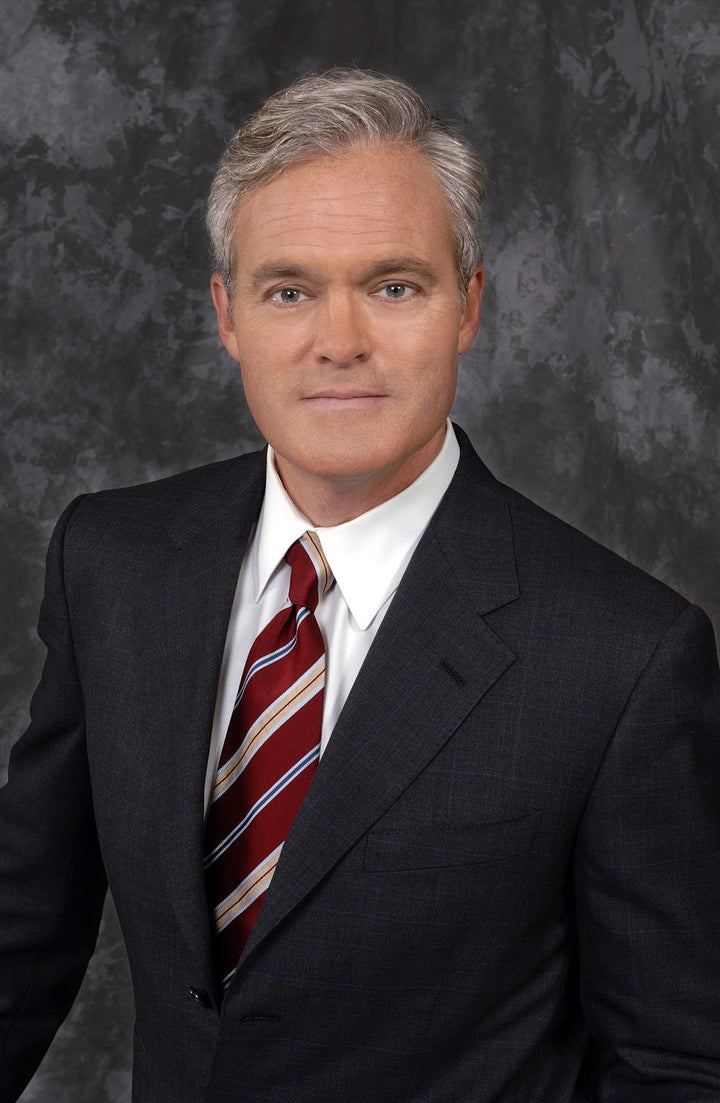 NEW YORK -- When Scott Pelley spoke to staffers in the Washington D.C. bureau Wednesday, his first stop since being named Katie Couric's successor as managing editor and anchor of the "CBS Evening News," the veteran journalist made clear his intentions to lift the newscast out of last place. Pelley said he's determined to be No. 1.
"We want to win. Period. Full stop," Pelley said in an interview with The Huffington Post. "We think the way to win is to adhere to the journalistic values that are in CBS News' DNA."
Pelley has a gold-plated TV news resume. During over two decades at CBS, Pelley has covered the White House, wars, and major national stories from the Oklahoma City bombing to Sept. 11 attacks. Since 2004, he's been a "60 Minutes" correspondent. But now Pelley's taking on a more high-profile role and will follow one of the most recognizable faces on television.
"Scott is a great reporter and a real gentleman, who cares deeply about the news," Couric said in a statement. "I know he'll put his own unique imprimatur on the broadcast and will do a great job carrying on the rich tradition of 'The CBS Evening News.'"
In putting his own stamp on the last-place evening newscast, Pelley's trying to take a page from a CBS News program that remains a ratings success. Pelley wants more "60 Minutes" in the 30-minute broadcast. That doesn't mean the "Evening News" will morph into a truncated version of "60 Minutes," with lengthy segments squeezing out the day's news. Instead, Pelley talks about bringing the program's "sensibilities" to the newscast, with increased emphasis on aggressive, original reporting. (Indeed, "60 Minutes" has been on a roll lately, taking down "Three Cups of Tea" author Greg Mortenson and nabbing the first interview with President Obama since U.S special forces killed terrorist mastermind Osama bin Laden).
The network's brass shares that vision, too. It's "no accident," Pelley says, that Jeff Fager -- the executive producer of "60 Minutes" and newish chairman of CBS News -- tapped a correspondent from the highly respected (and highly rated) weekly news program. Pelley also said that the "door is open" for his "60 Minutes" colleagues to appear more frequently on the daily newscast.
Couric recently expressed some regrets about tinkering too much with the evening newscast before returning to the traditional format. She introduced new graphics, theme music, and a short-lived commentary segment called "Free Speech." It's unlikely that Pelley is going to follow Couric out of the gate with anything too drastic.
So what can viewers expect when he gets behind the desk on June 6? "You're going to see the news," Pelley said.
A lot of people still flock to nightly news broadcasts on ABC, NBC, and CBS. The three broadcasts bring in over 23 million viewers combined on average, making the anchor job a still-influential perch. But these days, it may no longer be the ultimate prize for television journalists. David Letterman recently joked with Couric that "once you take the anchor chair, that's what you do." Her response: "Really?"
There's also an existential problem. The newscast demographic is aging and, according to The Wall Street Journal, "thinning, down 21% from this point a decade ago." Specifically, CBS -– which remains a distant 3rd behind the "NBC Nightly News" and "ABC World News" -- lost a third of its viewers in the past ten years.
CBS News executives made a safe choice in promoting Pelley, a seasoned journalist who's respected among the rank-and-file. But installing a 53-year-old, gray-haired white guy behind the anchor desk isn't the type of move that can be expected to start quickly drawing new, younger viewers. He's also unlikely to pull in viewers through social media.
"How many characters can you use on Twitter?" Pelley asked HuffPost. When told 140, Pelley said that constraint makes it "hard to give you much depth." Couric, by contrast, is a frequent Twitter user with over 180,000 followers.
"Scott is not a celebrity, as it were," said Bob Schieffer, host of CBS's "Face the Nation." "Nor does he want to be. He is a hard-nosed journalist. What you'll see Scott do is concentrate on the journalism here and not the promotion."
Pelley clearly doesn't have the star wattage of his predecessor. Couric arrived at the CBS anchor desk in Sept. 2006 amid great media fanfare. But while Couric racked up journalism awards and critical praise, her fame didn't help lift the newscast out of third place, where it had been since long before her arrival. While NBC's Brian Williams brought in 8.86 million total viewers last week, and ABC's Diane Sawyer was close behind with 8.28 million viewers, CBS ranked a distant third, attracting only 5.74 million viewers.
Given that high expectations for Couric to improve ratings hadn't been met, reporters churned out breathless reports that she was heading for the door. And such speculation only increased as Couric's contract neared its end this coming June. Couric finally shut down the guessing game last week by telling People magazine she was leaving the evening newscast.
Inside CBS, staffers were relieved by news of the decision.
"I think there's a general sense of relief that the distraction of the story is over," one CBS staffer told The Huffington Post. "The writing's been on the wall for a while," added another. A third staff member described the endless Couric speculation as "pretty tumultuous" for the news division.
Pelley receives high marks from his colleagues and Schieffer said he was "very warmly received" on Wednesday.
"I was standing there listening to him, and it occurred to me that he was saying 'we' about six times more than he was saying 'I,'" Schieffer said. "He came down here and said, 'I need your help. Together we can put together an evening newscast that we can all be proud of.'"

And Schieffer believes that the evening newscasts are still "very important and very relevant."
"I still think there's going to be a place toward the end of the workday where people can basically turn on and find out what happened that day," Schieffer said. "I still think there's a market for that."
Pelley agrees the evening newscasts hold an important place in the world and argues that cable news hosts get an amount of media attention that's disproportionate to the size of their audiences. "People are so tired of the shouting, the thinly veiled opinion -- all that sort of thing," he said of conversations he's had around the country. "People say, 'why can't the news be like "60 Minutes?'" Pelley hopes it can be.
Related
Popular in the Community