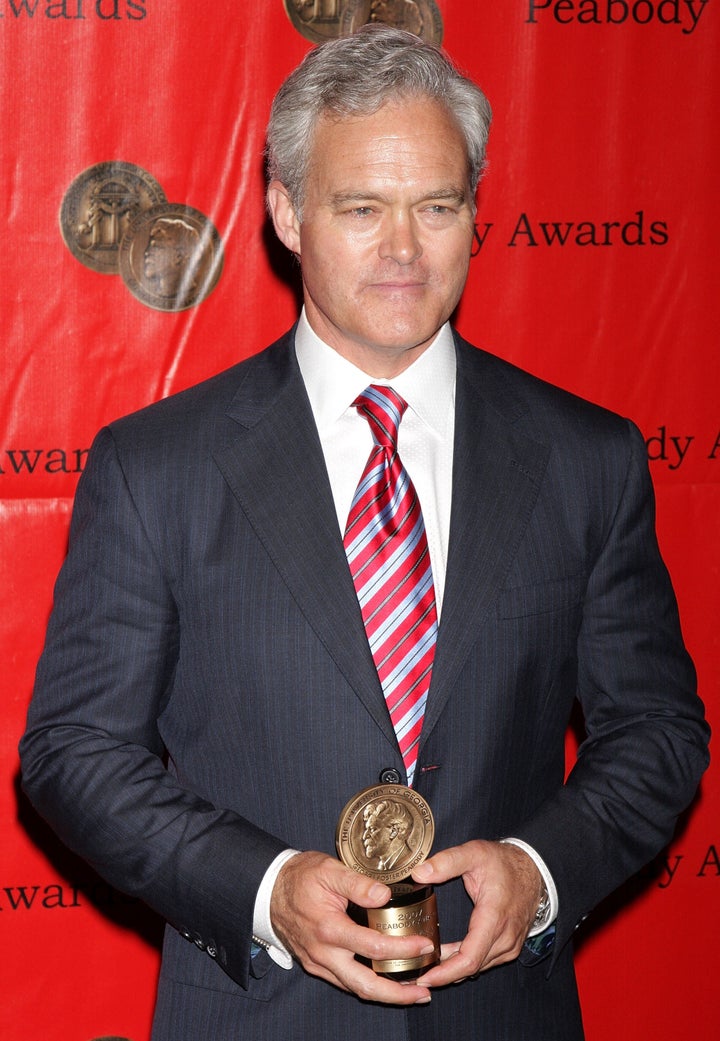 In June 2009, I had the honor of interviewing Scott Pelley for the book I co-wrote with 60 Minutes legend Mike Wallace, Heat and Light: Advice for the Next Generation of Journalists.
Despite his busy schedule, Scott graciously talked with me for nearly two hours about his career, his ever-present coffee cup in hand. Some of the very best advice for young reporters in our book comes from him.
Rather than repeat what's already in print, now seems like the time to share parts of the interview that didn't make it into our book, to shed some new fresh light on what kind of anchorman people can expect Pelley to be. My own impression after our talk, and after working with him just a little at CBS News, is that Pelley is exceedingly humble, deeply committed to serious journalism, and unabashed in his belief that good reporting can change the world.
And that bodes well for his stint in the anchor chair. Here's why:
One: Pelley learned journalism from the bottom up, and got where he is today thanks not only to raw talent, but to relentless hard work. His compassion will shape his work.
Pelley's own words: "No one ever wanted to hire me. Ever. I've never been recruited anywhere. I have beat my head against every wall, at every place that I worked."
"I was 15 years old when I got a job as a copy boy at the Lubbock Avalanche-Journal, which was the 90,000 daily paper in Lubbock, Texas. I had to lie about my age -- they only hired kids who were 16. I was only 15, and my mom used to have to drop me off two blocks from the paper so I could walk there, so that people wouldn't see that I wasn't driving."
"I was too dumb to know that I couldn't be a 60 Minutes correspondent. Nobody ever sat me down in Lubbock and explained to me that my dreams and aspirations were unreasonable. And so I just blundered ahead."
Two: Pelley understands the importance of having a vibrant news organization that does difficult but important reports. He has travelled all over the world doing tough stories, often in dangerous places. I predict there will be less fluff on Pelley's Evening News and more of the hard news that really matters.
Pelley's own words: His most memorable reports are "Stories in which we take this very powerful tool of 60 Minutes and we shine a light on something that others want hidden."
"One of the examples of that, of course, is Darfur. When we went to Darfur on one of the two journeys that we made there, the Sudanese government had shut down that province and had shut down the border, and was aggressively arresting people and throwing out NGOs because they were murdering hundreds of thousands of people and causing millions to flee their homes -- they didn't want anybody to see that.
"When we were there, we were able to work with an armed rebel group to put together our own armed reconnaissance into Darfur, and we were able to get to a village that had been wiped out by the government forces and burned to the ground. This was the thing that the government didn't want anyone to see, and to be able to go there and see that and bring it to a mass audience and expose what was going on behind this sort of an iron curtain, if you will, that the government had thrown up around Darfur was very gratifying. If we are able to expose an injustice in that way, that's just the greatest thing that journalism can do."
Three: Pelley's reporting isn't liberal or conservative -- just truthful. Over his career he's been equally skeptical of Republicans and Democrats, of American and foreign leaders, and I'd expect that to continue. He may help dispel the image of the CBS Evening News as a liberal bastion by keeping the show in the Walter Cronkite tradition of objectivity, which may help lure some new viewers.
Pelley's own words: "We go down for the original information insofar as it can be found, and then we test it. I don't think that young journalists realize how similar their job is to the job of a scientist. It's a very similar sort of thing: you get down to the original information and you test it, and you test it again, and you peer review it, and you test it again -- it's very much like science. Science doesn't care, by and large, what the answers are. It's only interested in getting the right answer. And journalism should be very much that way. "
Four: Pelley sees how journalism is changing, and understands that its future ultimately depends on having strong news organizations that will serve the public interest.
Pelley's own words: "The quality of life in America is dependent on the quality of the journalism. Most people don't realize that, but if you think about it, journalism is one of the pillars on which our society is perched. And you can't pull that pillar out. It relates to the quality of our politics, it relates to the quality of life, it is essential to having a great country. You look at the countries in this world with restricted journalism, with poor journalism, with government-controlled journalism, and you tell me if you want to live in any of those countries. I bet you don't."
"If you want to expose the big lies and the big injustices that are perpetrated by governments, you need to have a very strong, well-financed and robust organization to take on that kind of thing. We just can't live without that -- there has to be a way to carry that forward. A lot of people are trying a lot of different things in the business models to maintain that kind of robust journalism, but we cannot, as a society, afford to lose it. One of the greatest strengths of this country is the quality of its journalism. People take it for granted. It's too bad. But the quality of the journalism is what helps keep our country on the right path."
And Pelley has produced some extraordinary journalism in his career, racking up nearly every major news award in the process. His knack for a story is clearly one of the reasons why 60 Minutes is still one of the most watched shows on television.
Everything that Pelley says indicates he'll shape the CBS Evening News into something intense and worthwhile. And people who really care about the news, like many of the readers of this site, should tune in.
REAL LIFE. REAL NEWS. REAL VOICES.
Help us tell more of the stories that matter from voices that too often remain unheard.