NEW YORK -- The man who changed the 2012 election is named Scott Prouty. The 38-year-old bartender at the Boca Raton, Fla., fundraiser that doomed Mitt Romney's presidential campaign came forward Wednesday in an interview with MSNBC's Ed Schultz.
Prouty, a Midwest native, took his Canon camera to the fundraiser, thinking Romney might pose for photos with the event staff. Instead, he captured Romney speaking about "the 47 percent who are with him, who are dependent on government, who believe that, that they are victims, who believe that government has the responsibility to care for them. Who believe that they are entitled to health care, to food, to housing."
The bartender said in a series of embargoed phone and in-person interviews with The Huffington Post that he decided to make the video public and posted clips online, hoping they would go viral.
Prouty -- who now tweets as @AnneOnymous670 -- didn't own a car, and spent his free time volunteering with his girlfriend at a South Florida SPCA, where he gave a HuffPost reporter a tour of the horse rescue operation (donate here). He said he worried about what releasing the video would mean for his employment and for the company he worked for. On some nights as a bartender for South Florida's super wealthy, he could pull down more than $1,000, so losing the gig was not a thought he relished. But he finally decided it was his civic duty to release his film. He had made a risky decision before to do what he thought was right, when he dove into alligator-infested water to save a drowning woman. (That really happened.)
Before the final presidential debate, held in Florida, HuffPost and Prouty met for Budweisers at a waterfront bar. He was pondering whether to go public with his role in making the video and ultimately decided he didn't want to become a distraction, and instead wanted the focus to remain on the remarks themselves. He climbed on his motorcycle and sped off, without a helmet.
After deciding to release the video, Prouty made it his mission to get the film clips out there. "I decided I was going to make a 24-hour a day push to make sure it went as far and wide as it possibly, possibly could go," he explained. "It's been a long journey for sure. A lot of people think I just sent it to the news media on a disc or something and then forgot about it. I had been pounding it."
When Prouty talked about the film's rollout, he sounded like any indie film director looking for word-of-mouth magic. "I wanted to have a build-up," he said. "I wanted to have it viral as much as I could possibly get it viral. And then I was hoping obviously a serious reporter could jump on it at the right time [and] make it pop. ... I wish I almost did it a little bit later because I think it would have been more crushing. But it all worked out obviously."
BuzzFeed offers a thorough rundown of where Prouty shopped his Romney reel and where he posted it. On May 31, under "Romney Exposed," he began posting audio snippets to YouTube. Soon he started hitting the comment sections of The Huffington Post -- not the best way to stand out among all the reader debates.
Prouty said he later posted it to Daily Kos with mixed results. The Daily Kos readers ended up bouncing him from the site, suspecting his footage was bogus. He threw up clips on Pastebin. He did it in the comments of The Washington Post's stories. "Just trying to go build a little head of steam and get people talking about it," he said.
By late August, he said there were a few sites, including BuzzFeed, that had picked up at least one of his Romney videos. He said he had some success when he posted videos as the MSNBC host Rachel Maddow on YouTube. "She came out and denied having any knowledge of it," he said. "But she linked to the video and left it on her site all weekend long."
The filmmaker said that before the Republican National Convention, he contacted the Romney campaign directly. "I sent it to the Romney people ad nauseum," he said. "They knew about it." When he saw Romney give his acceptance speech in Tampa, he wondered what the candidate knew about his videos. He says he never got a response from the campaign. (He had posted a clip of the 47 percent comments specifically on YouTube, but to a different account, which is where HuffPost was the first to find and republish it.)
But Prouty didn't wait for a reporter to find him.
He found James Carter, the grandson of former President Jimmy Carter, who had discovered a talent for opposition research and finding gotcha videos deep in the C-Span archives. Prouty had followed Carter's work on YouTube. "He had good sense enough to follow me back when he saw my videos after I followed him," Prouty said. "Then he had the good sense enough to contact me after that."
Prouty said he wanted Carter to help him get in touch with Mother Jones' David Corn. He had been a big admirer of Corn's work -- especially his investigative pieces on Romney and the Hong Kong-based Global-Tech Appliances, a firm that sought to profit from U.S. outsourcing. He saw Corn on television all the time, he said. Maybe the veteran journalist could get his little film on the air. "They were picked," he said of Carter and Corn.
The one thing that now rankles Prouty is the idea that Corn uncovered anything. It was already out there. "Corn sort of -- he's capitalized on this for all it's worth and that's what the goal was," he said. "I don't want to say it the wrong way. He didn't uncover."
Prouty put the original tape in the mail to Corn. "I sent it to him in regular mail, taped to a small, like, a little note card in an envelope," he said.
Before You Go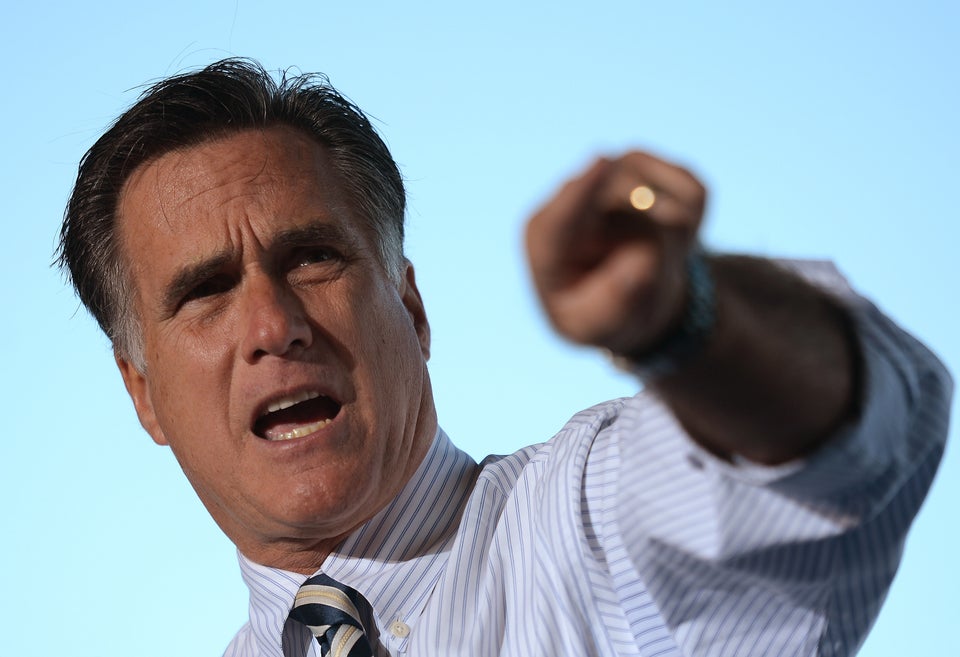 Mitt Romney Pointing Fingers
Popular in the Community