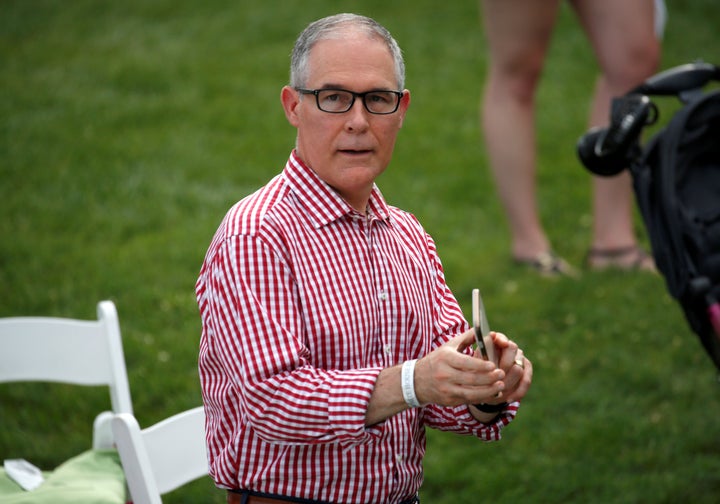 UPDATE: 4 p.m. ― Scott Pruitt abruptly resigned from the Environmental Protection Agency on Thursday, citing "unrelenting attacks on me personally, [and] my family." In a tweet, President Donald Trump said he had accepted Pruitt's resignation and announced that EPA deputy Andrew Wheeler would assume the duties of acting administrator.
PREVIOUSLY: Environmental Protection Agency Administrator Scott Pruitt is facing calls for yet another federal probe, this time over his alleged use of "secret" calendars and schedules to hide controversial meetings with industry players.
In a letter released Thursday morning, Reps. Don Beyer (D-Va.) and Ted Lieu (D-Calif.) asked the EPA Inspector General to open an investigation to determine whether the calendars, revealed this week in a CNN report, violated the Federal Records Act.
"Willful concealment or destruction of such records is a federal crime carrying penalties ranging from fines to imprisonment," they wrote.
The investigation would be the 19th federal probe into Pruitt's activities this year alone, and the 12th from the EPA's beleaguered internal watchdog.
The letter marks a new milestone in the five-month series of ethical and legal scandals that has become a fiasco, even by Trump administration's unconventional standards.
New revelations continue to emerge. Pruitt's former staffers have disclosed embarrassing details about the administrator during congressional testimonies; a massive trove of internal EPA emails released under a Freedom of Information Act request also paint a picture of an administrator who coddles industry players and runs the agency like a personal fiefdom.
This includes allegedly asking aides to buy a used hotel mattress and track down specific moisturizing lotion, enlisting bodyguards to buy high-priced finger foods from upscale grocers, asking young staffers to front money for hotel bookings and refusing to pay them back.
Pruitt reportedly deployed his political sway to nab his wife, Marlyn, a job. He tried to do this, first, by setting up a call with the chairman of fast-food chain Chick-fil-A, and later, by connecting her with the chief executive of a nonprofit conference where he then spoke. He even specified the salary he wanted for his wife to aides: $200,000.
Republican support for Pruitt has weakened amid the onslaught of new allegations. On Tuesday, influential Fox News host Laura Ingraham doubled down on her calls for Pruitt's ouster, describing the administrator as "the swamp." Last month, a dark-money conservative group in Iowa rolled out a new TV ad calling Pruitt a "swamp monster" who is "embarrassing the president." The same day the ad launched, Sen. James Inhofe (R-Okla.) ― Pruitt's long-time friend, mentor and political patron ― suggested during an interview on Ingraham's radio show that the administrator may have to leave, though he reversed the comment days later.
Still, only a handful of Republican members of Congress have joined Democrats and environmentalists calling for his resignation. President Donald Trump has still repeatedly signaled his support for the embattled administrator.
Pruitt, meanwhile, has slogged ahead despite the growing pressure to step down. The EPA is preparing to propose a dramatically weaker replacement to the long-halted Clean Power Plan, The New York Times reported Thursday. Last month, Pruitt proposed a regulation to replace a landmark Obama-era rule protecting drinking water for 117 million Americans. Earlier in June, he moved to drastically alter the way the agency writes rules ― the third-such radical change to the EPA since his avalanche of scandals began.
The EPA did not immediately respond to a request for comment.
Popular in the Community