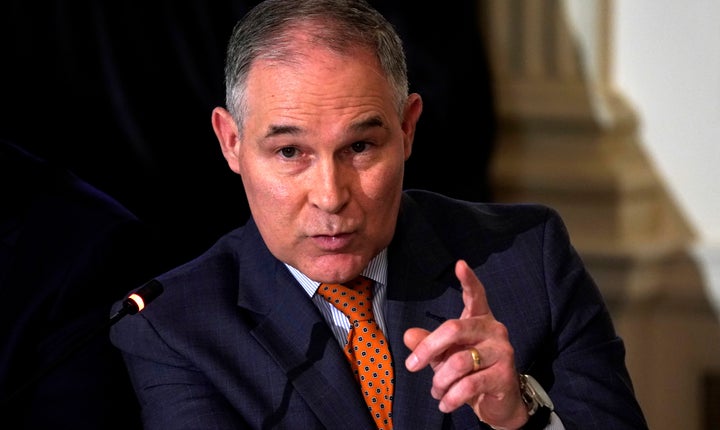 Pruitt made the comments in an interview with the New Hampshire Union Leader, the first time he publicly addressed a recent Washington Post report that found he frequently traveled in first-class seats, often at a cost of thousands of dollars per flight, while his aides flew coach. A string of trips last June cost taxpayers more than $90,000 in total, according to agency receipts the Environmental Integrity Project obtained through Freedom of Information Act requests.
Pruitt said Tuesday that his protective detail and his chief of staff made the bookings based on security assessments, and said there was a string of incidents last year that spurred his frequent use of first-class seats. It was not immediately clear what these incidents involved, and the EPA did not reply to HuffPost's request to clarify what they were.
"We live in a very toxic environment politically, particularly around issues of the environment," Pruitt told the Union Leader. "We've reached the point where there's not much civility in the marketplace and it's created, you know, it's created some issues and the (security) detail, the level of protection is determined by the level of threat."
"I'm not involved in any of those decisions," he continued. The Union Leader noted that Pruitt traveled to New Hampshire via a first-class flight from the Washington, D.C., area to Boston.
The EPA defended Pruitt's travel in an interview with The Washington Post on Sunday, saying ethics officials had approved the expenses. Federal regulations state that government employees must "consider the least expensive class of travel" for their needs, but security concerns do allow for more expensive bookings.
CNN reported in October that Pruitt gets at least "four to five times the number of threats" as his predecessor. He's also the first person in the role to have a full-time security detail at a cost of about $2 million a year.
Pruitt's tenure at the EPA has been controversial as he's quickly moved to dismantle many Obama-era environmental regulations, including the Clean Power Plan. Researchers have accused Pruitt's EPA of disenfranchising scientists on the agency's advisory boards, and senior officials have been leaving in droves, either through buyouts or voluntary departures.
On Monday, former California Gov. Arnold Schwarzenegger (R) called on Pruitt to be fired, calling him "the wrong person at that place," echoing the calls of many environmental groups.
But Pruitt told the Union Leader his detractors "just don't know me."
One thing is clear: Pruitt's use of first-class seats isn't helping the environment. A 2013 World Bank report found that travel in business-class seats accounted for around three times the carbon emissions of equivalent seats in coach, because the seats take up far more space. First-class spots are even larger and can account for up to nine times the emissions.
Support HuffPost
The Stakes Have Never Been Higher
Popular in the Community