To call Wednesday's visit by Scott Pruitt, administrator of the Environmental Protection Agency, in East Chicago, Indiana, highly anticipated would be putting it mildly.
The predominantly low-income city is working to address the contamination issues, but community members and advocacy groups have said more resources are needed. They fear that the dramatic budget cuts proposed for the EPA — including the rumored closing of its Region 5 office in downtown Chicago — could potentially hinder cleanup efforts.
Hoping to catch Pruitt's attention, dozens of community members gathered for an "emergency rally" on Wednesday morning, many of them carrying signs declaring "East Chicago demands clean water."
While in town, Pruitt toured the epicenter of its lead crisis, the West Calumet housing complex. Built on the site of a former lead refinery in 1972, the complex has been part of a federally designated, 322-acre Superfund site since 2009.
Pruitt also met with government officials ― including Holcomb, Sen. Joe Donnelly (D) and Sen. Todd Young (R) ― and a small group of local residents. He then briefly addressed the media but took no questions, saying that the meeting had covered "concrete" steps to be taken to address the city's lead issues in an "efficient and effective way."
"It's the EPA's objective, and my objective, to make sure the people's health is protected here in East Chicago," Pruitt said.
Pruitt's remarks did not address the fate of the nearby Chicago EPA office, nor did he stop at that office. The American Federation of Government Employees Local 704, which represents some 1,000 EPA employees in the Midwest, had invited Pruitt to attend a lunch meeting there.
Michael J. Mikulka, president of Local 704, said the union never received a response to its invitation.
"Employees want to hear from the administration to dispel it or confirm it, rather than be on pins and needles wondering if they're going to lose their job," Mikulka said. "We wanted him to come for lunch and tell our employees the truth of the matter."
Ahead of his visit, environmental advocates said they were hopeful that the administrator's arrival might signal additional support for East Chicago's residents, although they also said they have yet to see any indications of pending action. Pruitt was also apparently missing in action at an environmental justice roundtable event on Wednesday in East Chicago that included NAACP president and CEO Cornell William Brooks.
Meleah Geertsma, a senior attorney at the Natural Resources Defense Council, one of the groups behind the effort, noted that the EPA had yet to acknowledge the petition and that their requests for meetings on the lead crisis have been denied so far.
"East Chicago is a perfect example of the need for the specialized input and oversight of the EPA where there are concerns about the local and state response," Geertsma told HuffPost. "But we haven't heard anything that we should be excited about. There hasn't been any indication that we'll get additional commitments of additional help coming in for the city."
EPA officials did not respond to questions concerning the petition. In a statement, spokesman J.P. Freire said the agency is "focusing on getting results by improving environmental conditions and human health in places like East Chicago."
As for any plans to close the Chicago office, Robert Kaplan, the EPA's acting Region 5 administrator, called the reports "not true" and "pure speculation" in an email to employees. But other stories have said the agency has been instructed to eliminate two of its regional offices.
"Rather than focus on politicized rumors, we are working with residents to make sure they and their families can live in a safe and healthy environment," Freire's statement read.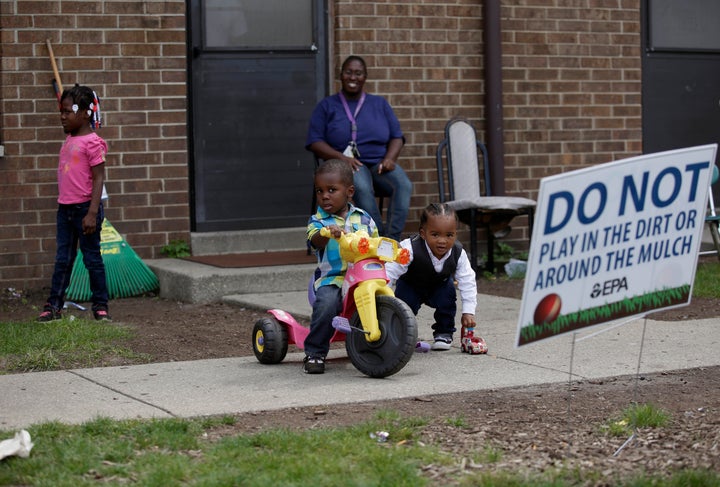 Meanwhile, residents of the small, majority-minority city are still waiting for a solution.
Debbie Chizewer, a law fellow at Northwestern University's Environmental Advocacy Clinic, said the East Chicago residents she works with were excited about the high-profile visit, but still worried that cleanup efforts already underway will not go far enough.
"This has been neglected for far too long," Chizewer said, "and nothing has been enough yet for this community in terms of bringing their homes and properties back to a safe position. They are frustrated about that."
Advocates hope Pruitt's conversation with East Chicago residents might inspire him to act. "There's a hope that actually seeing the problems, meeting the people, seeing their stories and hearing their demands and concerns would turn even the coldest of hearts," Geertsma said.
Joseph Erbentraut covers promising innovations and challenges in the areas of food, water, agriculture and our climate. Follow Erbentraut on Twitter at @robojojo. Tips? Email joseph.erbentraut@huffingtonpost.com.
Kim Bellware contributed reporting from Chicago.
Popular in the Community