WASHINGTON — Facing numerous allegations of ethical violations, EPA Administrator Scott Pruitt on Wednesday dodged tough questions about his travel practices, ties to lobbyists, unprecedented security detail and unapproved raises for top staff.
In a hearing on the environment before the Senate appropriations committee, Pruitt acknowledged the numerous scandals plaguing his tenure over the agency but repeatedly deflected blame to his staff or simply said he did not recall the details surrounding them. He did, however, confirm that he has set up a defense fund to help him with legal costs.
"There have been decisions that as I look back, I would not make the same decisions again," Pruitt said.
Ethics watchdogs and federal investigators are conducting at least a dozen inquiries into Pruitt's reliance on first-class air travel, expensive trips abroad, use of emergency lights and sirens to cut traffic in Washington, D.C., round-the-clock security protection, trips to Disneyland and the Rose Bowl, unapproved raises to top staff, the purchase of a soundproof phone booth, and a sweetheart condo deal on Capitol Hill that was arranged by an energy lobbyist, among other things. The seemingly unending stream of negative reports about Pruitt's behavior drew the ire of some GOP senators and even staff at the White House.
"Your tenure at the EPA is a betrayal of the American people," Sen. Tom Udall (D-N.M.), the top Democrat on the committee, told Pruitt in the hearing. "I'm worried you are spending all your time enriching yourself and your friends while betraying your mission to protect human health and the environment."
"Your tenure at the EPA is a betrayal of the American people. I'm worried you are spending all your time enriching yourself and your friends while betraying your mission to protect human health and the environment."
Sen. Chris Van Hollen (D-Md.) said after the hearing that he was concerned Pruitt's legal defense fund would become a "potential snake pit for conflicts of interest."
In his testimony before the panel, Pruitt said he would not accept contributions to his legal defense fund from lobbyists or businesses who have business before his agency. But he did not say flatly that he would not accept anonymous contributions.
Sen. Jim Inhofe (R-Okla.), one of Pruitt's most vocal defenders, brushed off concerns about the fund but said he had not and would not be contributing to it.
Van Hollen also criticized Pruitt for what he called an "ongoing pattern," where evidence surfaces about ethical violations and "he points the finger at other people at the agency, and then we discover he was personally involved."
Pruitt, the former attorney general of Oklahoma, skirted questions about whether he requested round-the-clock security detail his first day on the job, as The Washington Post reported Monday, or if his security detail used emergency lights and sirens during non-emergencies.
Pruitt said that "to the best of my knowledge," the agency followed the policies in place.
"You personally requested that the sirens and the flashing lights occur, is that right?" Udall asked.
"No, I don't recall that," Pruitt responded.
Udall submitted for the record a February email from then-EPA special agent Pasquale "Nino" Perrotta contradicting Pruitt's claim.
Sen. Patrick Leahy (D-Vt.) pressed Pruitt over his preference for first-class travel, expressing skepticism that he would be at risk from the American public by flying in coach.
"What a silly reason ... Nobody even knows who you are," Leahy said, drawing some laughter in the committee room.
Leahy added that Pruitt's ego, first-class travel and special phone booth made him and the agency "a laughingstock."
Udall kicked off his first line of questioning by asking Pruitt something unrelated to him and EPA: Does he support special counsel Robert Mueller completing his investigation into Russian meddling in the 2016 election?
Instead of answering yes or no, Pruitt said it's important for investigators to be able to provide prosecutors adequate information that would allow them to make informed decisions about whether to proceed.
"As you know, the right answer is 'yes,'" Udall said. "Whenever there is an investigation ongoing, a president or Rudolph Giuliani or anybody else shouldn't be interfering in that investigation, putting time limits on it or anything else."
Republicans on the subcommittee, meanwhile, all but ignored the ongoing investigations, focusing their questions on policy changes at the federal agency.
"You have taken a common sense approach to the environmental regulatory process," said Sen. Cindy Hyde-Smith (R-Miss.). "For that, I am truly grateful and I have been most impressed."
Sen. Lisa Murkowski (R-Alaska), the committee's chairwoman, said that instead of being asked about Pruitt's efforts to return EPA to its core mission, she's constantly fielding questions about issues like his management and travel. "Some of this undoubtedly is a result of the 'gotcha age' that we live in," she said.
Murkowski allowed Pruitt to respond broadly to all the ethics and spending allegations at the beginning of the hearing. Pruitt obliged by touting his record dismantling federal environmental regulations. The EPA administrator further argued that America can both power the world and better protect the environment.
"We are making the tough decisions with respect to environmental protection, while at the same time restoring confidence in the American people that we can engage in regulations and not pick winners and losers, and not engage in coercion with our actions," Pruitt said.
This article has been updated to include comments from Senators about Scott Pruitt's legal defense fund.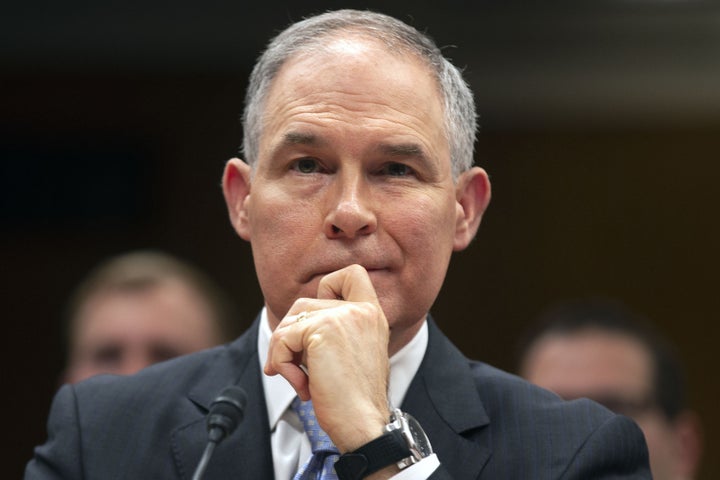 Popular in the Community