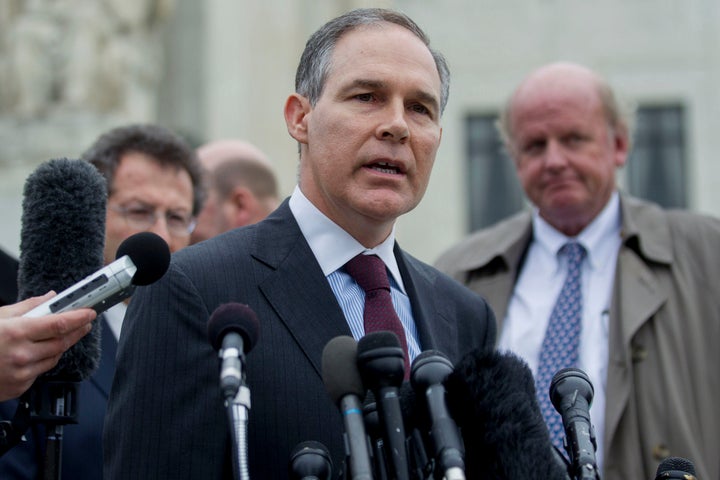 President-elect Donald Trump's pick to lead the Environmental Protection Agency, Scott Pruitt, became one of Exxon Mobil Corp.'s fiercest defenders this year as the oil giant battled legal probes into its funding of climate science deniers.
Exxon Mobil, meanwhile, served as a major donor to the Republican Attorneys General Association, of which the Oklahoma attorney general served as chairman in 2012 and '13 and remains a member.
The company donated $50,000 to the group in April, a month earlier than usual, this year. The firm gave the same amount in May of last year, and $60,000 the same month in 2014, according to data from the nonpartisan Center for Responsive Politics. Exxon Mobil has a long history of donating to Republican organizations, and Pruitt has deep ties to the fossil fuel industry.
However, the extent to which Pruitt led the charge to defend the company against investigations by other state attorneys general appears set to become a flashpoint for opponents during his Senate confirmation hearings next year.
The history of contributions "only feeds the narrative that this is a rigged Cabinet out only for their personal bottom lines," an aide to a Democratic senator, who requested anonymity because he was not authorized to talk to the press, told The Huffington Post on Thursday. "This is exactly the type of thing Democrats intend to hammer AG Pruitt on throughout the confirmation process."
Neither Exxon Mobil nor the Trump transition team responded to requests for comment on Thursday.
Three weeks after Exxon Mobil made its most recent donation, Pruitt and RAGA's current chairman, Alabama Attorney General Luther Strange, co-authored an op-ed criticizing a group of state attorneys general that pledged to crack down on climate fraud last March. In the piece, the two accuse the attorneys general of targeting oil and gas companies to quash legitimate debate about climate science.
The argument echoes Exxon Mobil's own statements a month earlier, when the firm said attempts to subpoena its internal documents on climate change were politically motivated and amounted to violations of its free speech.
Exxon Mobil became the target of probes by the attorneys general of Massachusetts and New York five months after InsideClimate News and the Los Angeles Times published blockbuster reports revealing that the company's scientists internally recognized the risks of climate change while publicly claiming the opposite.
It's not the first time Pruitt has parroted fossil fuel companies. Lawyers for Devon Energy, one of Oklahoma's biggest oil and gas firms, once authored a letter Pruitt sent under his own name to the EPA criticizing estimates on emissions from natural gas drilling sites, The New York Times reported in 2014.
The Times published 84 pages of correspondence between Pruitt and Devon, which it described as evidence of an "unprecedented, secretive alliance that Mr. Pruitt and other Republican attorneys general have formed with some of the nation's top energy producers to push back against the Obama regulatory agenda."
Exxon Mobil, already a titanic political force through its extensive lobbying, seems set to become more influential under the incoming administration. Trump nominated company CEO Rex Tillerson for secretary of state, and the Cabinet is otherwise stacked with fossil fuel executives and climate science deniers.
If Pruitt's nomination is confirmed, the referee overseeing the fossil fuel industry's biggest player may be more like a cheerleader.
Before You Go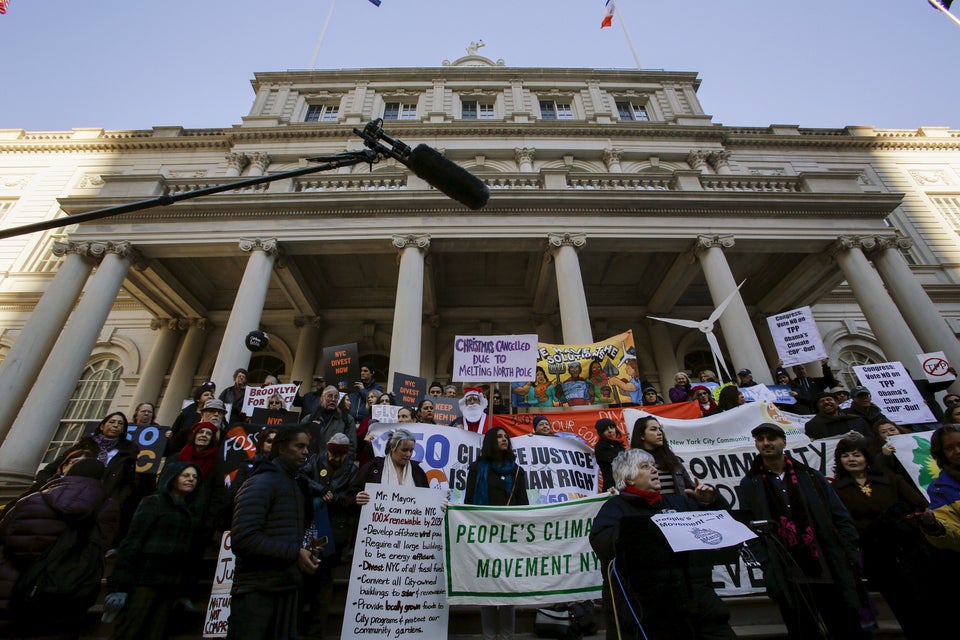 What You Can Do Right Now To Stop Donald Trump's Dangerous Climate Agenda
Popular in the Community