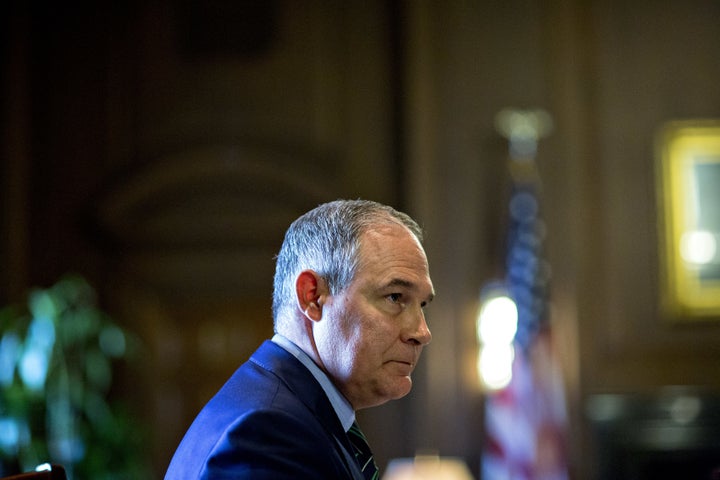 Several such flights last June cost more than $90,000 in total, including an hour-and-a-half trip between Washington D.C. and New York booked first class for $1,641, the outlet noted, citing EPA receipts obtained by the Environmental Integrity Project through Freedom of Information Act requests.
The Post said Pruitt is often booked in premium cabins for unspecified security reasons, and the EPA said his schedule is not released in advance ― a major point of consternation among political watchdogs ― for similar reasons. Pruitt regularly travels with a large contingent of aides, but they're usually booked in coach. It's unclear if members of his security detail fly in first class with him.
HuffPost reached out to the agency for comment, but EPA spokeswoman Liz Bowman told the Post Pruitt's trips amounted to an effort "to further positive environmental outcomes and achieve tangible environmental results."
"He's communicating the message about his agenda and the president's agenda," she said.
Such protection is relatively unusual for an EPA administrator, and CNN reported last October that no previous head of the agency had ever had a full-time detail. But the agency's inspector general, Patrick Sullivan, said Pruitt gets "at least four times ― four to five times the number of threats" than his predecessor, Gina McCarthy got while she held the position.
The Post notes that Pruitt often cites security reasons for his upgraded tickets, even for short, domestic flights. In July, he was booked on two round-trip tickets to Alabama and Georgia that totaled more than $4,600.
Pruitt's use of military and private flights are currently under investigation by the EPA's inspector general after the Post reported last September that the administrator took four such flights costing taxpayers more than $58,000. He is also under investigation over frequent trips to his home state of Oklahoma.
Several other members of the Trump administration have come under fire over their fondness for expensive flights, including former Secretary of Health and Human Services, Tom Price, who resigned in September over his use of private jets and military planes.