One month after taking office, Environmental Protection Agency chief Scott Pruitt hosted BP's U.S. chairman at his office to discuss issues the company "works with" the agency on. The next day, Pruitt met with two top executives from Chevron Corporation to discuss "regulatory reform." The day after that, he spent two hours mingling with 45 CEOs from oil and gas companies at the Trump International Hotel in Washington, D.C.
It's not unusual for the nation's top environmental regulator to meet with leaders of some of the industries he or she regulates. But Pruitt, who came into the agency with a reputation for siding with fossil fuel interests, has virtually ignored conservation and public health advocates, according to calendars released under the Freedom of Information Act and first reported by E&E News.
Pruitt's calendars show far fewer meetings with environmental and public health advocates. On Earth Day, the agency issued a press release feting the "great natural resources that the United States is blessed with" and touting a meeting with The Nature Conservancy and the National Audubon Society. A church, an interfaith group and the Indiana chapter of the NAACP were also included on a list of 25 organizations Pruitt met with that an EPA spokeswoman provided to HuffPost.
That lopsided courting of fossil fuel executives lays bare a major shift in how the agency is operating, former EPA officials told HuffPost. It also demonstrates what one legal scholar described as the "fatal flaw" in administrative law that allows an industry-friendly agency boss to buddy up to polluters with little oversight.
"It's not surprising," Liz Purchia, who left her post as the EPA's communications director under President Barack Obama in January, told HuffPost. "It's confirming everything that people who opposed Scott Pruitt all had expected."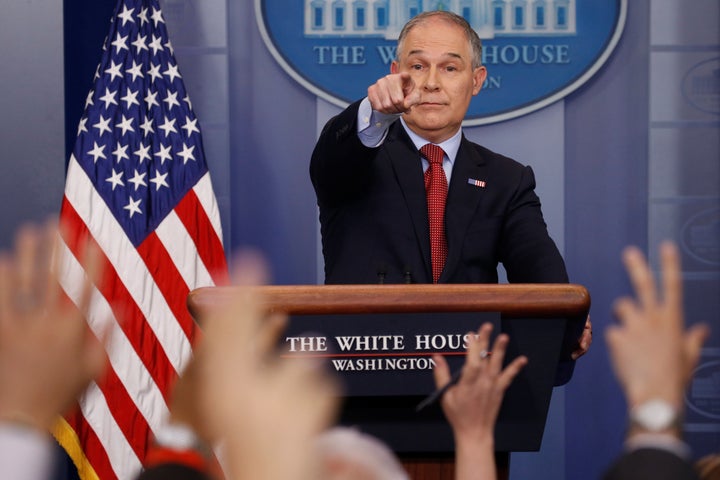 Pruitt spent his six years as Oklahoma's attorney general suing the EPA to block environmental regulations more than a dozen times, often at the behest of big oil and gas firms. In 2011, he allowed Oklahoma's biggest natural gas driller to write a complaint to the EPA on his letterhead, which he then signed and sent as his own with few changes.
Thousands of emails released just before Pruitt's confirmation as the EPA's 14th administrator revealed a deep, chummy alliance with oil, gas and utility companies forged during his years as Oklahoma's attorney general. His administration would amount to a "fox guarding the henhouse," League of Conservation Voters President Gene Karpinski warned in January.
Pruitt battled the Obama EPA's power plant rules on lawyerly technicalities, arguing that the agency had overstepped its regulatory authority and insisting that any need to curb global warming was beside the point. He is similarly operating within the bounds of the law now, legal scholars said.
Agency chiefs are allowed to seek outside counsel through federal advisory committees, which must report their meetings to the public under federal law. The EPA has 23 committees, including a financial advisory board, scientific counselors and a council devoted to the Great Lakes.
On Tuesday, Pruitt cleared the way to stack the EPA's Board of Scientific Counselors with allies after he dismissed dozens of advisers, according to The Washington Post.
But agency law gives Pruitt the right to seek counsel from anyone, as long as his meetings clear a low legal bar: If Pruitt isn't meeting exclusively with one person or industry, he's free to do as he wants ― provided he maintains what critics see as a fig leaf in groups like The Nature Conservancy and Audubon.
"That's the fatal flaw in this legal regime," Sid Shapiro, the Fletcher chair of administrative law at the Wake Forest University School of Law, told HuffPost. "On the one hand, we want agencies to reach out and become more informed about issues and policies. But on the other hand, we've left them able to meet with a very selected group of people without any kind of legal remedy to those that might object."
Pruitt's not just meeting with oil and gas executives. Lynn Good, chief executive of the utility giant Duke Energy, requested time with Pruitt to spell out her "policy priorities," and got 45 minutes on March 9.
Bob Murray, the bombastic coal baron who sued the EPA, booked two 30-minute meetings with Pruitt on March 28 and 29, though the topic of the meetings was not specified on the calendar. The first meeting took place the day after President Donald Trump signed an executive order instructing Pruitt to review the Obama administration's signature policy to curb greenhouse gas emissions from power plants ― which Murray blamed last year for "virtually destroying" the coal industry.
The Trump administration hasn't been shy about courting the fossil fuel industry. Secretary of State Rex Tillerson spent the previous 40 years of his career at Exxon Mobil Corp., including the last nine as its chief executive. Interior Secretary Ryan Zinke spoke in March at the same American Petroleum Institute confab at the Trump International Hotel that Pruitt attended. The White House issued an executive order overturning bans on oil exploration off the Arctic and Atlantic coasts, iced out funding for energy efficiency and climate programs in its proposed budget and axed rules requiring drillers to report methane pollution.
"We'd try to always have a balance," Stan Meiburg, a former acting deputy EPA administrator who spent 39 years at the agency before retiring in January, told HuffPost. "At least the appearance of balance."
For years, Republicans lambasted the Obama administration for "picking winners and losers" by bolstering renewable energy like wind and solar to curb planet-warming emissions. By sidling up to fossil fuel companies, the Trump administration is raising new red flags that it is giving favor to heavily polluting industries, said Jordan Libowitz, a spokesman for Citizens for Responsibility and Ethics in Washington, a watchdog group.
"What is a concern is who's getting the access," Libowitz told HuffPost. "Is access to secretaries being offered out to everyone on that level, or is it just certain people? If it's just certain people, that raises a question as to why."
"We'd try to always have a balance. At least the appearance of balance."
Now Pruitt is poised to name a deputy with the knowhow and experience to further cement his legal standing. He plans to nominate Jeff Holmstead, a long-time coal and oil lobbyist registered with the EPA, as his No. 2 sometime soon, Axios reported Monday.
A partner at the corporate law titan Bracewell LLP, Holmstead served as assistant EPA administrator under President George W. Bush. During his tenure, the agency weakened environmental rules and attacked scientists, becoming "less independent than its predecessors and more closely tied to the White House's ideology," according to the educational nonprofit American Chemical Society.
If confirmed, Holmstead could help Pruitt stave off a bevy of legal challenges from environmental groups fighting his deregulatory agenda.
"Holmstead will probably understand that some of what they're trying to do won't pass legal muster," Eric Schaeffer, executive director of the nonpartisan Environmental Integrity Project, told HuffPost. "But you'll have bought the industry years of delay, which is the game in Washington."
Holmstead, whose auto-reply email said he is on vacation rafting in the Grand Canyon, did not respond to a request for comment.
Unlike previous administrations, this White House seems unconcerned with courting critics in environmental circles, Schaeffer said. For now, the best environmental advocates can do is wait and hope the next administration will work hard to rectify the damage done by this one.
"The agency is pretty much under occupation at this point," Schaeffer said with a sigh. "I'm hoping there will be a strong political rebound and, once these guys are cleared out, that the agency will be in a stronger position than before they came."
Support HuffPost
The Stakes Have Never Been Higher
Before You Go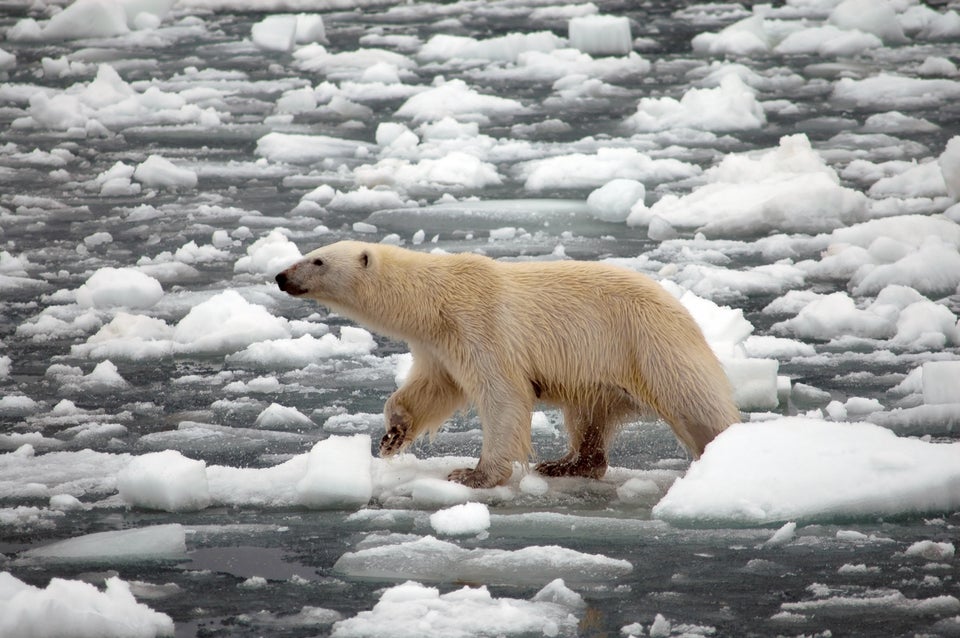 Donald Trump's Environment Guy Doesn't Believe In Climate Change
Popular in the Community