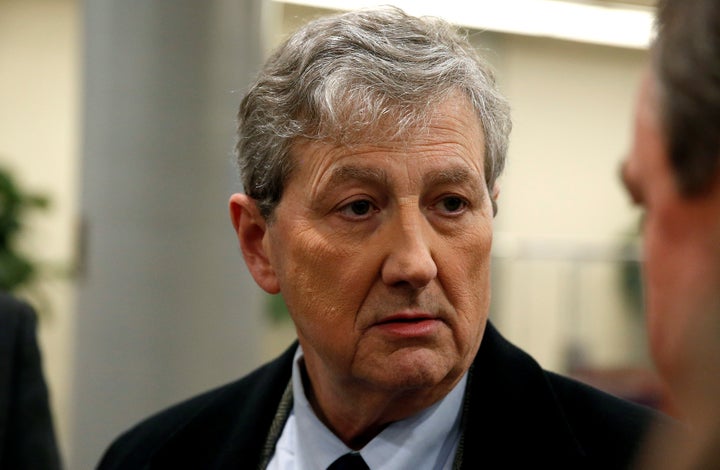 Sen. John Kennedy (R-La.) lambasted embattled Environmental Protection Agency administrator Scott Pruitt over his "juvenile" behavior and numerous ethical scandals.
"Stop acting like a chucklehead, stop the unforced errors, stop leading with your chin," Kennedy said Sunday on CBS' "Face the Nation," while addressing the multiple controversies currently surrounding Pruitt. "If you don't need to fly first class, don't. Don't turn on the siren on your SUV just to watch people move over. You represent the president of the United States."
He added, "All of this behavior is juvenile, it's distracting from the business that we're trying to do for the American people."
"Why do you want ― in his position ― why do you want to rent an apartment from a lobbyist for God's sake?" Kennedy added. "Stop leading with your chin. Now, these are unforced errors. They are stupid. There are a lot of problems we can't solve. But you can behave."
Kennedy did not say, however, whether he thinks Pruitt should be ousted.
"That's really up to the president," he said. "I know what I would do if I were Mr. Pruitt, I would call a press conference tomorrow and I would say, 'Okay let's talk about your criticisms of me.'"
Only three GOP lawmakers have called on Pruitt to step down: Reps. Carlos Curbelo (R-Fla.), Illeana Ros-Lehtinen (R-Fla.) and Elise Stefanik (R-N.Y.).
Most conservatives enthusiastically support Pruitt and view him as one of President Donald Trump's most effective cabinet members, citing his success at rolling back a number of Barack Obama's environmental regulations.
Sen. Mike Rounds (R-S.D.), for example, said Sunday in a separate interview that Pruitt should retain his position because "he's following through with the policies that the president said he wanted to implement." Pruitt's effectiveness at cutting regulations, he argued, outweighed any ethical lapses.
"Let's take a look at how many dollars the EPA can actually save," Rounds said on NBC's "Meet the Press." "The big picture. You know, we'll nitpick little things. He has too many people on his security detail. It may add up to, to more than what the previous guy did. But what about the big picture of, how he's taking care of the taxpayers' dollars with the department, the EPA?"
Popular in the Community