Scott Pruitt has scored his second glowing profile in a conservative magazine this month.
On Thursday evening, National Review released its latest cover, a stately portrait of the Environmental Protection Agency administrator that declares Pruitt a "man on a mission" who "terrifies the Left."
Pruitt's primary objectives this year included repealing rules to reduce pollution from power plants, rolling back protections for 117 million Americans' drinking water, and clearing the way for industry-funded researchers to seize control of the EPA's science advisory boards.
Yet National Review's story, written by Kevin D. Williamson, paints a rosy picture of Pruitt as a misunderstood environmentalist restoring the concept of "stewardship" to an EPA that has "long been dominated" by "the Left."
"Feed the world and fuel the world," Pruitt is fond of saying, according to Williamson, who opens the article with an anecdote about Pruitt's obsessive coffee consumption. (An inadvertent metaphor for fossil fuels?) Pruitt's approach centers on "making responsible use of our national blessings, including our natural resources," Williamson writes, in direct contrast with the hard-line conservationists who preach "a lot of Thou shalt and a whole heck of a lot more Thou shalt not."
The article comes one week after The Weekly Standard, another ostensibly highbrow journal of neoconservative thought, published its own profile of Pruitt under the headline "The Man They Love to Hate."
In it, Fred Barnes ― a once-respected Baltimore Sun reporter who has spent the last decade denying climate change and defending the Republican Party's embrace of white identity politics ― writes admiringly about Pruitt's agency ignoring requests for basic information from reporters at The New York Times and Politico.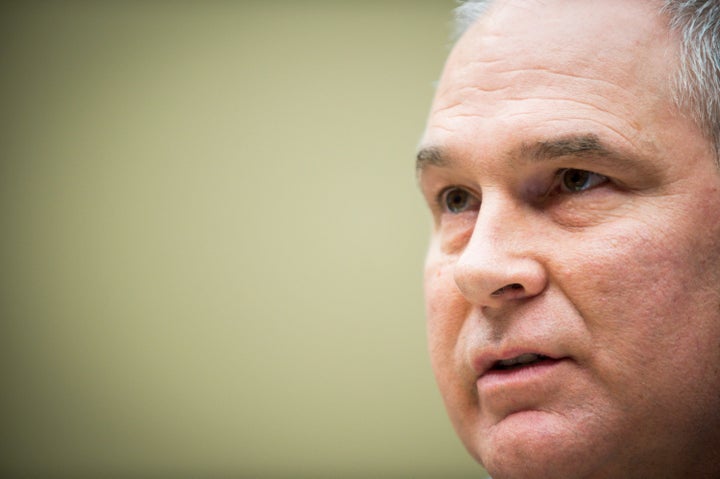 "He's different from previous EPA bosses, notably in his attitude toward the political class in Washington, including the media. Pruitt is not afraid of them," Barnes wrote. "His fearlessness shows up in doing things most of Washington frowns on ― or that are politically dangerous. Refusing to pamper the Times and the national press is the least of his offenses."
National Review and The Weekly Standard served as launchpads of the so-called "principled conservative" #NeverTrump movement. Yet the magazines' enthusiasm for Pruitt seems largely rooted in his tendency to agitate his political foes, the same habit that so endears Trump to his base, according to conservative talk radio host and Never-Trumper Charles Sykes.
"Conservatives will care less about governing and more about scoring 'wins' — and inflicting losses on the left — no matter how hollow the victories or flawed the policies," Sykes wrote in May in a New York Times op-ed titled "If Liberals Hate Him, Then Trump Must Be Doing Something Right." "Ultimately, though, this will end badly because it is a moral and intellectual dead end, and very likely a political one as well."
EPA spokesman Jahan Wilcox declined to comment.
"Conservatives will care less about governing and more about scoring 'wins' — and inflicting losses on the left."
The shared tone of the National Review and Weekly Standard profiles marks a victory of sorts for the EPA's press office. During his first few months in office, Pruitt largely avoided the press, save for interviews with right-wing outlets like Breitbart and an infamous CNBC appearance where he disputed carbon dioxide's role in warming the planet. In October, Pruitt began making the rounds to promote an alternative vision of his nascent legacy, not as an industry-friendly despoiler of public health safeguards, but as a principled policeman of polluters.
"I don't spend any time with polluters," he told Time Magazine in his first mainstream media interview in months. "I prosecute polluters."
Never mind that Pruitt spent vastly more time with oil and coal executives than with environmental advocates during his first few months in office. Nor that the Trump administration's Justice Department, which prosecutes at the EPA's recommendation, collected 60 percent less in civil penalties from polluters than the past three administrations combined over the same period, according to an analysis released in August by the Environmental Integrity Project.
For Pruitt, management of the EPA's core duties may come second to the political optics his decisions project. Pruitt has long been rumored to be eyeing a run for Senate when his octogenarian ideological mentor Sen. Jim Inhofe (R-Okla.) retires. In August, the EPA's general inspector opened an investigation into Pruitt's use of agency funds to travel back to Oklahoma, his home state ― trips that many speculate could be laying the groundwork for a campaign, according to Politico.
His ambitions could include the Oklahoma governor's mansion, or, as E&E News wrote in September, the White House.
"Very few people think he's going to serve out the four years there [at EPA], let's put it that way," one energy industry lobbyist told the environmental newswire. "You have to always factor in, 'How long is Scott Pruitt going to stay there?' No one knows that answer."