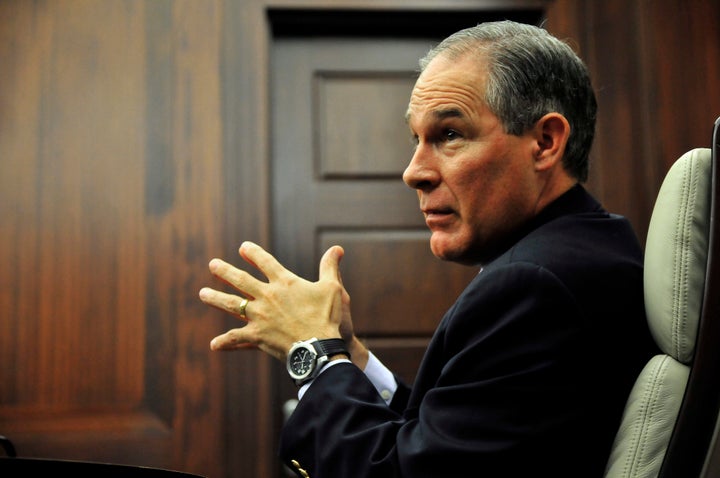 Two election fundraising groups linked to Scott Pruitt, President-elect Donald Trump's nominee to lead the Environmental Protection Agency, spent at least $637,034 since the start of 2015, even though he couldn't run for re-election as Oklahoma attorney general.
An average of roughly $26,543 per month was disbursed from two federal election-focused political action committees linked to Pruitt, both of which announced plans last week to shut down. Donations flooded in from fossil fuel companies, whose pollution Pruitt would be tasked with policing at the EPA. Staff overlap between the two political groups raises concerns, given that one is a super PAC and cannot legally coordinate with the other PAC under election rules. Most of the money, meant to bolster Pruitt's national profile by raising funds for candidates seeking federal office, went to consultants and travel.
The spending, documented in Federal Election Commission filings, could raise questions from senators at Pruitt's confirmation hearing, scheduled for Wednesday. Trump ran on a promise to "drain the swamp" in Washington, vanquishing a culture of political patronage exacerbated, in part, by an influx of dark money in elections.
"The PACs missions are no longer relevant and we don't want them to be a distraction during the confirmation hearings," Charles Spies, counsel for both committees, told E&E News, a climate and energy trade publication. Spies did not immediately comment to The Huffington Post on Monday. The Trump transition team did not respond to a request for comment.
A new nonprofit group, called Protecting America Now, is now raising hundreds of thousands of dollars from energy executives and other donors to counter anti-Pruitt campaigning by "anti-business environmental extremists," according to Politico.
Pruitt's aides organized Oklahoma Strong Leadership PAC in 2015, a year after he won re-election as the state's top attorney. The group quickly attracted money from donors, including coal giant Alliance Resource Partners, electrical utility Pinnacle West Capital and payday lender Ace Cash Express. By the end of 2015, the group had spent $3,700 on two other committees, linked to Jeb Bush's presidential bid and Republican Patrick Morrisey's West Virginia attorney general campaign. At the time, a spokeswoman for Oklahoma Strong said the group "deferred" spending on candidates "to allow primary and runoff elections to conclude and the general election landscape to crystallize."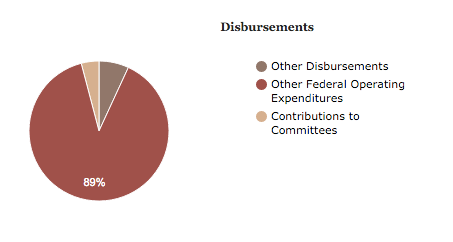 Of the $391,004 it had raised by the end of 2016, the group spent just $13,690 on elections, $3,160 of which went to registration fees. Oklahoma Strong's operating expenditures totaled $297,030. Travel and consulting fees paid out to various firms made up the bulk of those expenses. The group spent $7,157 on food, transportation and rooms at the Ritz-Carlton in Kapalua, Hawaii. An additional $459 paid for a stay at the Intercontinental New Orleans, a four-star hotel in the city's commercial district.
"The idea behind a leadership PAC was supposed to be that you were raising money to support other candidates," Lawrence Noble, general counsel for the nonpartisan Campaign Legal Center, told The Huffington Post by phone. "The theory behind it was that those who were leaders or wanted to be leaders needed to show they were supporting other candidates in the party. They're supposed to spend on other candidates, but what we've seen is more and more they're using to help the candidate who set them up."
Liberty 2.0, the Pruitt-linked super PAC, raised $420,248 since its founding in 2015, nearly half of which came from fossil fuel interests, according to a review of election filing by E&E News. Lucas Oil Products and coal behemoth Murray Energy each donated $50,000, the largest sums contributed, according to filings. Devon Energy Corp., whose ties to Pruitt run so deep its lawyers once authored a letter he signed and sent to the EPA, gave $5,000.
Liberty 2.0 donated $50,000 to the Senate Leadership Fund, a super PAC aimed at maintaining Republican control of the Senate, and $10,000 to the Republican Attorneys General Association, which Pruitt chaired in 2012 and '13. Its operating expenditures, which totaled $243,313, went mostly to consulting fees, rent for office space and airfare.
Super PACs, which grew out of the Supreme Court's 2010 Citizens United ruling, can raise unlimited funds from corporations, individuals and labor unions to prop up or defeat a candidate. Super PACs, technically independent groups, cannot coordinate with candidates or their election committees under federal law. That means Liberty 2.0 cannot work in sync with Oklahoma Strong.
Still, the two organizations overlap. Both groups operated out of the same office space in Tulsa, Oklahoma, according to filings. Millan Hupp and Sydney Hupp, sisters and former campaign staffers for Pruitt, each received payments from both groups, data from the nonpartisan Center for Responsive Politics shows. Crystal Coon, who served as Pruitt's first chief of staff as attorney general and now works as a consultant for a communications firm, earned $37,787 from both groups in 2016. In 2015, Tamara Hyatt Cornell, a fundraiser, raked in $15,206 from Oklahoma Strong and an additional $4,107 from Liberty 2.0. None of the women responded to emails, LinkedIn and Facebook messages requesting comment on Monday.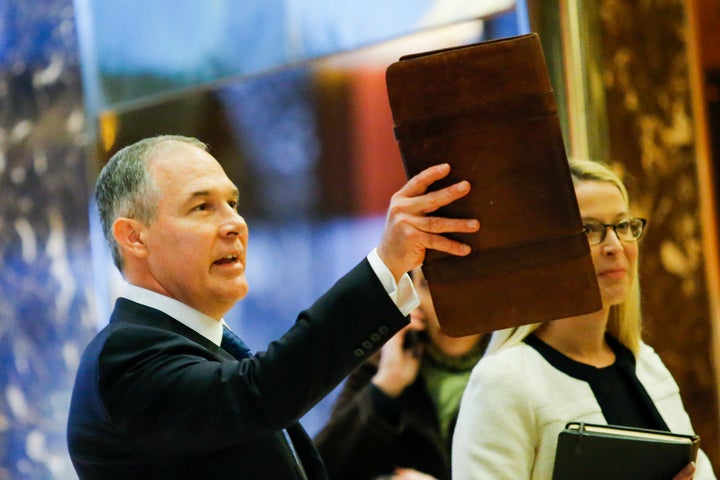 Rules against coordination with super PACs are tough to enforce, and criminal charges are rare. The Department of Justice prosecuted its first criminal case of coordination between a candidate and a super PAC in February 2015. An aide apparently working for Chris Perkins, a Republican candidate who unsuccessfully challenged Democratic incumbent Rep. Gerry Connolly (D-Va.), pleaded guilty to orchestrating a complex scheme to coordinate super PAC fundraising while serving as a campaign manager.
Blurred ethical lines in campaign finance may be the least of critics' concerns over Pruitt's nomination. Trump has stacked his proposed Cabinet with fossil fuel executives, including former Exxon Mobil Corp. CEO Rex Tillerson as secretary of state, and global warming deniers. Myron Ebell, a so-called climate contrarian who spent much of his career combatting climate science, led the transition team that picked the new EPA chief.
Pruitt has spent much of his recent career suing the EPA to block President Barack Obama's new rules to curb greenhouse gases from electrical utilities. He has alarmingly close ties to the fossil fuel industry. He has a history of looking the other way when industries that donate to him are caught polluting.
"Scott Pruitt running the EPA is like the fox guarding the henhouse," Gene Karpinski, president of the League of Conservation Voters, said in a statement.
Pruitt's respect for campaign finance rules may be similarly brazen.
Before You Go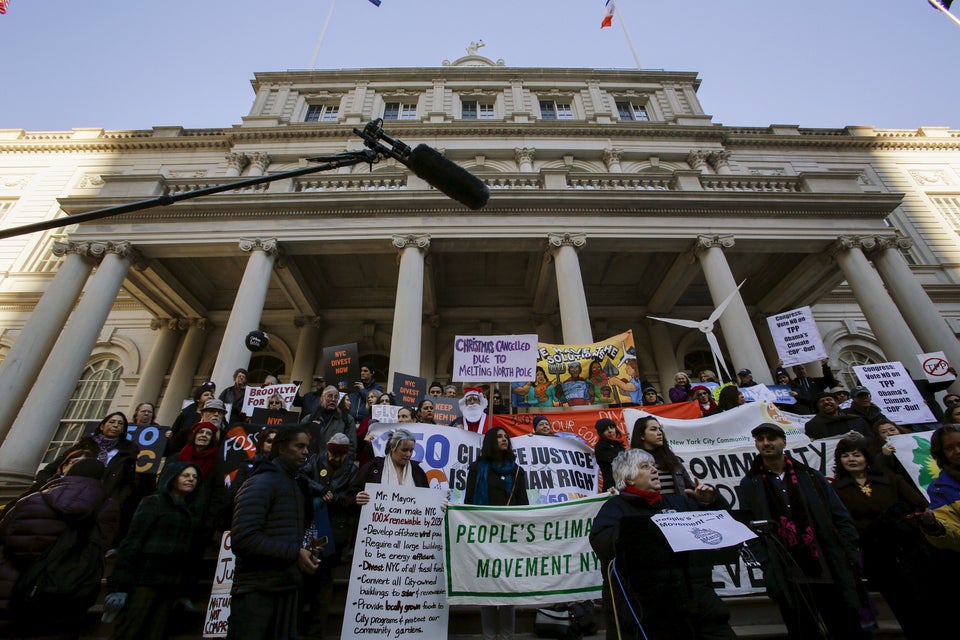 What You Can Do Right Now To Stop Donald Trump's Dangerous Climate Agenda
Popular in the Community