WASHINGTON ― Environmental Protection Agency chief Scott Pruitt said he doesn't "know what it means to deny the climate" in a defiant rebuke of his critics one day after President Donald Trump announced the United States' withdrawal from the Paris climate agreement.
"People have called me a climate skeptic or climate denier," Pruitt said at a White House press briefing on Friday. "I would say that they were climate exaggerators."
To back up his point, Pruitt read from Bret Stephens' controversial debut column in The New York Times, in which the former Wall Street Journal opinion writer rebuffed environmentalists and climate scientists who took issue with his earlier work defending the conspiracy theory that manmade global warming is either overblown or a hoax.
"What the American people deserve is a debate ― objective, transparent discussion ― about this issue," Pruitt said.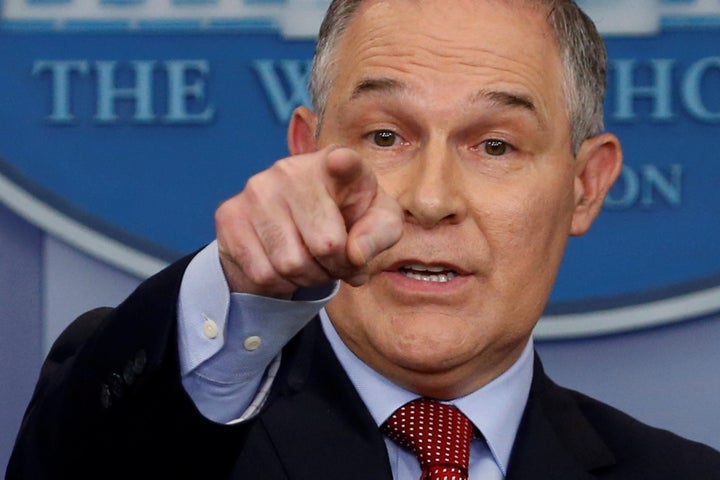 "Global warming is occurring, human activity contributes to it in some manner," Pruitt said, staking out an argument frequently employed by what The New Republic describes as the "kinder, gentler climate-change deniers." "Measuring with precision, in my perspective, the degree of human contribution is very challenging."
The nation's top environmental rulemaker, who is credited with convincing President Donald Trump to withdraw the U.S. from the Paris climate accord, repeatedly refused to say whether the commander-in-chief believes in the widely accepted science that emissions from burning fossil fuel, deforestation and industrial farming are warming the planet.
White House press secretary Sean Spicer was equally cagey, telling reporters who asked him Friday about the president's beliefs, "I have not had the opportunity to have that discussion."  
On Tuesday, Spicer also dodged questions on what the president thinks about climate change. "Honestly, I haven't asked him," he said. "I can get back to you. I don't know. I honestly haven't asked him that specific question."
People have called me a climate skeptic or climate denier. I don't know what it means to deny the climate.

EPA Administrator Scott Pruitt
Typically, White House press secretaries don't tell reporters they'll come back with an answer unless they really plan to, knowing that the reporter who asked the question will bring up their pledge again a few days later.
Countries around the world, including most major U.S. allies, condemned Trump's decision to pull out of the historic accord to cut planet-warming emissions. Democrats, environmentalists and top executives from big corporations also voiced their concern.
Pruitt also spoke in the White House Rose Garden Thursday after Trump announced his plan to withdraw from the pact. The EPA administrator's comments were clearly directed at Trump, who was standing a few feet away and apparently enjoying the lavish praise. In his two-minute speech, Pruitt said "you" 21 times, but "Paris" just three.
On Friday, Pruitt called the decision a "courageous" and "informed, thoughtful decision," insisting the U.S. has "nothing to be apologetic for."
"Paris, truly, Paris at its core was a bunch of words committed to very, very minimal environmental benefits," he said, but added that the U.S. was willing to rejoin the agreement under renegotiated terms.
Other countries have said they have no plans to reopen negotiations.
Pruitt fueled doubt that the administration is genuinely open to re-entering a global climate pact, saying any deal to cut U.S. emissions would require consent from the Senate. But he said the White House would circumvent Congress in any deal that allowed the U.S. to export technology for coal mining or hydraulic fracturing, or fracking, the controversial method for extracting natural gas.
Calling all HuffPost superfans!
Sign up for membership to become a founding member and help shape HuffPost's next chapter
BEFORE YOU GO
PHOTO GALLERY
4 Surprising Places At Risk From Climate Change