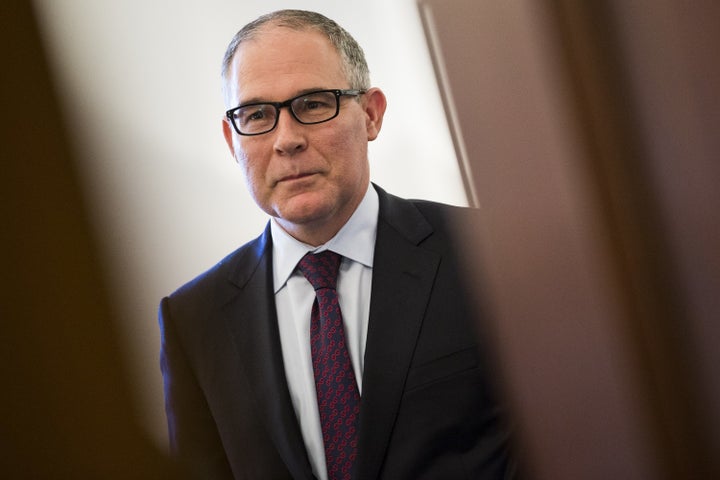 With his nomination hearing just a matter of days away, Environmental Protection Agency administrator nominee Scott Pruitt is facing allegations that he gave a regulatory pass to polluters who in 2010 helped elect him Oklahoma's attorney general.
A new investigation by the Environmental Working Group advocacy organization revealed that Pruitt received more than $40,000 in campaign donations from executives and lawyers who represented poultry companies named in a lawsuit brought by Pruitt's predecessor, Drew Edmondson.
That lawsuit, filed in 2005, accused the companies — including Tyson Foods — of polluting the Illinois River basin with runoff from chicken manure spread over land in northeastern Oklahoma. While the lawsuit was concluded about a year before Pruitt took office, the judge never issued a ruling in the case and Pruitt never issued an appeal for the matter to be resolved.
In a comment to The Oklahoman newspaper last year, Pruitt explained his inaction on the case by saying that "regulation through litigation is wrong in my view. That was not a decision my office made. It was a case we inherited."
In total, the EWG report noted that more than half — about $21,700 — of the poultry industry cash received by Pruitt's campaign in 2010 came from Tyson executives or lawyers representing Tyson. All told, the poultry donations totaled about 4 percent of the approximately $1 million raised by the campaign.
That number includes $7,500 from Tyson's former general counsel James Blair and his wife Nancy, $5,000 from former Tyson CEO and current chairman John Tyson and another $5,000 from former Tyson CEO and board member Don Tyson, who passed away in 2011.
In a statement issued to The Huffington Post, Tyson spokesman Worth Sparkman noted that Tyson did not, as a company, contribute to Pruitt's campaign, but added that "our employees are encouraged to participate in the election process of public officials at all levels, and are at liberty to make personal contributions to any campaign as they see fit."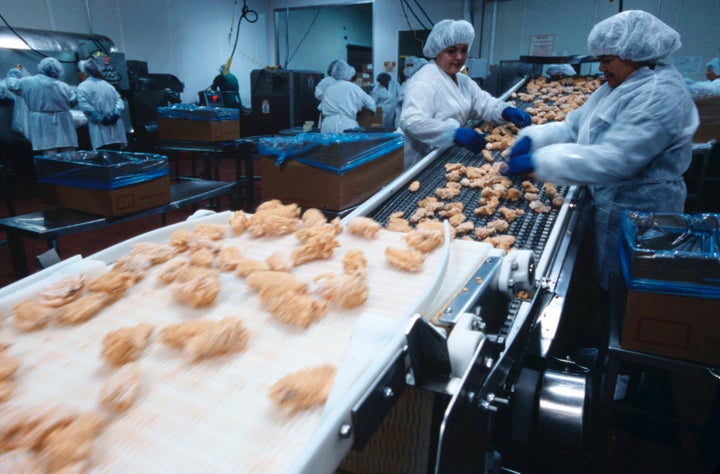 As the EWG report notes, the contributions also preceded Pruitt's dismantling of the Oklahoma environmental protection unit that cut the unit's funding from $463,000 the year he took office to zero two years later.
While a Pruitt spokesman told the New York Times that environmental cases are still being handled by the state solicitor general's unit, Edmondson noted to the paper that prosecution of environmental crimes in the state are still down due to the unit's erasure. 
Ken Cook, president of the EWG, described Pruitt's acceptance of those contributions and his action on Oklahoma's environmental protection unit as a "disturbing" indication of his broader stance on environmental protections.
"Very clearly, this is someone coming in [to lead the EPA] with an ideology to deregulate at whatever government level he finds himself," Cook said. "There's no saying that 'we just have a different philosophy' about who should enforce environmental law. The philosophy, if it exists, is that environmental policy shouldn't be enforced at a state or federal level. It is industry unrestrained."
The Illinois River watershed is cleaner today than it once was. The level of phosphorous in the water decreased about 40 percent between the years 2009 and 2014, part of what an Oklahoma state official described as a "team effort" involving both Oklahoma and Arkansas officials, citizens and firms. 
Some of Pruitt's defenders believe he deserves credit for the role he's played in cleaning up that watershed.
One of them is former Oklahoma Scenic Rivers Commission administrator Ed Fite. In an op-ed published in the East Bay Times on Friday, Fite praised Pruitt for helping broker a "practical and economical" agreement on water pollution between the two states involved. 
Lincoln Ferguson, a Pruitt spokesman, pointed to that agreement in a statement provided to HuffPost as an example indicating that Pruitt "has taken extraordinary steps to protect our state's scenic rivers" by moving the matter "past decades of unfruitful litigation."
Still, Pruitt's connections to agribusiness interests aren't the only ones raising environmentalist eyebrows.
Previous reports have also detailed a close but secretive relationship between Pruitt and the oil and gas industry.
As the New York Times reported in 2014, fossil fuel companies contributed more than $215,000 to Pruitt's two most recent campaigns. In addition, industry lobbyists actually drafted letters Pruitt sent to the EPA and other federal departments objecting to environmental regulations.
As Oklahoma attorney general, Pruitt has sued the EPA more than a dozen times, alleging federal overreach on matters such as the Clean Power Plan and the "waters of the U.S." Clean Water Rule. 
The nonprofit through which Pruitt helped coordinate those lawsuits, the Rule of Law Defense Fund, also has industry ties.
The Charles and David Koch-backed Freedom Partners organization donated at least $175,000 to the organization, prompting six Democrats on the Senate Committee on Environment and Public Works to push for details on Pruitt's ties to the nonprofit. 
Pruitt's nomination hearing before that committee begins Wednesday morning.
Joseph Erbentraut covers promising innovations and challenges in the areas of food and water. In addition, Erbentraut explores the evolving ways Americans are identifying and defining themselves. Follow Erbentraut on Twitter at @robojojo. Tips? Email joseph.erbentraut@huffingtonpost.com.
Calling all HuffPost superfans!
Sign up for membership to become a founding member and help shape HuffPost's next chapter
BEFORE YOU GO
PHOTO GALLERY
What You Can Do Right Now To Stop Donald Trump's Dangerous Climate Agenda