Scott Pruitt faced at least 10 new scandals in just the past four weeks, stretching the Environmental Protection Agency administrator's chaotic streak of corruption accusations into a third straight month.
On Tuesday, newly released internal emails showed Pruitt had ordered an aide to set up a call with the chairman of Chick-fil-A to discuss the administrator's wife, Marlyn Pruitt, becoming a franchisee of the growing fast-food chain. Pruitt never completed the application, but the call raised concerns about the "misuse of public office," Don Fox, who was head of the federal Office of Government Ethics during the Obama administration, told The Washington Post.
Two days in, it was still only the second-most bizarre revelation this week.
On Monday, testimony that two Democrats released in a letter to Rep. Trey Gowdy (R-S.C.), the chairman of the House Committee on Oversight and Government Reform, showed Pruitt instructed Millan Hupp, a longtime aide, to try to buy "an old mattress" from the Trump International Hotel in Washington. Hupp told investigators that she wasn't sure why Pruitt wanted the mattress and that, to her knowledge, it wasn't for EPA business.
Yet the requests ― almost comical in their strangeness, raising new questions about his odd relationships with appointees ― served as distractions from a controversy that put Pruitt's unabashedly close ties to an industry he regulates in stark relief.
On Saturday, The New York Times detailed how Pruitt sat courtside at a University of Kentucky basketball game in December as the guest of Joseph W. Craft III, a billionaire coal executive who aggressively lobbied to reverse Obama-era environmental rules. Pruitt has met with the Alliance Resource Partners chief executive, formerly a major donor to Pruitt's election campaigns in his native Oklahoma, at least nine times since becoming EPA administrator.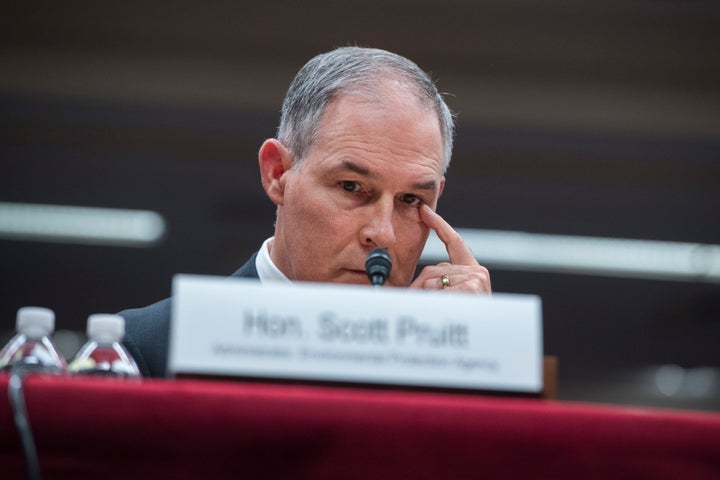 On Friday, The Washington Post reported that Pruitt paid $3,230 in taxpayer money for personalized journals and pens, priced at $130 each, from the luxury Washington jewelry store Tiny Jewel Box. The revelation stoked criticism from Republicans who, despite supporting his radical deregulatory agenda, expressed dismay over his profligate spending.
Yet again, Pruitt's cartoonishly unscrupulous behavior seemed to overshadow news highlighting what many see as the abuse of his position as the nation's top environmental regulator.
Last week, Pruitt named Steven D. Cook, a former chemical industry lawyer, as the new head of the EPA's Superfund Task Force. LyondellBasell, the plastics and refining conglomerate where Cook spent more than 20 years as the in-house counsel, is linked to at least three dozen Superfund pollution sites. Cook replaced Albert Kelly, a former banker banned for life from the banking industry, who quit as the Superfund chief in May amid his own fresh corruption accusations.
Earlier last week, the EPA's own science advisers rebuked Pruitt's decision to gut Obama-era rules requiring automakers to reduce tailpipe emissions, arguing the agency ignored its own research in concluding that the regulations were too stringent.
The move came weeks after the EPA proposed new rules to eliminate regulations passed in the wake of the fertilizer plant explosion in West, Texas, that killed 15 people in 2013. In a news release, the agency boasted that the new proposal would "save $88 million in regulatory costs."
Amid a steady stream of embarrassing new details about Pruitt's administration, the agency has become less transparent. Last month, the EPA barred reporters from entering a heavily publicized summit on toxic water contaminants. An Associated Press reporter was grabbed and shoved by a security guard.
"Two days in, it was still only the second-most bizarre revelation this week."
Yet Pruitt has continued to grant interviews to media outlets staffed by right-wing political operatives.
Last week, Pruitt sat down with Boris Epsteyn, the former Trump White House official who now hosts propagandistic segments aired on Sinclair Broadcast Group stations. The administrator endured softball questions from the conservative Washington Free Beacon. Meanwhile, the EPA has repeatedly fed angles to The Daily Caller, whose EPA reporter had previously worked for the billionaire Koch brothers' political network and its think tanks. Media Matters for America, the liberal watchdog group, said last month, "The Daily Caller and the Washington Free Beacon are serving as de facto press offices for the EPA."
Pruitt also faced fresh criticism over past political decisions with no connection to his current job at the EPA. Last month, Pruitt took heat from women's rights advocates after HuffPost reported on anti-abortion legislation he twice proposed as an Oklahoma state senator to give men "property rights" over unborn fetuses.
It's unclear how much the new scandals ― if that word hasn't completely lost its meaning ― add to the pressure Pruitt is facing to resign. The avalanche of ethics issues began in March, when ABC News reported that Pruitt rented a Capitol Hill townhouse owned by the wife of an energy lobbyist with business before the EPA for just $50 a night. By early April, Pruitt faced at least 23 ethical issues. By last month, he was the subject of at least a dozen formal probes from the Government Accountability Office, the White House, the EPA inspector general and the House Oversight and Government Reform Committee.
Neither the EPA nor the White House responded to requests for comment on Tuesday.
Before You Go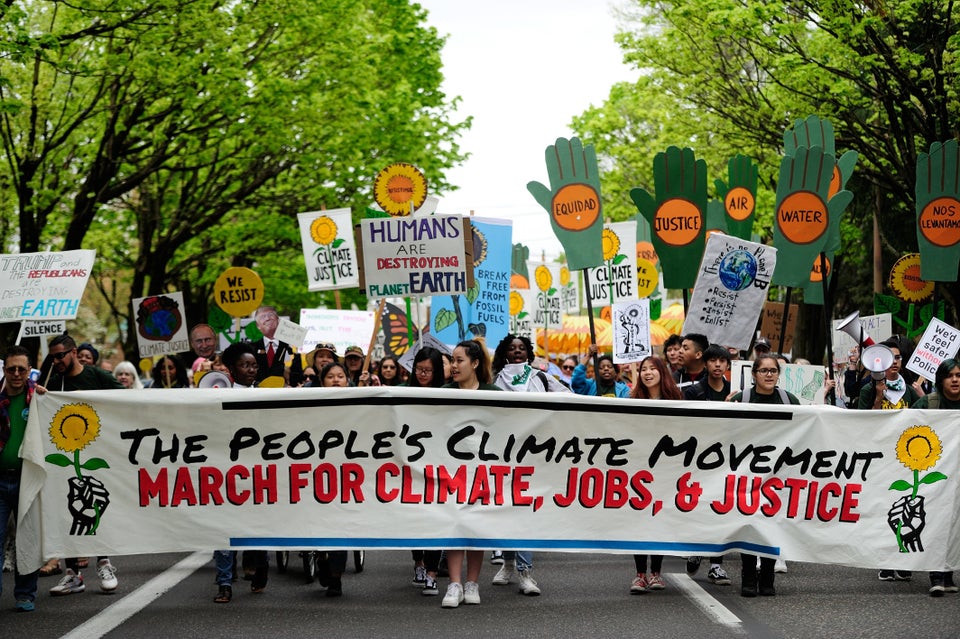 Climate Marches Across The U.S.
Popular in the Community