Two months before beginning a purge of scientists from his agency, Environmental Protection Agency chief Scott Pruitt met with former Canadian Prime Minister Stephen Harper ― who became infamous for muzzling climate researchers during his tenure.
According to emails HuffPost has obtained, the March 27 meeting, scheduled to last 30 minutes, was meant to establish a rapport between the new environmental regulator and the conservative former prime minister. But it's notable that Harper was accused of transforming Canada into a petrostate and overseeing an assault on scientific research during his nine years in Ottawa. He left office in 2015, after losing to now-Prime Minister Justin Trudeau.
Rick Smotkin, a top lobbying executive at Comcast Corporation, arranged the meeting, pitching the idea to Pruitt's scheduler, Sydney Hupp, as "just a meet and greet." The emails were released last month in response to a Freedom of Information Act request from the watchdog Union of Concerned Scientists.
"Harper is former conservative prime minister of Canada," Smotkin wrote in a March 22 email to Hupp. "So just a good person for him to meet."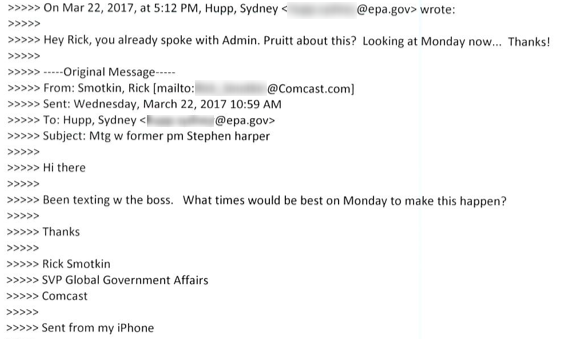 Ahead of the meeting, EPA staffers prepared a memo for Pruitt outlining the agency's work with Canadian environmental regulators on water quality in the Great Lakes, air pollution and other joint agreements. Harper was joined in the meeting by Jeremy Hunt, a managing director at Harper & Associates Consulting, and Shuvaloy Majumdar, a former foreign policy director in Harper's government.
Harper, contacted through the law firm his consulting practice is associated with, did not return a request for comment.
Comcast denied any involvement in the meeting, but said Smotkin had cultivated a relationship with Pruitt during the EPA chief's six years as Oklahoma's attorney general, and thought it would be helpful to introduce him to Harper.
"The meeting actually didn't have anything to do with Comcast or any Comcast business," Sena Fitzmaurice, a Comcast spokeswoman, told HuffPost by phone on Wednesday. "Rick Smotkin has known both Scott Pruitt for a decade and Harper for a very long time as well, and Harper was in Washington, so he thought that they should meet."
An EPA spokesperson, Michael Abboud, said Pruitt wasn't seeking policy advice from Harper, and that the meeting was cordial.
"The purpose of the meeting was to extend a courtesy visit to the former Prime Minister of Canada and thank him for past bilateral cooperation on environment," Abboud told HuffPost by email.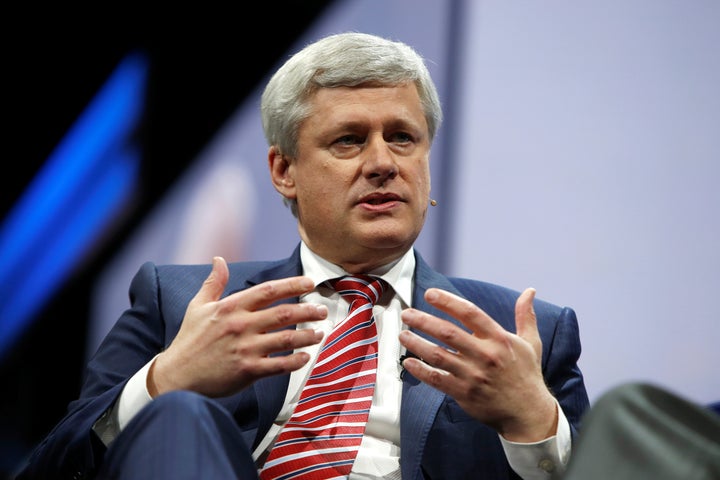 It's unlikely the meeting with Harper caused Pruitt to target scientific oversight at his agency, but the former prime minister's record provides a model for executing on the men's shared policy goals of limiting environmental regulation and boosting fossil fuel production.
Two months after the meeting, Pruitt's EPA began dismissing members of the Board of Scientific Counselors, an internal review panel meant to advise the agency on science. Pruitt had close ties to the oil and gas industry in his role as Oklahoma's top cop, and previously sued the EPA more than a dozen times to block environmental regulations. Since taking office, he has steamrolled his own scientists and made scrapping rules to limit pollution and climate-altering emissions the cornerstone priority of his administration.
By June, the EPA had discharged dozens of scientists across its 23 committees, while nominating new leaders with ties to the fossil fuel and chemical industries ― companies the EPA is supposed to regulate. Late last month, the environmental chemist who leads the Board of Scientific Counselors publicly accused Pruitt's chief of staff of pressuring her to alter her congressional testimony and stick to political "talking points" she said she bucked with actual scientific determinations.
Harper carried out a similar ouster during his time as Canada's prime minister. The son of an Imperial Oil senior accountant, Harper sought to bolster Canada's oil industry. His government secretly spent $30 million on public relations advertising to burnish the image of Alberta's tar sands industry, responsible for some of the most heavily polluting oil production in the world.
Harper also slashed funding for climate and environmental research, eliminated the nation's chief science advisory role and barred the country's 23,000 federal scientists from speaking to the press without permission. In a blistering critique five years ago, The Economist characterized Harper as a bully "intolerant of criticism and dissent."
In 2012, Harper withdrew Canada from the United Nations-brokered Kyoto Protocol, a deal to cut planet-warming emissions. He called the accord "job-killing, economy-destroying" and "a socialist scheme." That same year, he shuttered the renowned Experimental Lakes Area research station, described by Foreign Policy as a "gem of Canadian environmental science that has helped spur global policy on acid rain." He also rewrote rules in the Fisheries Act to make it easier to build pipelines under protected streams and waterways.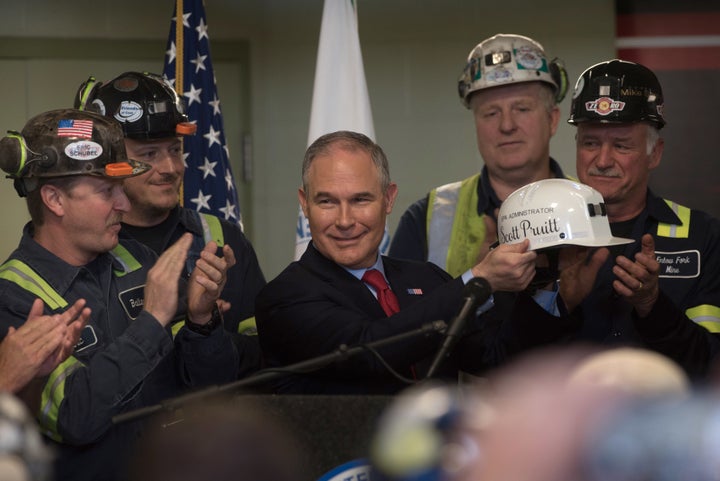 "Harper's record on environmental regulation is that he thinks there's entirely too much of it, he thinks funding science that gets in the way of your policy goals is no way to run a government, and he's somebody who did extraordinary damage to Canada's environmental regulations nationwide," Chris Turner, the Calgary-based environmentalist and author of the 2014 book The War on Science: Muzzled Scientists and Wilful Blindness in Stephen Harper's Canada, told HuffPost by phone.
Pruitt's critics see him and Harper as "two peas in a pod" in that respect.
"Pruitt sees independent scientific advice as an inconvenience and has taken numerous steps to sideline and neutralize it," Michael Halpern, a deputy director at the Union of Concerned Scientists, told HuffPost. "It's unsettling to see the architect of the plan to destabilize Canada's scientific capacity meeting with an EPA administrator who sees no need whatsoever for expert advice."
Trudeau, Harper's successor, has postured himself as the antithesis of the Trump administration on climate change, even though he hasn't taken a drastically different path on environmental issues so far. The Liberal Party leader continues to push for new pipelines, including the newly revived Keystone XL proposal, to carry tar sands oil to U.S. refineries. In negotiations with tribal leaders over mining and forestry rights, Trudeau's government maintained Harper-era demands. Despite reinstituting research funding and a science minister role, he has yet to reverse many of Harper's policies.
Still, Trudeau has built his own relationships with U.S. leaders in hopes of combating climate change. After President Donald Trump pulled the U.S. out of the Paris climate agreement, the latest and strongest international deal in history to reduce greenhouse gas emissions, the Trudeau administration began increasing efforts to work with state governments.
Quebec and California already work on cap-and-trade programs, and Ontario and Manitoba are part of a climate policy coordination group with a handful of Midwestern states. Trudeau is now working to build alliances with Florida, Indiana, Texas, Michigan, New York and other states, according to The New York Times. The prime minister delivered the keynote speech at the National Governors Association summit in Rhode Island earlier this month.
"The relationship between our countries is historic. It is a model to the world," Trudeau said in the speech, which touched on climate change but focused on trade. "We must get this right."
Before You Go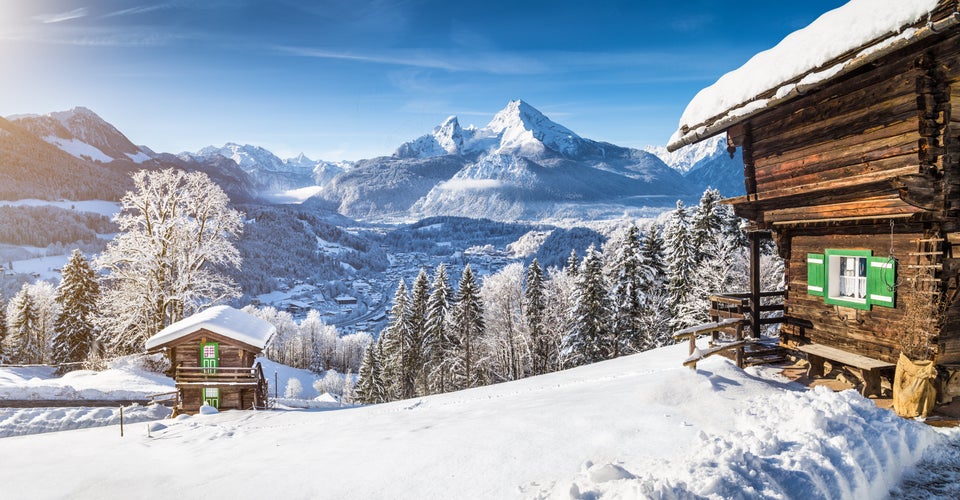 4 Surprising Places At Risk From Climate Change
Popular in the Community