SYCAMORE, Pennsylvania — The head of the Environmental Protection Agency chose a Pennsylvania coal mine with a history of violating environmental laws as his venue for unveiling a new plan to refocus his agency in a way that he says will both protect the planet and promote economic growth.  
Ignoring the fact that the U.S. coal industry's troubles are primarily the result of market forces, Scott Pruitt offered roughly 75 miners at the Harvey Mine this hopeful message: The "regulatory assault" on coal is over.
Pruitt, a climate change denier and longtime ally of the fossil fuel industry, claimed that coal, oil and gas companies are both pro-environment and pro-growth. Now that Obama is out of office, he said, America doesn't have to chose between the two.
"It's been said — I think you've heard it said — you can't have your cake and eat it too," Pruitt said. "I'll tell you, whoever says that doesn't know what you're supposed to do with cake."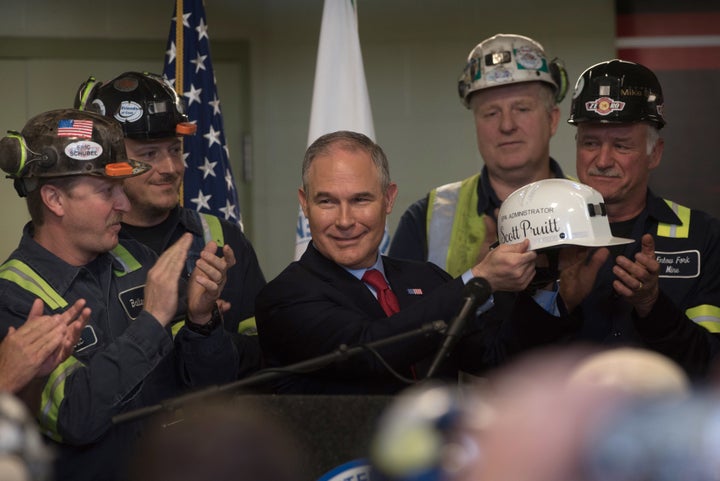 Pruitt's message wasn't surprising, but his choice of venue was somewhat baffling.
Patrick Grenter, a senior campaign representative for the Sierra Club's Beyond Coal Campaign, told The Huffington Post that Consol has operated recklessly for many years. In a 2005 settlement, the company paid $36 million to replace a dam that it was accused of damaging with its operations. 
Grenter called Pruitt's visit to Harvey Mine "very concerning." He said the only reasonable conclusion he could draw is that "'back-to-basics' means back to promoting polluters over public health."
Pruitt's visit to coal country comes a little over two weeks after President Donald Trump, surround by coal miners, signed an executive order instructing the EPA to review Obama's Clean Power Plan, a policy limiting greenhouse gas emissions from power plants. The order also took measures to further protect the coal industry, namely by instructing the Department of the Interior to lift a temporary ban on coal leasing on federal lands that the Obama administration put in place last year.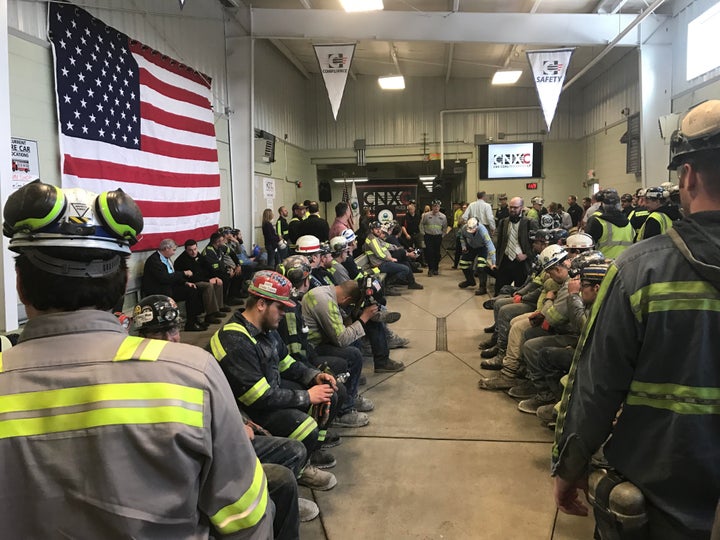 Miners, most of whom were in their 30s and 40s and many of whom were covered in dust from their morning shift below ground, began to gather inside a large common area of the portal building before Pruitt's address. At one end, workers wearing headlamps, hardhats and reflective suits came and went from a silver elevator shaft. On a long wall, a board covered in tags indicated who was on shift.
"[It's] no lie that the [coal] industry in the last eight years, we've all felt a lot of pain," said Jimmy Brock, CEO of CNX Coal Resources, which operates the Harvey Mine. But the Bailey complex persevered somehow, he said. 
"It's easy to be optimistic now," Brock said following Pruitt's speech. He added that coal miners should never apologize for the work they do.
Other miners in attendance seemed to share Brock's optimism about the future of coal.
Eben McClay, of the nearby town Claysville, has worked at the Bailey complex for a decade. He told HuffPost that he sees Trump as being "all about America" and likes to see the administration standing up for coal and bringing jobs and industry back to the U.S. 
"The coal mine produces a lot of money and a lot of jobs for this area — for a lot of families," he said. 
Harvey Mine is located in Pennsylvania's Greene County, which has a population of just over 35,000. The coal industry here employs between 7,000 and 8,000 people, according to Robbie Matesic, executive director of the county's Department of Economic Development. The county probably couldn't withstand a sudden death of the industry, she said, but added that she is seriously concerned about climate change and believes coal companies must be held accountable for the environmental damage they cause. 
"Here's our problem: We have an economy dependent on it," she said. "The truth is our economy is not healthy because of the way it is dependent on the energy industry."
The community has been working hard to diversify its economy for the last several years, Matesic said. But it needs more time. 
Mark Kusky, a coal miner who has been with Consol for 11 years, said it's encouraging to see Trump follow though on his campaign promise. Asked about climate change and the argument for cutting carbon emissions and moving toward renewable energy, Kusky said all energy sources have their downsides.
He added that he's hopeful coal will make a comeback, but that only time will tell if it can become the powerhouse it once was.
"The future looks bright from where we're standing," he said.
Matesic, however, said the only way to have healthy economies is to diversify ― meaning Trump and Pruitt are giving the coal industry, and communities like her own, false hope. 
"If the Trump administration is really concerned about the economic health and the environmental health of this country — if they really are — they're not going about it the right way," she said.
See more about EPA's "Back-To-Basics" Agenda here.  
How will Trump's first 100 days impact you? Sign up for our weekly newsletter and get breaking updates on Trump's presidency by messaging us here.
REAL LIFE. REAL NEWS. REAL VOICES.
Help us tell more of the stories that matter from voices that too often remain unheard.
BEFORE YOU GO
PHOTO GALLERY
Climate Visuals For The Climate Change Denier In Your Life