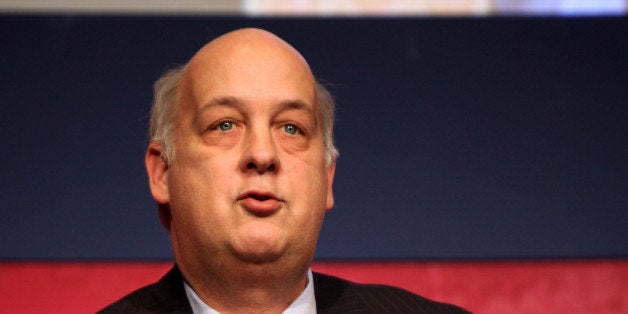 Scott Rasmussen has left the automated-polling company that bears his name, according to a news release posted by the company on Thursday.
"The Rasmussen Reports, LLC Board of Directors today confirmed that founder Scott Rasmussen left the company last month," the statement said. "In part, the move reflects disagreements over company business strategies."
The unexpected announcement helped explain an odd tweet posted on the Asbury Park, N.J.-based firm's Twitter feed 10 days ago: "I will no longer be personally tweeting from this account... Scott Rasmussen."
While the Twitter account would occasionally include notices of Rasmussen's media appearances, it mostly sent news of the latest poll release and was largely devoid of personal anecdotes.
Rasmussen, who along with his father co-founded ESPN in 1979, moved into the polling business in the mid-1990s, soon winning attention from commentators like Rush Limbaugh and Bill O'Reilly for his surveys and conservative analysis. He founded Rasmussen Reports in 2003. The firm followed the lead of New Jersey-based SurveyUSA in popularizing polling that dispensed with live interviewers in favor of an automated methodology that uses a recorded voice to ask questions and has respondents answer by pushing buttons on their touch-tone phones.
The automated methodology has met with skepticism from established survey researchers who question its inherent compromises. Rasmussen Reports pushed the boundaries of best practices especially far, by routinely weighting results by party identification and dispensing with the widely accepted practice of following up with sampled households not contacted on the first dial.
Rasmussen's practice of surveying only "likely voters," rather than the full population, on all subjects earned criticism in 2010 from Scott Keeter, director of survey research at the Pew Research Center. While president of the American Association for Public Opinion Research in 2010, Keeter told The Washington Post that this practice "paints a picture of an electorate that is potentially madder than it really is ... And potentially more conservative than it really is."
In 2009, Noson Lawen Partners, now Rasmussen Reports' majority investor, gave the firm the capital to expand its daily, automated tracking polls. In a 2010 profile, The Wall Street Journal described Scott Rasmussen as "America's Insurgent Pollster," crediting him with catching the shift toward tea party sentiment.
Ted Carroll, a partner at Noson Lawen, declined to elaborate on the nature of his company's current disagreements with Scott Rasmussen, referring instead to the Rasmussen firm's press release.
The release emphasized that "Mr. Rasmussen's legacy remains intact" and said his "polling methodologies and protocols" would "continue to guide and inform the company's public opinion survey techniques."
On this issue, the company release said only that it "will continue to build the company's polling technologies to address the dynamics of a mobile marketplace."
Earlier this month, Scott Rasmussen announced the creation of a new company, Rasmussen Media Group, which he said would "develop and invest in digital media opportunities." A little-noticed press release on Aug. 8 promised that "[t]his new venture reflects a transition from Rasmussen's role as a scorekeeper in the nation's political dialogue to becoming a more active participant," especially in critiquing "crony capitalism and the unholy alliance between big government and big business."
"Moving from one venture to another is always a mix of excitement and sadness," Rasmussen said in the release. "We have a tremendous staff at Rasmussen Reports and I will miss them daily. But the opportunity to help empower the voice of mainstream America is terribly exciting."
Popular in the Community