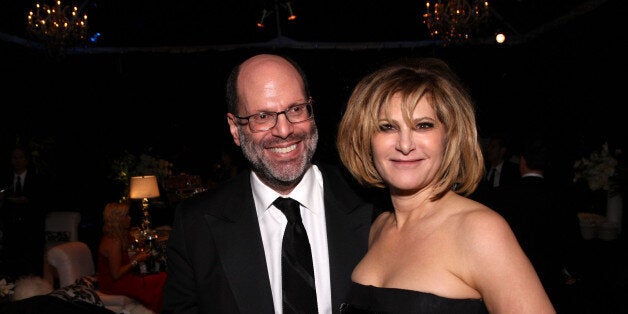 Sony co-chairman Amy Pascal and producer Scott Rudin have apologized after racially insensitive emails they sent to each other leaked online as part of a massive hack of Sony Pictures.
"The content of my emails were insensitive and inappropriate but are not an accurate reflection of who I am," Pascal said in a statement provided to The Huffington Post. "Although this was a private communication that was stolen, I accept full responsibility for what I wrote and apologize to everyone who was offended."
In the emails, published by BuzzFeed on Wednesday night, Pascal and Rudin discussed what movies President Barack Obama would probably count among his favorites. "'Ride-Along,'" Rudin wrote. "I bet he likes Kevin Hart." Other films with black casts that Pascal and Rudin presumed Obama would enjoy included "Django Unchained," "12 Years A Slave," "Lee Daniels' The Butler" and "Think Like A Man Too."
"Look, I understand these things are juicy, salacious and tempting to the people who are reading them," she said. "I would ask that they reserve some kind of judgment about those stolen emails defining someone. This one e-mail was really hard for me. Otherwise, I realize I'm just going to have to move forward. I cannot worry every day, about the next thing that's going to be read by the town about me, something I said in a moment of weakness, stupidity or tactlessness."
This post has been updated to include quotes from Pascal's interview with Deadline.com.