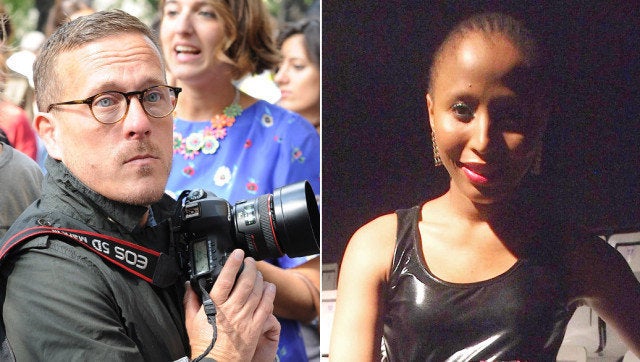 It was quite a get for this year's Africa Fashion Week to be sponsored by Mercedes-Benz. The luxury car company is responsible for putting on the most highly respected fashion events around the world. Couple that exposure with a short, yet powerful list of international press attending the shows last week in Johannesburg--including Vanity Fair's fashion and style director Michael Roberts and EBONY's style director Marielle Bobo-- and you've got yourself the makings of a major production.
And like any great Fashion Week there are plenty of street style bloggers present to capture the super stylish show-goers filling the front row. Scott Schuman of TheSartorialist.com, who is the most famous street style photog, was on hand for Africa's 5th annual Fashion Week in Johannesburg. And although his attendance garnered big buzz, that excitement turned to disappointment when it became apparent that he wasn't filling up his camera's memory card with fierce fashion moments from the Fashion Week tents.
WWD picked up on disheartened South African fans protesting about Schuman only using pictures he'd snapped of South Africans in "inner city" settings, rather then well-heeled folks decked out in designer threads. Schuman only posted about a handful of photos on his popular website, all of which were shot away from the Fashion Week festivities. It's also worth noting that one photo was of his colleague Sam and three were closeups of women with headwraps--which were beautiful however repetitive and not representative of his renowned head-to-toe snaps.
When asked about the moans and groans from fans Schuman was bewildered.
"Really, they're moaning? They're mad? Why? Well, I would say that the people who do dress in that other way [in designer labels], they've just got to bring their game on," Schuman told WWD.
Ouch! And if that wasn't biting enough, the famous photog also offered this harsh and convoluted explanation:
"I've only met a few people here that I've maybe wanted to take pictures of. Johannesburg reminds me of a lot of cities, like Moscow, Buenos Aires and in Poland, places that had some kind of political or economic difficulty, or they were a communist country for a long time...A lot of the women here are very beautiful, very perfect in every way, but it lacks a certain amount of charm."
Well, that's pretty much the definition of a backhanded compliment. Is it safe to assume that the organizers behind Africa Fashion Week might think twice about inviting Schuman back next year? (And he also had a few choice words for Bill Cunningham, the 80-year-old street style photography pioneer and legend from The New York Times).
Our experience attending the Africa Fashion Week shows was dramatically different. There's no question that South Africans have a unique approach to fashion, but that doesn't make them any less stylish or charming. In fact, their love of prints, festive embellishments and head-turning designs give them a unique voice in the global fashion conversation.
Check out the street style pictures we took while attending Africa Fashion Week 2012. Do you sense a lack of "charm"?
PHOTO GALLERY
Africa Fashion Week Street Style & Instagram Pics
Calling all HuffPost superfans!
Sign up for membership to become a founding member and help shape HuffPost's next chapter