New York's July radio ratings include a number that is wonderfully satisfying for everyone who ever got discarded from a job because the bosses wanted to go young.
Widely respected radio veteran Scott Shannon, who left the morning show at WPLJ (95.5 FM) in early 2014 amidst an unspoken sense that management felt he'd aged beyond the audience, just hit number one in the mornings at WCBS-FM (101.1), the station that had quickly scarfed him up.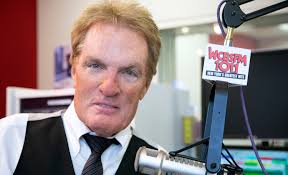 Purely as a radio story, this is impressive because in New York, the 6-10 a.m. period for years has been owned by all-news WINS (1010 AM) – a solid, reliable one-stop for headlines, weather and traffic/transit.
So it's rare for any music station to reach No. 1, which was also true back when Howard Stern was consistently the leader.
WCBS-FM is a music station that plays "classic hits," focusing on the '80s and '90s. It also subscribes to a classic philosophy about DJs. It wants them to have personalities.
DJs used to be your friend, talking to you and even referencing the music they played. More often these days, DJs chime in only long enough to say, "And now, 12 in a row."
Radio programmers will tell you that's what today's listener wants. It's frustrating for those of us who always heard radio as more than a jukebox. Not that there are a lot of jukeboxes any more, either.
Happily, morning shows have remained a last haven for conversation, and Shannon is among those who will even talk about the music, which he knows back to Elvis and Buddy Holly.
His New York career started in 1983, when he revived the dormant top-40 format at WHTZ (100.3 FM, Z-100), taking the new stationi "from worst to first" in his initial ratings quarter.
After a brief trip to L.A., he returned to New York in 1991 and settled in at WPLJ for almost 23 years, which in radio is the equivalent of four or five centuries.
So it was puzzling to listeners when, in February 2014, he left rather abruptly. There were no official statements on either side, but it was clear WPLJ's owners, Cumulus, made no real effort to keep him.
Let's just say we all know people who could still do their jobs, but maybe made a little too much money for the corporate budget and were seen more as a part of yesterday than tomorrow.
However it went down, Shannon was not ready to switch off his microphone, and weeks later he was hired for mornings at WCBS-FM.
Since then, WCBS-FM has consolidated its position as a market powerhouse – a tribute to Program Director Jim Ryan and veteran city DJs like Dan Taylor, Broadway Bill Lee and Joe Causi.
And to Shannon, who rehired his long-time WPLJ sidekick Patty Steele and has clearly reconnected with a lot of folks who grew up hearing him on Z-100.
As for his show reaching No. 1, it should be noted that radio ratings are more fragmented than a smashed watermelon. Station execs will tell you the overall ratings are a "beauty contest," because what sells advertising is a station's performance in a specific demographic – 18 to 34 or 25 to 54 or whatever.
Strictly in a business sense, that's true, and radio is a business.
But it's not meaningless that Shannon's Big Show is the most popular morning program in New York among all the people who listen to the radio, which is a huge number. WCBS-FM alone is heard by upwards of four million people a week.
So demos, schmemos. If you've ever been told you're old and in the way, this is a moment to savor.
Calling all HuffPost superfans!
Sign up for membership to become a founding member and help shape HuffPost's next chapter
This post was published on the now-closed HuffPost Contributor platform. Contributors control their own work and posted freely to our site. If you need to flag this entry as abusive,
send us an email
.