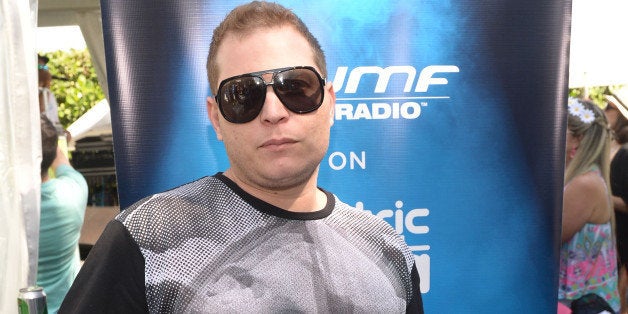 Hip-hop producer Scott Storch, who worked with the likes of Justin Timberlake, Beyoncé and Dr. Dre to amass a fortune of $70 million, now allegedly has only a few thousand dollars in assets to his name.
TMZ reported that Storch filed for bankruptcy claiming just $3,600 in assets, including a $3,000 watch, $500 in clothing and $100 in cash.
The New York Daily News obtained the filing for Chapter 7 protection made in Florida earlier this month. The 41-year-old, who was behind hit songs like Beyoncé's "Naughty Girl," Timberlake's "Cry Me a River," and Britney Spears' "Me Against the Music," claimed his companies Tuff Jew Productions and Storch Music are worth $0 today. He apparently has $4.4 million in debt after blowing his money on cars, jets, jewels and drugs.
The Miami New Times described Storch's lavish lifestyle in a 2010 profile, detailing how he had a garage stacked with 13 vehicles ("including a $600,000 Mercedes SLR McLaren, a $500,000 Mercedes Maybach, and a $1.7 million black Bugatti Veyron"), a $20 million yacht, a $10 million 18,000-square-foot mansion and "a $3 million 34-carat yellow-diamond pinkie ring." He counted Paris Hilton, Lindsay Lohan and Kim Kardashian as friends.
"I would always be going from LA to Miami to New York, to Russia, St-Tropez," Storch told Billboard last year. "Costs about $50,000 for a domestic flight, $250,000 for overseas. Yeah, that's an expensive habit."
Cocaine proved to be his downfall ("Constantly snorting bumps of coke, he now paired his jewelry with shirts stained from 'blood that would just gush out of his nose at any given time,'" per the Miami New Times.) That drug problem cost him $30 million, according to Details magazine. He filed for bankruptcy in 2009 and checked into rehab.
Storch was trying to get better about his spending, according at a 2009 interview with MTV. "The cost of the drug didn't affect my life," Storch said. "It was the poor decisions I made, that were so poor financially, that caused me to go into this situation where I was forced to change my lifestyle … forced to change a lot of things. [I had] 15 to 20 cars at all times. That's not smart. I would take one of 15 half-million-dollar cars I owned and go to the mall and spend that much money. Stupid, stupid stuff. It's like it didn't make a difference. They were ego investments. I would have been great with three or four cars! I didn't need a 117-foot boat."
Calling all HuffPost superfans!
Sign up for membership to become a founding member and help shape HuffPost's next chapter