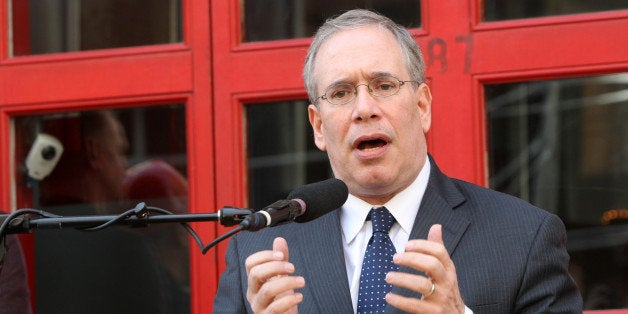 NEW YORK -- Scott Stringer, a candidate for New York City comptroller, and his friends failed to pay more than $6,000 in taxes and fines for 10 years on a doomed bar that they co-owned in the early 1990s.
A bitter dispute with their landlord over unpaid rent and other alleged violations forced Stringer and his three partners to shut down the Simon Sez bar on Manhattan's Upper West Side in 1991 after a little more than one year in business, The New York Times reported last week.
But The Huffington Post has learned from New York City's Department of Finance records that it took years for Stringer and his associates to make good on city taxes they incurred while running the bar. It was only in June 2001 that an accountant for Stringer, the current Manhattan borough president, and his partners cut a check for $6,544.49 to the department to settle the tab for commercial and corporate taxes, plus accrued penalties.
At the time, the bar owners' lingering debt was paid off, Stringer was a state assemblyman in the midst of an unsuccessful bid to become the city's public advocate.
On Tuesday, Stringer's campaign declined to comment on the record for this article. But a campaign spokeswoman told HuffPost that Stringer was unaware of the business' unpaid taxes and accrued penalties. She suggested that he might not have known about the taxes, because the bills could have been sent to a building where the owners no longer collected mail.
As soon as he learned of the outstanding taxes, he paid them off, she said.
The debt was officially in the name of the West 106th St. Rest. Corp. Stringer was the company's president, according to company documents. The partners in the Amsterdam Avenue bar included Jay Rabinowitz, who's been an aide to Stringer and Charlie King, who was the New York State Democratic Party's executive director until last year.
A spokesman for the city's Department of Finance told HuffPost that Stringer and the dissolved West 106th St. Rest. Corp no longer owe the city money.
Simon Sez closed in 1991. Stringer and his partners vacated the premises in exchange for landlord George Beane absolving them of what he claimed was almost $60,000 in unpaid rent.
Quickly, Stringer and investors opened another bar called Uptown Local that also shuttered amid a dispute with the landlord, the Times reported.
"He said it [running the bar] taught him to sympathize with small businessmen," said Beane to HuffPost. "But he was never paying small businessmen."
Related
Popular in the Community