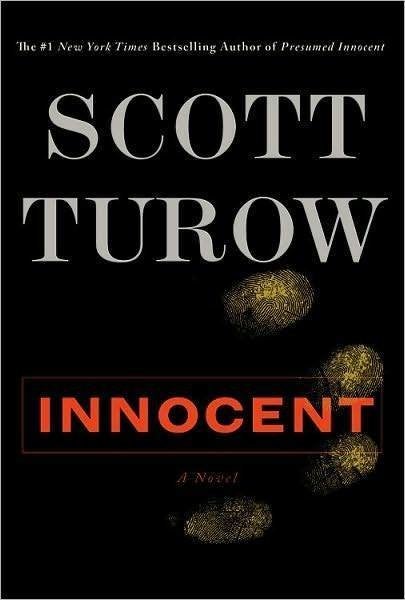 TNT is taking books from five best-selling novelists and making movies out of some of their best stories. The writers include Scott Turow, Sandra Brown, Lisa Gardner, Richard North Patterson and the writing team of Mary Higgins Clark and Carol Higgins Clark. Kicking off this project is a film adaptation of Scott Turow's Innocent.
Innocent is a faithful rendering of Turow's 2010 best seller which was a sequel of sorts to his novel Presumed Innocent which was published in 1987. To understand the plot of this movie and of the later novel it is best to have read the first book about Rusty Sabich. Still a general understanding of the plot comes through in the film and only small nuances will be overlooked.
In this film Sabich (Bill Pullman) is a successful judge. His home life is not as successful as his wife suffers from depression. The film opens with Rusty sitting on the bed looking at his wife who is dead. He has been there for over 24 hours before he calls the authorities. An early analysis finds she died of heart failure.
Twenty years earlier Sabich had been prosecuted by District Attorney Tommy Molto (Richard Schiff) for the death of his lover. He was found to be innocent. Now Molto sees a chance to get the man he is convinced was guilty in the earlier trial. When pieces of evidence turn up showing Sabich had been engaged in another affair, Molto makes his move.
Sabich maintains his innocence from the start. He desperately wants his son Nat (Callard Harris) to believe him. He also is determined that Nat not find out about his affair with his law clerk Anna (Mariana Klaveno), especially since Nat is now seeing her.
There are a lot of complex relationships in this story and the movie does a good job of sorting them out. The acting is also above-average, with Pullman giving Rusty just the right amount of guilt and determination. Harden is also excellent as the unstable Barbara. She manages to get the essence of Barbara's personality across in just a few key scenes.
Harris is emotionally naïve in the film as he should be since Nat has been protected for most of his life. Klaveno looks a bit like Harden which gives the affair an added creepiness. Alfred Molina is underused as Rusty's attorney Sandy Stern while Schiff hits the right notes as the prosecutor.
Innocent is an intriguing courtroom drama which will have you guessing up to the very end. If all of these adaptations TNT is attempting are of this caliber then we have a lot more movies to anticipate.
Scott Turow's Innocent premieres on Tuesday, November 29 at 9 p.m. on TNT.
Popular in the Community