 Business is thriving at the Big Apple Pizza shop thanks to owner Scott Van Duzer's now-infamous bear hug of President Obama.
Sales at his Fort Pierce, Fla. pizza place are up 200 percent, Van Duzer told The Huffington Post, since he lifted Obama off the ground in an exuberant squeeze that transfixed the country on Sunday, launching a flurry of copycat hugs. The 46-year-old businessman went on to embrace CNN's Anderson Cooper and former Florida governor Charlie Crist, as well as many locals who are now coming by the restaurant just to get a quick snuggle.
"Business has been booming," Van Duzer told The Huffington Post.
Around the country, many were upset with the self-identified Republican small business owner for supporting Obama, some threatened a boycott, others posted what he called "vulgar, graphic" notes on social media and even called in fake orders for pizza. But the overwhelming response has been positive, says Van Duzer, who started working at the store when he was 16 and has never worked anywhere else.
"The outpouring of love and support from my community to me has been overwhelming," Van Duzer said. Many have called in to order pizza or donate money to his shop from as far away as Alaska, Hawaii, New York and New Jersey. He's taken their orders and donations and used them to give away pizzas to shelters, veterans associations, and firehouses and police stations, he said.
Van Duzer took over the business in 1991 and runs it with his sons and a few other employees. In 2008 he launched The Van Duzer Foundation, which helps raise awareness and funds for blood donations.
Since Sunday's hug, Van Duzer has sidestepped questions ranging from how the president smelled to whether he was heavy. "People say it was staged, it was fake, and I can tell you right now, from the bottom of my heart, it was like we were high school buddies from 25 years ago at a high school reunion. No matter all the bad, I would do the exact same thing again."
Regardless of how it has been interpreted, Van Duzer saw the hug as a gesture that was "innocent [and] respectful. At the end of the day, it's the president of the United States, not the president of the Democratic party, not the president of the Republicans."
Van Duzer, who voted for Obama in 2008 and plans to vote for him again in November, doesn't take issue with Obama's small business policies. "My business is stronger than it was four years ago, and that's because I take accountability for my business," he said. "I personally run and operate my business, and I don't depend on the government to help me."
Instead, Van Duzer has found a better way to boost business: hugging. "I gave out over 100" hugs Wednesday, Van Duzer said. "We're going to get a monitor, and when we get to about 300 or 400 hugs, we're going to play them on a loop, so people can come in and see their hugs. We're having a good time with it."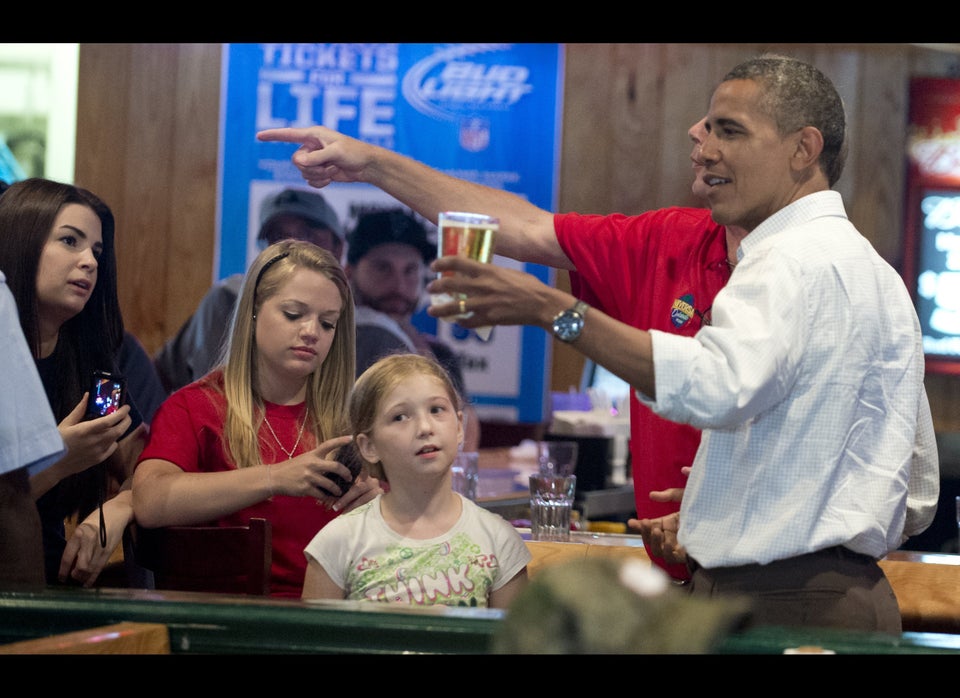 President Obama Drinking Beer
Related
Popular in the Community