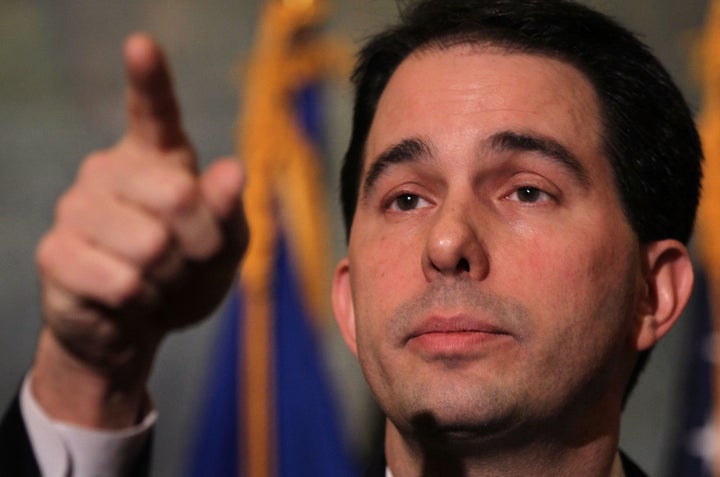 WASHINGTON -- Several days removed from the budget battle that roiled Wisconsin over the course of three weeks, Gov. Scott Walker (R) stands out from the major players as a politician who seems unconcerned with being pitted against the protesting masses.
That appears to have been the case for more than a few years. A Democratic source in Wisconsin sends over a newspaper clip and a campaign brochure detailing Walker's run for president of the Associated Students of Marquette University during his sophomore year in 1988.
Walker never attained a degree from Marquette, but his presidential campaign left an imprint. On the eve of the election, he and his allies distributed copies of a brochure that contrasted Scott's style of leadership with the rabble-rousing, protest-leading, vague idealism of his opponent.
"Scott knows that student protests and sit-ins are poor substitutes for effective leadership and reasoned argument," the brochure reads. "In contrast, his opponent has publicly encouraged much demonstration and has tried to lead several ineffective protests of his own."
The comparison between Walker's run for student body president and his showdown with labor leaders as governor is, of course, imperfect. But there certainly appears to be a defining trait that threads the two together. Rallies and protests often draw political figures, who recognize the importance of movement association. For Walker, the inclination has been to demonize the crowds.
Walker ended up losing the student body election. His 11th-hour brochure-dropping may have played a role. The student body newspaper had initially endorsed Walker's opponent, John Quigley, but argued that both candidates could serve effectively. A few days later, the paper rescinded its quasi-endorsement of Walker, as shown below, due to Walker's politicking.
In addition to the mudslinging brochures, the editorial board's later statement hinted disappointment that Walker campaign workers had thrown away issues of the paper under the mistaken belief that the initial editorial had been simply pro-Quigley and not essentially a joint endorsement.
Popular in the Community