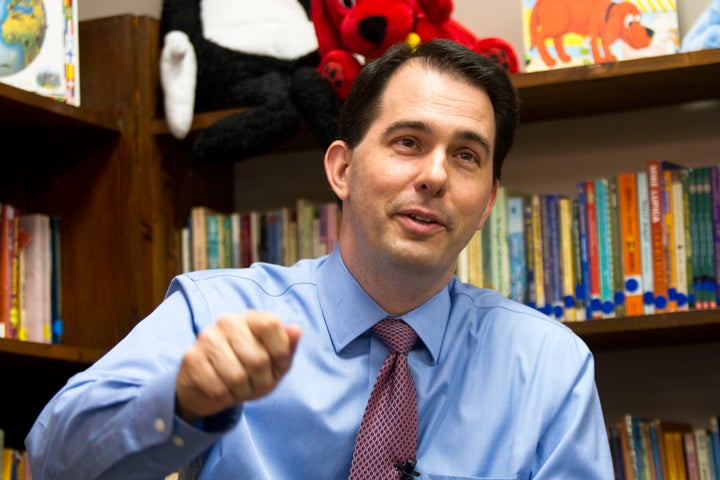 MILWAUKEE -- Wisconsin Gov. Scott Walker's (R) most memorable -- and controversial -- recall ad is one that goes after Milwaukee Mayor Tom Barrett (D) for a scandal where violent crimes in the city were underreported. But a criminologist quoted in that ad says the governor misrepresented his views and is "absolutely wrong" to blame the mayor for the problem.
"This 2-year-old spent six days in intensive care after being severely beaten," says the Walker ad's narrator. "But Tom Barrett's police department didn't consider it a violent crime." The ad then shows crime statistics and asserts "violent crime is up" in Milwaukee.
The ad is based on an investigation by the Milwaukee Journal Sentinel that found more than 500 incidents since 2009 "were misreported to the FBI as minor assaults and not included in the city's violent crime rate." It was enough of a difference to mean that Milwaukee's violent crime rate had gone up, not down, as public officials were touting.
Sam Walker, a criminology professor at the University of Nebraska-Omaha, was quoted in the piece saying the scandal raised questions about the Milwaukee Police Department's procedures.
"That clearly indicates a systemic problem in the department -- there has to be a failure of leadership," he said. "If (police) do it in one or two cases, it's not a big deal. If they do it in a large number of cases, it's suspicious and probably improper. It's something that needs to be corrected immediately."
Sam Walker's quote was then prominently used in the the governor's ad:
The professor believes the governor has misused his quote, saying the "failure of leadership" he referred to has nothing to do with Barrett.
"The governor misrepresented what I said," he said in an interview with The Huffington Post.
"My comment was about the police department strictly," he added. "Mayors don't understand these things. They just accept what their police chiefs and police departments give them. ... The governor was absolutely wrong in saying the mayor was directly responsible for this."
The crime ad was a hot topic at the second and final gubernatorial debate on Thursday. Barrett likened it to the much-criticized "Willie Horton" ad of the 1988 presidential campaign.
"You should be ashamed of that commercial, Scott Walker," Barrett said.
Walker's campaign did not return a request for comment for this piece. But after the debate, the governor said he had not received a bad reaction to the ad.
"Most people are surprised when they see that the facts show ... that violent crime sadly is not down in the city of Milwaukee," he said. "It's up."
Popular in the Community