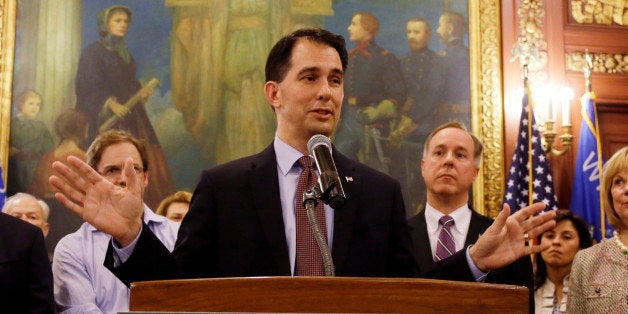 Wisconsin Gov. Scott Walker made his latest pitch last week to finance a new arena for the NBA's Milwaukee Bucks, offering $250 million in public money to help the team replace the 27-year-old Bradley Center.
Conservatives in his state and nationally aren't thrilled, which suggests there are some stumbling blocks for the likely Republican presidential candidate as he gets ready to officially announce his run.
The Walker plan would contribute $250 million in public money, half of the new arena's estimated cost. The plan caps the state's contribution at $80 million -- $4 million annually for 20 years -- while county and municipal governments would contribute the remainder of the taxpayer money.
Losing the Bucks, who under the terms of their 2014 sale could relocate if they don't have a new arena by 2017, would cost the state some $419 million, Walker has said. That figure includes the loss of income taxes from the NBA players, the loss of projected revenue growth due to the presence of the team and the cost of maintaining the Bradley Center with lower-profile sporting events.
For that reason, the governor has repeatedly insisted that his plan is a smart one for Wisconsin.
"All across the nation when they do projects like this, it's a good deal," Walker argued Sunday on ABC's "This Week."
But his plan has already drawn criticism from Republican-friendly groups who oppose the idea of handing millions of dollars in public money to private entities. The libertarian Cato Institute and conservative blog RedState have editorialized against it. Even Americans For Prosperity-Wisconsin, a wing of the Koch brothers-backed group that Walker has courted in his run-up to a presidential bid, issued a statement this week opposing the final deal.
Some Wisconsin Republicans have similar qualms.
"Let's put it this way: I'm scrutinizing this plan to an extreme level," state Rep. David Murphy (R) told The Huffington Post. "The Bucks staying in Wisconsin would be very good for this state. But I do have a philosophical objection to seeing taxpayer money go to millionaire basketball players and billionaire team owners."
Murphy raised practical problems too, saying there are "a lot of things that give me heartburn" about the structure of the deal, which relies on local tax financing and other sources of revenue, including uncollected debt.
"It reminds me of being younger and playing Mouse Trap," he said, referring to the board game. "If one of these pieces doesn't work, it's a mess."
Still, Murphy figured he could possibly look past his philosophical objections if he knew he was getting a good deal for his constituents. It's just unclear if that case can be made.
Economists are skeptical of the plan, which Walker has sold under the slogan "Cheaper to Keep Them."
"It's the same old story" of "regular sports extortion," College of Holy Cross sports economist Victor Matheson told HuffPost. The Bucks are just the latest team to seek taxpayer money for a new stadium while threatening to relocate to another city.
While Walker claims his plan would generate $3 in benefits for every $1 spent, academic studies from Matheson and other economists have found that arenas and stadiums offer little economic benefit to the cities and states that pay for them. Recent experiences have shown that initial rosy projections are often overstated.
In Wisconsin, revenue shortages have required repeated extensions of a local sales tax to pay for Miller Park, the home of baseball's Milwaukee Brewers. First set to expire in 2014, analysts last year said the tax will remain until 2020. In Philadelphia, revenue shortages -- including projected taxes to be paid based on the athletes' pay -- left a $5 million to $8 million hole in financing new stadiums for the Eagles and Phillies a decade ago.
Although it's true that Wisconsin may sacrifice income tax revenue without the Bucks, it is unlikely that Walker's math to reach that $419 million total loss works out. The Bradley Center would still have other current tenants, including minor league hockey and college basketball teams, and it would continue to attract concerts and other events. Matheson suggests that the governor's calculations likely don't account for income and economic activity, including further real estate development, that would occur even if the Bucks left.
Walker's projections "are predicated on the idea that no other real estate could occur there, and it's not entirely clear why that should be the case," Matheson said. "Just because the NBA isn't there doesn't mean you can't redevelop apartments or commercial space. Cities have been developing for centuries without NBA teams."
"If this is a good place for commercial development, it's good for commercial development even without the [new] arena," Matheson added. "If arenas spur development, there should be nothing around the arena left to develop. If it doesn't, why will this one do more than the one that's already there?"
For all of Walker's pleading, the arena plan faces an uncertain future. It is unclear whether it will be attached to the governor's broader budget proposal, which Democrats already oppose for a host of reasons, not least of which is a proposed cut to state university budgets that mirrors the size of the arena subsidy. Republican leaders, meanwhile, have hinted that they do not have sufficient support to approve the funding plan for the Bucks' new digs.
"It's going to be a tough sell," Rep. Murphy said.
Popular in the Community