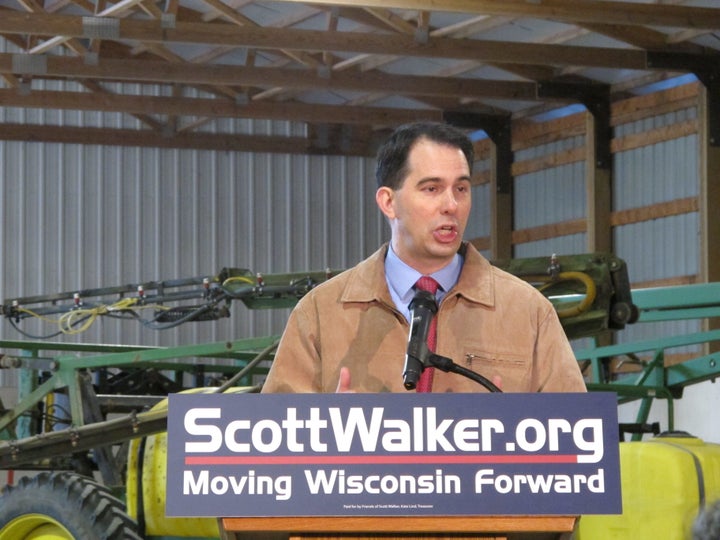 Wisconsin Gov. Scott Walker (R) is out with ads going after two of the Democrats running to challenge him in the state's recall election.
The ads released Thursday by Walker's campaign target the fronrunners in the Democratic primary: Milwaukee Mayor Tom Barrett and former Dane County executive Kathleen Falk -- mostly for their economic records.
"Voters are faced with a clear choice this election -- take Wisconsin back to the failed days of the past, or build upon the positive foundation that has been laid to keep moving Wisconsin forward with Governor Walker," Walker spokeswoman Ciara Matthews said in a statement. "We believe, just as they did in 2010, Wisconsin voters will choose to move forward."
The commercial against Barrett hits him for having "led Milwaukee backwards," challenging him on Milwaukee's unemployment, graduation and tax rates. "We can't afford to let Tom Barrett take us back," the narrator says.
Watch the anti-Barrett ad:
"For Scott Walker to attack anyone on jobs loss is not just shamelessly hypocritical, it's comically absurd," Barrett's communications director, Phil Walzak, responded in a statement. "Under Walker's failed leadership, Wisconsin lost more jobs last year than any other state in the nation."
Walker's campaign also released a similar ad targeting Falk.
"Kathleen Falk says she wants to take Wisconsin back, but back to what?" the commercial's narrator says, accusing her of raising property taxes and spending. "Going back to Kathleen Falk's way of doing things? That's no way to move Wisconsin forward."
Falk's communications director, Scot Ross, called the ad "desperate," saying in a statement, "Under Gov. Scott Walker, Wisconsin lost more jobs than any state in the nation last year. In contrast, Kathleen Falk balanced 14 straight budgets with a self-imposed landmark spending cap and during her tenure, her county grew nearly 30,000 jobs -- the most in the state. Kathleen's unmatched record of bringing people together, finding solutions and getting the job done is why Scott Walker has resorted to attacking and distorting her record."
The Walker campaign refused to disclose how much it was spending on the ads, or where they were running.
The state's primary election for governor is on May 8; the general election is on June 5.
Popular in the Community