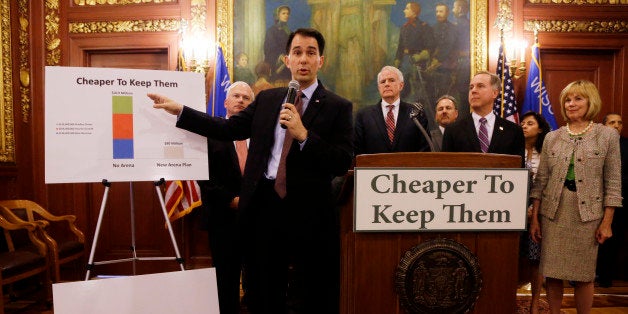 Wisconsin Gov. Scott Walker (and much speculated soon-to-be Republican presidential hopeful) really wants the Milwaukee Bucks to stay in town.
He's been making his case for a new arena, which our colleague Travis Waldron recently wrote about. The catch? It would cost an estimated $250 million in public funding, which includes $80 million from state contributions. Walker's own plan has drawn ire from both the left and right, with the total cost expected to run around $500 million. Bucks owners are committing $250 million themselves as well as any expenses over the total cost, the Associated Press reported.
Not exactly chump change for a stadium project, especially as many others before it have failed to see the expected returns for the local economy.
But Walker says losing the team, who could pack up at the end of 2017 if they don't have a new home to replace their current 27-year-old Bradley Center digs, would be much worse for the city for multiple reasons, including the loss of revenue of having an NBA franchise in the city.
And let's be honest, the Bucks have been a more exciting team to watch as of late. They may have lost Jabari Parker to a devastating injury early in his first season. But the second overall pick of the 2014 NBA Draft is expected to make his return this fall.
Parker will return on the court to join teammate Giannis Antetokounmpo -- who has easily become one of the most exciting players to watch in the league. And they'll once again be led by head coach Jason Kidd, who managed to turn around the Bucks from a franchise low, the 15-67 record in 2013-2014 season, to playoff contenders merely a year later. (And true, they fell to the Chicago Bulls in the first round, but the Bucks held on for a exciting six-game series nonetheless).
The Greek Freak going coast to coast.

So as interesting as the Bucks have been to watch and as much as Walker is pushing for the new arena, how many games did he happened to take in himself? We decided to ask his office.
Answer? Not many. Like any. At all. In years.
"Governor Walker did not attend a Bucks game this season, and it has been years since he last attended a game," a spokesperson for the governor emailed The Huffington Post in a statement on Thursday.
But, of course, they defended the stadium plan despite Walker's own absence courtside.
The purpose of the Bucks arena plan and Governor Walker's focus is on protecting Wisconsin's taxpayers while balancing state and local support. If a new arena is not constructed by 2017, the Bucks will leave the state. This plan protects taxpayers from the loss of $419 million if the NBA relocates the Bucks while capping the state's contribution at $80 million.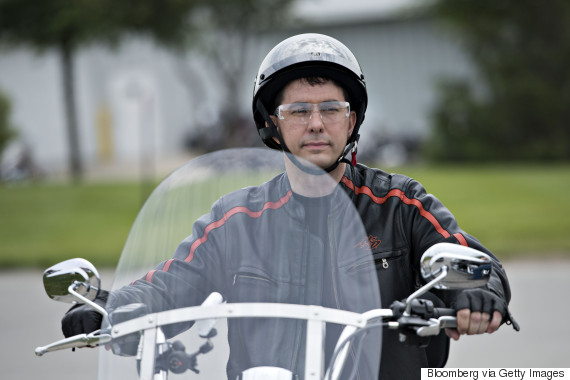 Here's a photo of Walker on a motorcycle because we couldn't find one of him at a basketball game. ¯\_(ツ)_/¯ (Credit: Getty)
Call us crazy, but if you're urging your constituents to support a new arena, saying how good it will be for the city and state once fans actually attend and go to the games, might it be good to actually attend and go to a game yourself? Even just one? We know he certainly makes time for his beloved Packers.
Calling all HuffPost superfans!
Sign up for membership to become a founding member and help shape HuffPost's next chapter