NATIONAL HARBOR, Md. -- Wisconsin Gov. Scott Walker (R) on Thursday said his experience undermining labor unions in Wisconsin has prepared him to take on the threat of the Islamic State in the Middle East.
"If I can take on 100,000 protesters, I can do the same across the world," Walker told a packed crowd at the Conservative Political Action Conference, in response to a question about how he would fight the terrorist group, which has killed thousands in Iraq and Syria.
Walker was referring to protesters who led an unsuccessful recall effort against him in 2012, after he proposed a budget that stripped Wisconsin's public sector unions of their collective bargaining rights. The protests lasted for months and catapulted Walker onto the national political stage.
The likely 2016 presidential candidate said the nation needs "someone who leads" and who will "send a message, not only that we'll protect American soil, but do not take this upon freedom-loving people anywhere else in the world. We need a leader with that kind of confidence."
"Let me be perfectly clear, I'm just pointing out the closest thing I have to handling this difficult situation is the 100,000 protesters I had to deal with," Walker said.
The governor also said he did not regret the comment. "You all will misconstrue things the way you see fit," he said. "That's the closest thing I have in terms of handling a difficult situation, not that there's any parallel between the two."
But Wisconsin AFL-CIO President Phil Neuenfeldt sharply rebuked Walker's remarks Thursday evening, calling the comparison "disgusting."
"To compare the hundreds of thousands of teachers, students, grandmothers, veterans, correctional officers, nurses and all the workers who came out to peacefully protest and stand together for their rights as Americans to ISIS terrorists is disgusting and unacceptable," Neuenfeldt said in a statement. "To compare hard-working men and women who work for a living to terrorists is a disgrace. Coming together to peacefully protest for freedom, to raise your voice for a better Wisconsin, this is not an act of terror."
Walker had reportedly made similar remarks at a private dinner hosted by Republican billionaire John Catsimatidis -- the same dinner where former New York City Mayor Rudy Giuliani controversially claimed that President Barack Obama "doesn't love America."
According to CNBC's Larry Kudlow -- who attended the dinner for prominent conservative donors and media personalities -- the Wisconsin governor said that his actions at home would send a "signal of toughness" to U.S. enemies.
"Walker argued that when Reagan fired air-traffic controllers (from the Professional Air Traffic Controllers Organization) over their illegal strike, he was sending a message of toughness to Democrats and unions at home as well as our Soviet enemies abroad," Kudlow wrote of Walker's remarks. "Similarly, Walker believes his stance against unions in Wisconsin would be a signal of toughness to Islamic jihadists and Russia's Vladimir Putin."
Before You Go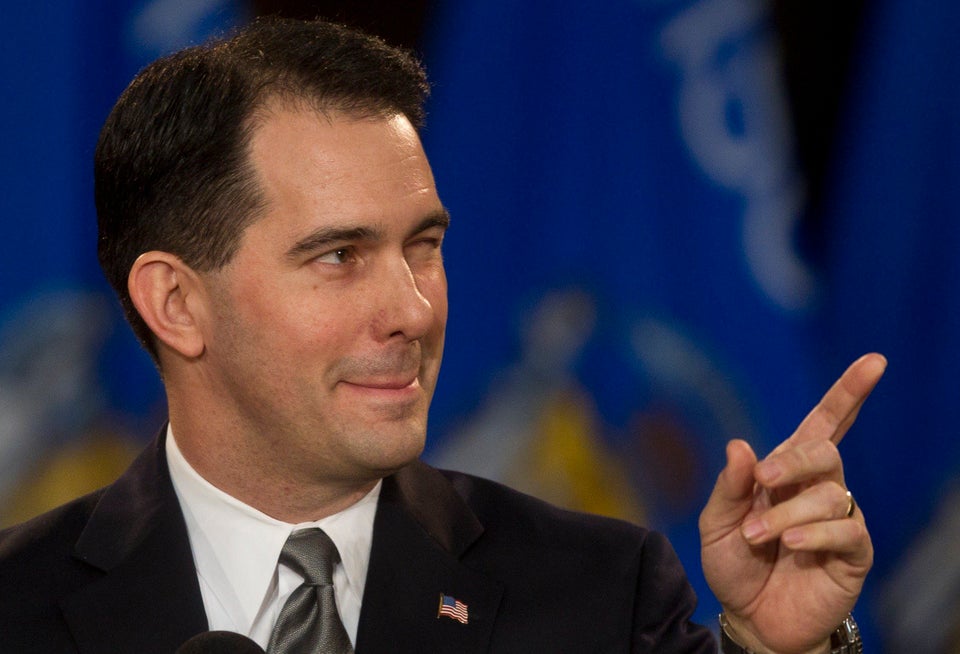 Scott Walker Pointing Fingers
Popular in the Community