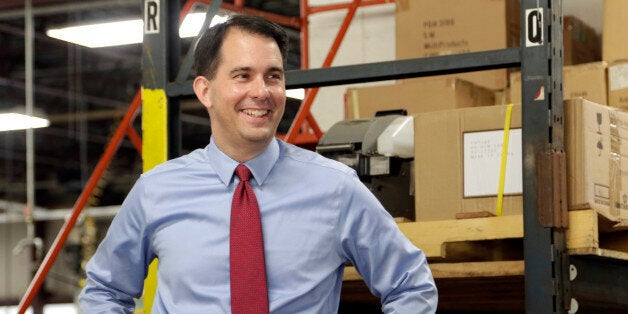 WASHINGTON -- Wisconsin's gubernatorial candidates differed sharply on the minimum wage during their first debate Friday, with Democrat Mary Burke saying it should be increased and Gov. Scott Walker (R) largely avoiding the question and instead focusing on job creation.
Raising the minimum wage has been a top policy issue for Democratic candidates nationwide this election cycle. In Friday's debate in Eau Claire, sponsored by the Wisconsin Broadcasters Association Foundation, one of the panelists asked the candidates if they believe a worker in the state can live on the minimum wage of $7.25 an hour, or $15,000 a year. The questioner, Keith Edwards of WQOW 18, also asked whether "the state has any obligation to make sure that workers are paid some sort of minimum wage and if so, what that wage should be?"
Burke said she "strongly" supports raising the minimum wage to $10.10 an hour, in line with what President Barack Obama has called for.
Walker, however, instead focused on talking about job creation.
"I want jobs that pay two or three times the minimum wage," Walker said.
Edwards followed up that he was unsatisfied with the governor's response, asking him to answer the question.
"My point is, I think the state should be focused on helping people create jobs that are much greater than the minimum wage," replied Walker. "I was paid the minimum wage when I worked at McDonald's as a kid. I used that to expect to save up for money in college; I didn't expect that was going to be my lifetime's work. We've got to have opportunities for young people ... to go forward. But at the same time, we've got to make sure that people are living off that to support themselves and their families have jobs that pay far greater than that. The way that you do that is not by an arbitrary level of a state."
Last month, 100 workers in Wisconsin filed a joint complaint with the state's Department of Workforce Development, saying they earned less than the living wage mandated by Wisconsin law. Such a wage means that the individual must be able to "maintain herself or himself in minimum comfort, decency, physical and moral well-being."
This week, Walker's agency responded, saying, "The Department has determined that there is no reasonable cause to believe that the wages paid to the complainants are not a living wage."
In other words, Walker's administration does believe $7.25 an hour is enough on which to get by.
Few people would argue with Walker's statement that more well-paying jobs need to be created. But that doesn't, in the meantime, take care of people relying on minimum wage jobs to feed their families. A recent study found that one in four Wisconsin workers last year earned around or less than the "poverty wage" -- $11.36 an hour; the median age of a poverty wage worker in Wisconsin is 30.
Linda Branch, a 50-year-old personal care worker in Milwaukee who works 20 hours a week making $11 an hour, recently explained to The Huffington Post that such a salary was hardly a living wage. She could barely make her rent recently, had to borrow money to pay her electricity bill and could not afford to send the grandson she raises to his homecoming dance.
"I am 50 years old now. I should not be penny-pinching," Branch said.
Walker and Burke have one more debate scheduled, on Oct. 17 in Milwaukee.
HuffPost Pollster, which averages the publicly available polling in the race, shows a tight contest between Walker and Burke, with the governor holding a narrow lead.
Before You Go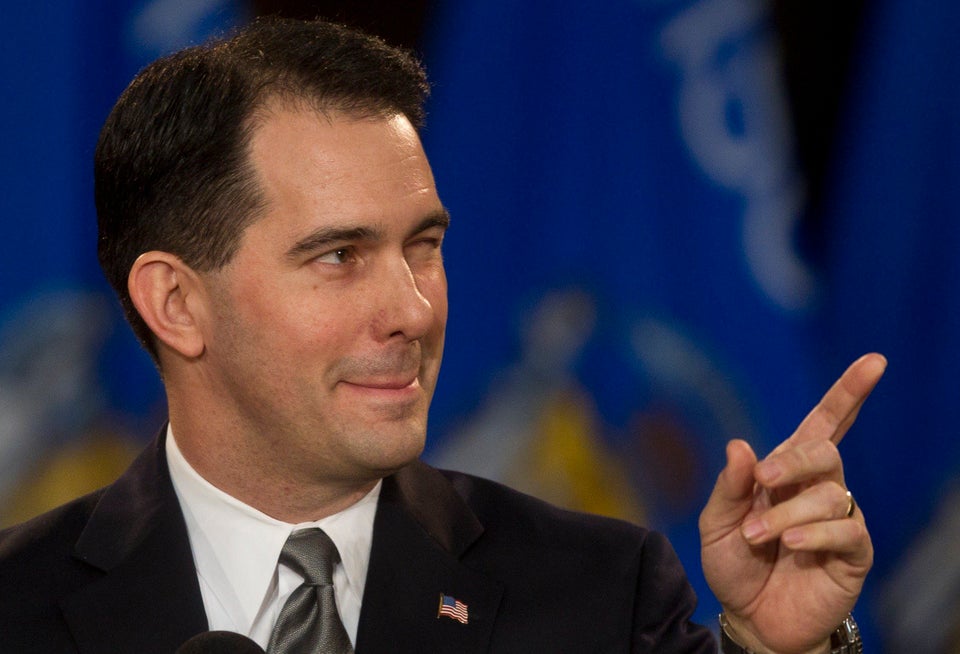 Scott Walker Pointing Fingers
Popular in the Community