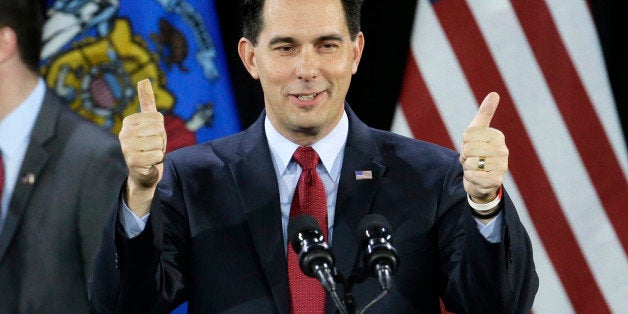 Wisconsin Governor Scott Walker's state faced a big budget deficit. To solve it, he plans to decimate one of the most respected and productive university systems in the country. And he plans to spend hundreds of millions in taxpayer dollars for a professional basketball arena.
Or so Wisconsin residents thought.
Walker claimed it would "provide a stronger UW System in the future" and would give the state "added flexibility." He went out of his way to promise that the UW System would get more decision making power.
So that means the University of Wisconsin has the freedom to raise tuition?
Wrong. Governor Walker also called for another two year tuition freeze, to go along with a tuition freeze over the last several years. So much for freedom and empowerment.
The "cost savings" is expected to come from salary reductions, firing, ending tenure, reducing health benefits and pension contributions, as well as possible outsourcing education online to for-profit colleges.
"The projected growth in player salaries is primarily due to the NBA's new nine-year, $24 billion television deal in 2016. The new deal is about three times the current $900 million television deal, and the influx of television money will have the salary cap on the rise.In Walker's mind, with player salaries set to be on a major upswing, so too will be the tax collections on those deals. That will be the revenue needed to pay for the new arena."
But currently, Bucks players only contribute $6.52 million to state revenue. Multiply that by three and you get $19.56 million. The team's not going to add players for more revenue, or tax them at a higher rate, are they? Where will they get the other $200 million, assuming it's not more because of cost overruns?
The University of Wisconsin had one of the best state university systems in the country, led by their flagship campus in Madison, Wisconsin, which can actually compete with Ivy League schools and other top-notch universities. Their profs bring in grants, get patents, and help lead to company spinoffs. But that's likely to change under the Walker regime.
A colleague told me that lot of professors in the University of Wisconsin system are preparing their resumes, as no one knows who is getting fired.
This adds to Walker's pattern of promising one thing and doing another. Back in 2011, when Walker attacked the state unions, he claimed he was just doing what he promised the voters. I researched his campaign site to see if any of these anti-union policies were proposed in 2010. No, they weren't.
Other newly-minted GOP Governors are rushing to do the same. In Illinois, newly inaugurated Governor Bruce Rauner is planning the same for Illinois universities, another respected lot. It's all about looking good for presidential ambitions or reelection bid, regardless of the state.
John A. Tures is a professor of political science at LaGrange College in LaGrange, Ga. He can be reached at jtures@lagrange.edu.
Popular in the Community