WASHINGTON -- Wisconsin Gov. Scott Walker on Sunday made an effort to walk back recent controversial comments comparing union protesters to the Islamic State group and expressing doubt over whether President Barack Obama loves America.
Appearing on "Fox News Sunday," Walker said he was "not comparing" union protesters to the terrorist group known as ISIS.
His remarks at the annual Conservative Political Action Conference drew an immediate backlash, and since then, both Walker and his spokespeople have been working overtime to dial back and "clarify" what he meant.
"What I meant was it's about leadership, and the leadership we provided under extremely difficult circumstances," Walker, a likely 2016 Republican presidential candidate, told "Fox News Sunday" host Chris Wallace. "To me, I apply that to saying, 'If I were to run and if I were to win and be commander-in-chief, I believe that kind of leadership is what's necessary to take on radical Islamic terrorism.'"
Walker also sought to use the interview to repair another self-inflicted wound to his potential presidential campaign: His failure to rebut comments by former New York Mayor Rudy Giuliani at a fundraiser for Walker last month, in which Giuliani said Obama doesn't "love this country."
As recently as Friday, Walker was still holding fast to his ignorance, telling a Wisconsin newspaper, "I don't really know what his opinions are on that one way or another." But Walker changed his tune in the interview with Wallace, saying, "I don't question" that Obama loves America, and emphasizing that the former New York mayor wasn't speaking on Walker's behalf.
Yet even as Walker sought to tamp down these two controversies, he ignored an opportunity to put to rest a third dust-up, this one regarding Obama's faith. Last month, Walker said he didn't know whether or not Obama was a Christian, telling the Washington Post, "I've actually never talked about it or I haven't read about that."
The president regularly attends church with his family and frequently talks about his Christian faith, but a recent poll showed that more than half of Republicans still think Obama's beliefs are best described as "Muslim." Walker called the attention paid to his comments on Obama's faith "a manufactured media crisis."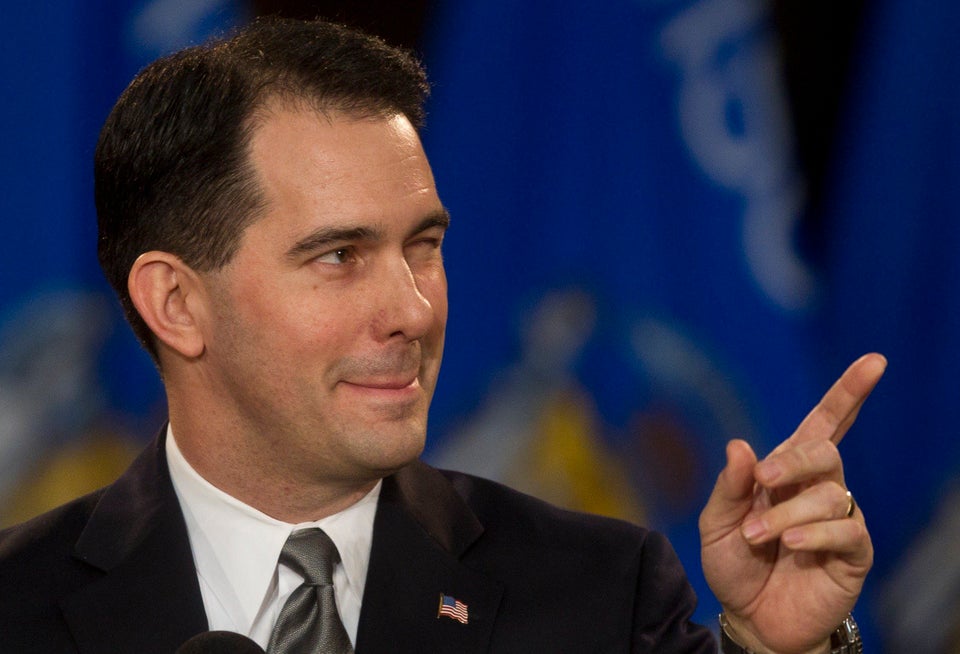 Scott Walker Pointing Fingers
Popular in the Community