WASHINGTON -- Wisconsin Gov. Scott Walker (R) is pushing forward with a plan to make food stamp recipients pass drug tests -- a requirement that the Obama administration says violates federal law.
"We know employers in Wisconsin have jobs available, but they don't have enough qualified employees to fill those positions," Walker said in a press release. "With this budget, we are addressing some of the barriers keeping people from achieving true freedom and prosperity and the independence that comes with having a good job and doing it well."
The U.S. Department of Agriculture, which oversees the Supplemental Nutrition Assistance Program (known as FoodShare in Wisconsin), says it's against the rules for states to require drug testing as a condition of receiving benefits. The federal government could yank administrative funding from states that are out of compliance -- a threat the USDA leveled at Georgia over a similar drug testing scheme last year. Georgia backed down.
Walker has been aware of the rule from the start. "We believe that there will potentially be a fight with the federal government and in court," he told the Journal Sentinel in September.
The USDA did not immediately respond to a request for comment.
Walker's Thursday statement said he also might want drug testing for recipients of unemployment insurance, Medicaid and Temporary Assistance for Needy Families. Federal law does allow testing for TANF recipients in certain circumstances, but overly broad testing regimes in the past have been stopped by federal courts. The statement said Walker wants safety net recipients to be ready for jobs in high-demand fields and that people who failed drug tests would be enrolled in free drug treatment and job training.
Walker has company in other states. Montana Republicans are working on a drug test and Maine Gov. Paul LePage (R) announced last week that his state would soon screen TANF applicants who are convicted felons.
In states that have implemented drug tests very few people have tested positive for drugs.
Before You Go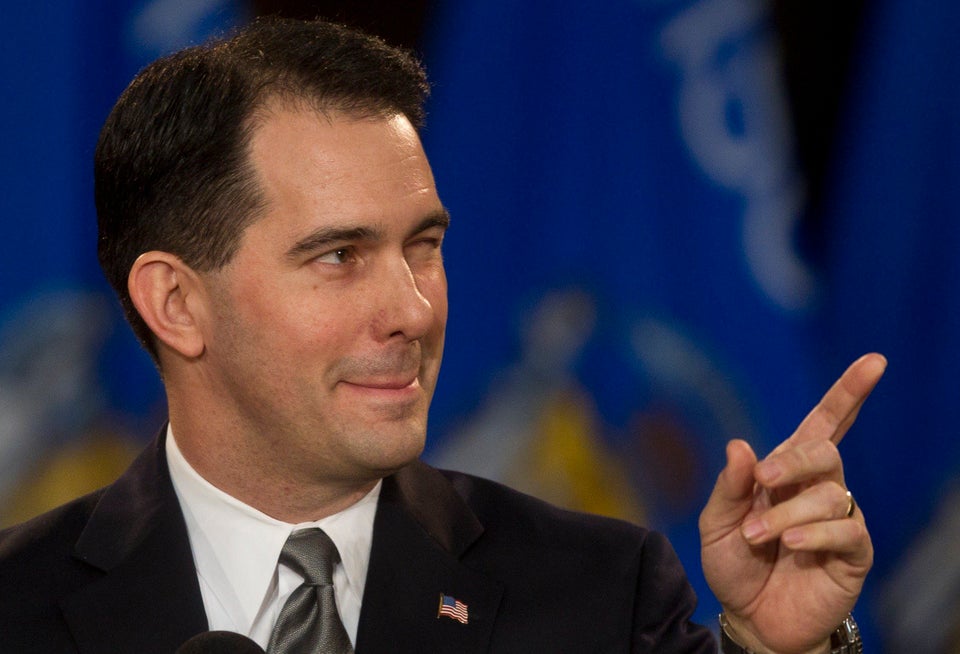 Scott Walker Pointing Fingers
Popular in the Community