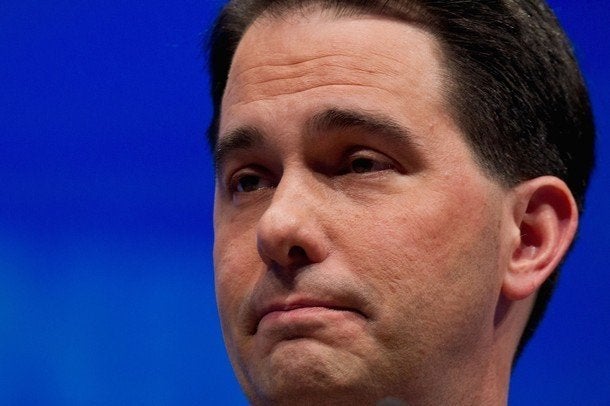 WASHINGTON -- Wisconsin Gov. Scott Walker (R) on Tuesday defended his recent decision to repeal the state's 2009 Equal Pay Enforcement Act, saying that lawyers were using the law to "clog up the legal system."
The law was meant to deter employers from discriminating against certain groups by giving workers more ways to press charges. Among other provisions, it allowed individuals to plead their cases in the less costly, more accessible state court system, rather than in federal court.
Walker quietly repealed the law on April 5, with no signing ceremony or public statement.
Walker defended the repeal in an interview Tuesday with WLUK-TV, saying the Equal Pay Enforcement Act had essentially been nothing but a boon for trial lawyers. His comments came on Equal Pay Day 2012, the day when a typical woman's earnings catch the pay of male counterparts in 2011.
"In the past, lawyers could clog up the legal system," Walker said. "Instead, the state Department of Workforce Development gets to be the one that ultimately can put people back and give them up to two years back pay if there is reason to believe there was pay discrimination in the workforce."
Women on average earn 77 cents for every dollar that men make. In Wisconsin, it's 75 cents, according to the Wisconsin Alliance for Women's Health, which also estimates that families in the state "lose more than $4,000 per year due to unequal pay."
Walker's reason for repealing the Equal Pay Enforcement Act is very similar to explanations offered by other Republicans who oppose such laws.
State Sen. Glenn Grothman (R-West Bend), who sponsored the repeal legislation, said the law "created a lengthy, complex, and unnecessary new set of procedures that put Wisconsin businesses at greater risk for frivolous lawsuits." He said the law "was opposed by the very businesses and employers Wisconsin is counting on to help turn our economy around." Republicans also fought to prevent passage of the Lilly Ledbetter Act in 2009 and blocked the Paycheck Fairness Act in 2010, citing similar reasons.
Heather Boushey, a senior economist at the Center for American Progress, said that while the Department of Workforce Development in Wisconsin was supposed to deliver back pay in cases of wage discrimination, it was nevertheless important to provide legal avenues for employees.
"The courts are there to make sure the executive branch is enforcing the law. You need to have that safety valve there. That's a very important part of our economic system, as well as our democratic system," Boushey said.
Grothman also recently said the reason there is often a wage gap is because "money is more important for men." Women, he argued, are more focused on child-rearing.
Grothman's argument doesn't stand up to the facts. Nearly two-thirds of women are focused on money, as either the primary breadwinner or a co-breadwinner in their family. The gender gap also starts as soon as women graduate from college, before they have children. The American Association of University Women found that women earned 5 percent less than male peers the first year out of college. Ten years later, even if women and men keep working on par in their jobs, women earn 12 percent less.
Popular in the Community