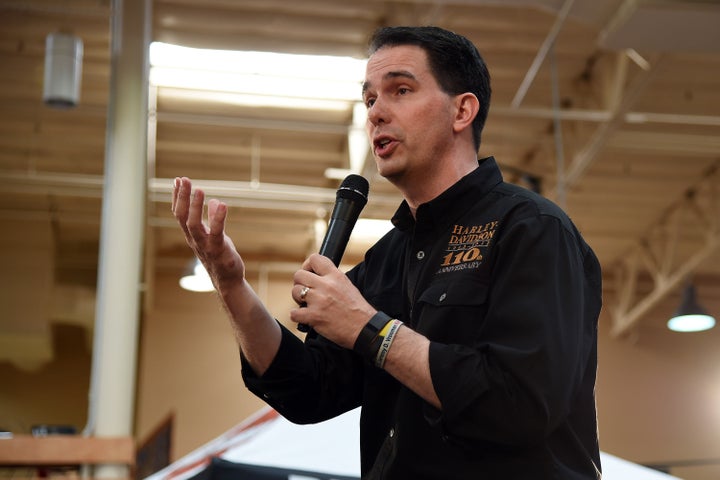 Wisconsin Gov. Scott Walker, one of many Republicans seeking their party's presidential nomination, is suing the federal government over his plan to make some food stamp recipients pee in cups to prove they're not on drugs.
Federal law doesn't give states much room to impose new conditions on Supplemental Nutrition Assistance Program benefits. The program is known informally by its former name, food stamps, and in Wisconsin it's called FoodShare.
"This lawsuit seeks to provide clarity that the State of Wisconsin has the authority to require drug testing for FoodShare recipients," Wisconsin Attorney General Brad Schimel said in a press release on Tuesday.
While federal law doesn't allow states to impose drug tests on SNAP recipients, it does allow states to drug test and in general make up their own rules for the much smaller Temporary Assistance for Needy Families program, which serves about 4 million Americans. Roughly 46 million Americans receive SNAP benefits.
"Gov. Walker hasn't read the law," U.S. Agriculture Secretary Tom Vilsack told The Huffington Post in an interview Wednesday. "It's always a good idea before you start litigation to understand what the law is."
The Wisconsin lawsuit appears to hinge on whether the state can treat SNAP recipients like TANF recipients. The state evidently thinks it can: The new law that calls for drug tests also claims that an "individual who is a recipient under the food stamp program is considered to be a welfare recipient."
Temporary Assistance for Needy Families is the program most commonly called "welfare," though Republicans have used the term to describe most means-tested safety net programs.
In its press release about the lawsuit, Wisconsin says the state's position is that "FoodShare recipients are 'welfare recipients' and therefore may be tested and sanctioned for the use of controlled substances."
By any measure, TANF and SNAP are very different programs. SNAP is an entitlement that gives monthly food vouchers (in the form of debit cards) to anyone poor enough to qualify, with some restrictions on able-bodied adults without dependents and not too many differences across state lines. TANF, meanwhile, is generally for single mothers who meet a range of requirements that can vary widely by state. Annual federal spending for TANF is capped at about $16 billion, while annual spending for SNAP has surged to nearly five times that amount in the wake of the Great Recession.
Republicans in Congress and on the presidential campaign trail have frequently called for bringing "welfare reform" to food stamps and Medicaid, since the major welfare reform legislation of 1996 stunted TANF spending and enrollment.
When Georgia tried to drug test food stamp recipients last year, the U.S. Department of Agriculture said no.
"Requiring SNAP applicants and recipients to pass a drug test in order to receive benefits would constitute an additional condition of eligibility, and therefore, is not allowable under law," the USDA told Georgia.
This article has been updated with comments from Vilsack.
Support HuffPost
The Stakes Have Never Been Higher
Popular in the Community