The Wisconsin legislature sent Gov. Scott Walker (R) a budget bill under which some food stamp applicants would be drug-tested if there's "reasonable suspicion" they're on drugs. Walker used his line-item veto power Sunday to delete the "reasonable suspicion" part.
"I object to limiting the department's ability to determine which program participants will be screened and, if indicated, tested for illegal use of a controlled substance," Walker said in his veto message.
Using a reasonable suspicion standard for drug tests helps a state avoid getting sued. That's what happened to Florida in 2011 when the state required every applicant for Temporary Assistance for Needy Families benefits to pee in a cup. Siding with civil liberties plaintiffs, federal courts shut the testing down, citing the Constitution's prohibitions against unreasonable search. The dozen or so states that have created drug-testing schemes for public benefits since 2011 have generally tried to avoid Florida's example.
"Subjecting entire classes of people to illegal search is both foolhardy and un-American," Sherrie Tussler, director of the Milwaukee Hunger Task Force, said in an email. "Wisconsin is still part of the United States and this rogue use of the veto power will cost Wisconsin taxpayers in both legal fees and lost federal revenue. Our governor seeks to use his authority to harm, rather than serve, citizens in great need. This is shameful."
The new law directs the state Department of Health Services to develop a program to screen and test only food stamp applicants who are able-bodied adults without dependents, who generally don't represent a significant portion of SNAP recipients. It's possible that an initial screening via questionnaire -- prior to urinalysis -- will make Wisconsin's program less offensive to civil liberties advocates.
Aside from the Constitution, another barrier to drug-testing food stamp recipients is that federal law doesn't allow states to make up new restrictions for the Supplemental Nutrition Assistance Program. Originally, Walker's proposal was to seek a waiver from the U.S. Department of Agriculture, which administers the program -- a waiver the USDA would almost certainly deny. Instead, the final version of the budget omits the waiver request. And in an apparent effort to get around SNAP rules, the new law declares that an "individual who is a recipient under the food stamp program is considered to be a welfare recipient."
Temporary Assistance for Needy Families, which supports about 4 million Americans, is the federal program most closely associated with the word "welfare," and states have much more freedom to drug-test or otherwise change program rules for welfare than they do for food stamps. It's not clear how the USDA will react to Wisconsin's new law; last year the agency told Georgia not to implement a similar law, and the state backed down.
"Requiring SNAP applicants and recipients to pass a drug test in order to receive benefits," a USDA regional administrator said in a warning letter, "is not allowable under law."
The USDA did not immediately have a comment on the Wisconsin law.
Claire Yunker, a spokeswoman for the state Department of Health Services, said the food stamp drug-testing, as well as a related unemployment drug-testing program, are designed to help people get jobs. Yunker couldn't say how soon screening and testing will begin.
"Individuals who fail a drug test will be offered the opportunity to participate in drug treatment and will be given an opportunity for job training," Yunker said.
Walker, who waited for the budget to pass before he announced his presidential candidacy this week, has struck a similar tone.

"I campaigned on this last year, and we said we're going to make sure people not only get the employability skills they need to get hired, we're going to make sure they're free of drugs," Walker said Sunday when he signed the bill, according to the Journal-Sentinel. "Because we know if they're free of drugs and they know -- or they have basic employability skills -- we can find a job for anyone in the state of Wisconsin."
Before You Go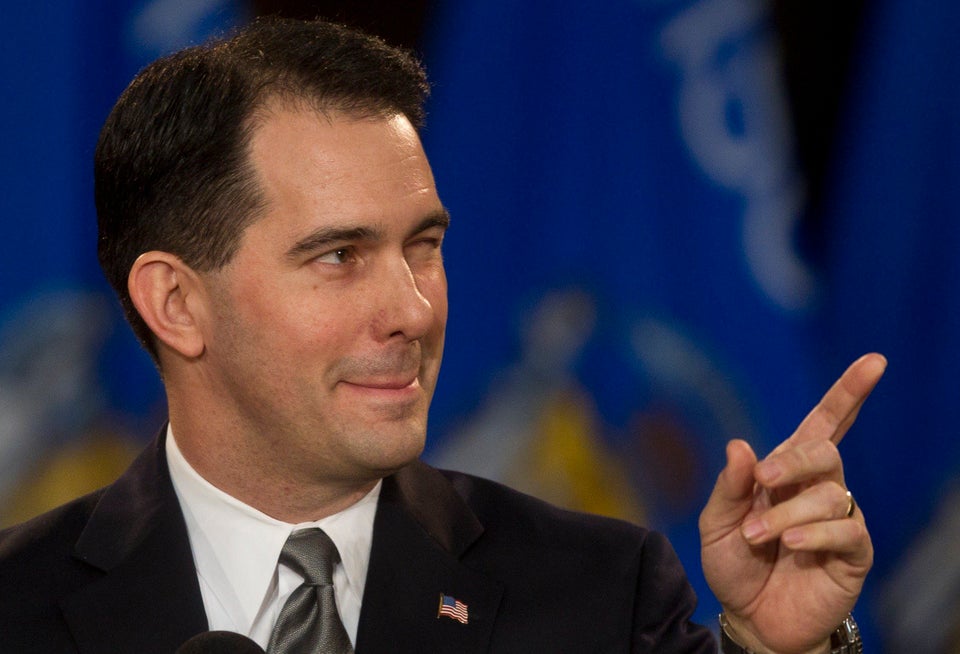 Scott Walker Pointing Fingers
Popular in the Community