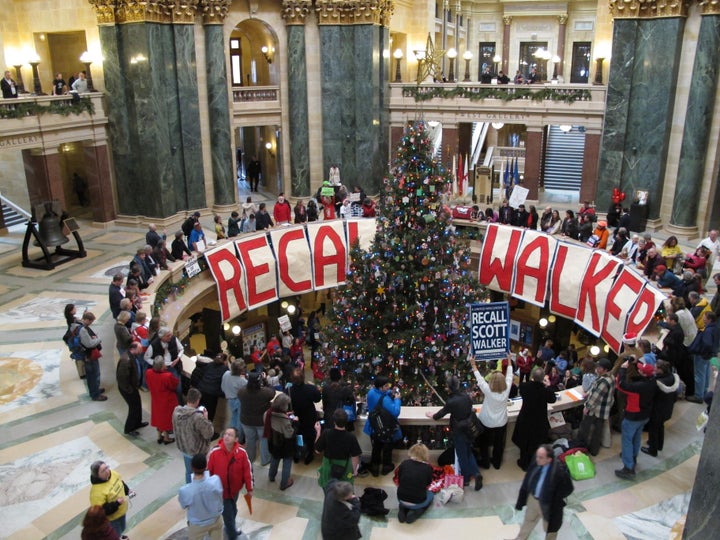 WASHINGTON -- Recently leaked documents show that a Chicago-based conservative think tank plans to spend money on an issue-advocacy campaign timed to influence a potential recall election of Wisconsin Gov. Scott Walker, a Republican, which could happen as early as April. The proposed campaign highlights the invisible hand that nonprofits, shielded from disclosure laws, can wield in electoral politics.
According to documents leaked and posted to DeSmogBlog, the Heartland Institute has budgeted $612,000 for a Wisconsin campaign called Operation Angry Badger. The campaign consists of an effort to inform voters of the success of Walker's budget law, passed on June 26, that included a reduction in the collective bargaining rights of workers in public employee unions. The budget sparked a labor-led protest movement that has consumed Wisconsin politics over the past year.
The leaked budget document describes Operation Angry Badger as "a research and education project built to take advantage of the public interest in Wisconsin's Act 10 generated by recall elections that could take place." The plan includes print and Web advertising to help publicize Walker's changes to collective bargaining rights and what the institute claims are the high salaries of public school teachers and poor educational results within Wisconsin's schools. The group also proposes creating blogs during a potential recall election to counter local newspaper and media reports on the Walker budget, school teacher salaries and public employee unions.
"The stolen documents appear to have been written by Heartland's president for a board meeting that took place on January 17," the Heartland Institute wrote in a statement. "The stolen documents were obtained by an unknown person who fraudulently assumed the identity of a Heartland board member and persuaded a staff member here to 're-send' board materials to a new email address." The institute also claims that certain leaked documents are fraudulent, although it did not assert this about the budget with details about Operation Angry Badger.
After Walker's controversial budget was enacted, Wisconsin saw a large increase in spending by advocacy groups, inside and outside Wisconsin. These efforts, mostly funneled into television and radio advertising, popped up, not amid debate over the bill, but during the run-up to the recall elections last July and August. Outside groups spent $34.5 million on efforts during that first round of recall elections. Issue ads, which are ostensibly non-electoral in nature, accounted for at least $13.68 million of the outside spending in those recall elections, according to a report by the Wisconsin Democracy Campaign, a nonprofit group that tracks spending on elections in the Badger State.
"For the most part, Wisconsin only sees these [issue ads] around election times," Mike McCabe, executive director of the Wisconsin Democracy Campaign, told The Huffington Post. "We call these phony election ads."
The Heartland Institute is just one of a collection of groups gearing up to play a role in a potential next round of recalls. The institute's planned campaign would be billed as issue advocacy, precluding it from disclosing expenses and donors.
Americans for Prosperity, the conservative group founded by Charles and David Koch, and the Wisconsin-based MacIver Institute are now running issue ads on television in Wisconsin touting the Walker budget in what might end up being the prelude to a recall election of Walker. The two groups spent $1.1 million on issue ads in the final weeks of 2011 asking residents not to sign recall petitions for Walker or other state senators.
A group siding with Walker's opponents, the Greater Wisconsin Committee, spent about $800,000 in December on issue advertisements supporting the recall of the governor.
An ongoing debate over whether issue advocacy should be more regulated during an election season flared up after the Supreme Court's decision in the Citizens United v. Federal Election Commission case in January 2010. The court opened the door for nonprofit groups like Americans for Prosperity and the Heartland Institute to spend money on direct electoral appeals.
To stay within the boundaries of their tax-exempt legal status, nonprofit groups must spend less than 50 percent of their expenses on these newly allowed direct electoral appeals. This has led to an explosion of spending by ideological nonprofit groups, especially by conservative organizations, for electoral appeals and issue advocacy. These nonprofit organizations sometimes rely on issue advocacy campaigns (that craft a negative portrait of a candidate and thereby influence elections) so that they will end up spending more than 50 percent of their budget on non-electoral matters.
While the courts have upheld the distinction between issue and electoral ads, groups like Americans for Prosperity and the Karl Rove-linked Crossroads GPS have faced criticism for producing issue ads that target specific candidates.
Watch the new Americans for Prosperity issue ad in Wisconsin.
Popular in the Community