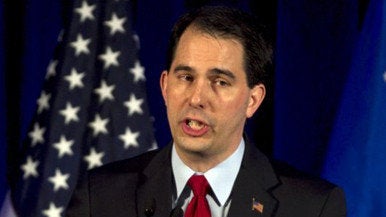 WASHINGTON -- Wisconsin Gov. Scott Walker (R) told reporters Thursday morning that he disagreed with former Florida Gov. Jeb Bush's assessment of the state of the modern Republican Party and the need for the GOP to support economic policies that go beyond tax cuts.
Bush said Monday that both his father, President George H.W. Bush, and President Ronald Reagan would have trouble meshing with the current Republican Party.
"Ronald Reagan would have, based on his record of finding accommodation, finding some degree of common ground, as would my dad -- they would have a hard time if you define the Republican party -- and I don't -- as having an orthodoxy that doesn't allow for disagreement, doesn't allow for finding some common ground," said Bush.
Walker, fresh off his victory last week in Wisconsin's historic recall election, is spending part of the week in D.C. On Wednesday, he spoke at the headquarters of the U.S. Chamber of Commerce, and on Thursday, he met with reporters at a breakfast event hosted by the Christian Science Monitor.
Walker said he considers Bush a friend, and he even emails him "quite a bit on things out there."
"But on this one -- I think there is a large cross-section within the Republican Party. I don't think it's monolithic," said Walker, adding that he did believe, however, the party was united in its desire to cut taxes.
Walker also rejected Bush's statement that presumptive GOP presidential nominee Mitt Romney should accept a plan exchanging $10 in spending cuts for $1 in revenue.
"I just don't believe that the problem in government is that we don't tax enough. I think it's not only that we don't control our spending enough, we don't use our resources appropriately," he told reporters. "I think there's also not enough out there to help the private sector stimulate growth. I think that's one of the big things that's missing in the equation."
Bush caused a minor stir recently when he said before a congressional panel that he would support raising 1 dollar of revenues in exchange for $10 of spending cuts. All of the Republican presidential candidates rejected such a pledge in an August debate on Fox News.
He clarified his criticisms of the GOP on Tuesday -- after facing significant push-back from his fellow Republicans -- saying his point was that in this "hyperpartisan" atmosphere, "[b]oth sides are at fault."
Speaking Thursday, Walker also reiterated his earlier comments that Romney won't be able to win Wisconsin in November simply because he's a Republican, and stressed the need for him to outline his vision for the economy and the budget.
"It doesn't have to be 9-9-9 or something like that, like one of the other candidates had, but I do think it's something where voters need to hear him talking about it over and over again -- repetitively talking about it -- and having a strong belief that not just that he's running on it, but he'll deliver on it," he said.
And the person Walker thinks would be best able to help Romney do that? Rep. Paul Ryan (R-Wis.), naturally.
"Obviously I'm biased with Paul; I grew up down the road with him. He's a cheesehead like me," said Walker when asked whom he thinks would be a strong vice presidential pick for Romney.
"If you believe the fiscal crisis facing our country is clearly one of our top challenges, I don't know of anybody -- at least in this town -- who's better equipped to help do that," said Walker. "Not just because of his plan, but because I think he understands the dynamics, I think he's got incredible respect on both sides of the aisle. If somebody agrees with him or not, I don't think there's anybody -- or few -- who don't at least respect the fact that he's committed to his position and understands the budget."
Popular in the Community