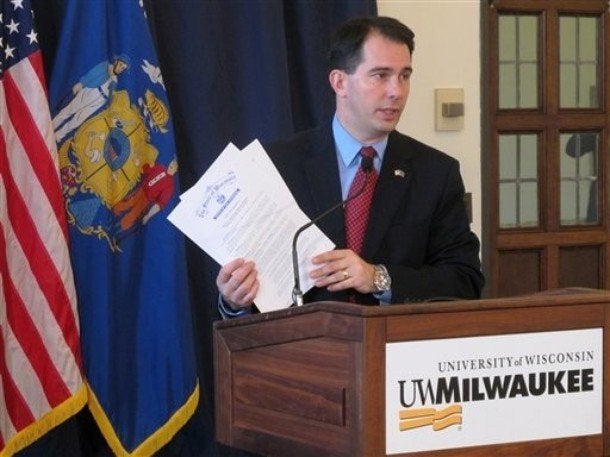 WASHINGTON -- Wisconsin Gov. Scott Walker (R) has set up a legal defense fund for the "John Doe" investigation of his time as Milwaukee county executive that has already ensnared several of his former staffers.
"For nearly two years, Milwaukee County officials have been examining issues related to former employees of the County," he said in a statement Friday. "I have repeatedly pledged my cooperation with that inquiry. I also made it clear that no public money has been used, or will be used, to pay for the attorneys needed to review documents and assist me in cooperating. To fulfill my commitment, I have today formed a legal fund to pay for the expenses incurred in cooperating with the inquiry. The fund will operate in accordance with the Wisconsin law authorizing these accounts, which was passed almost thirty years ago."
The "John Doe" investigation has already resulted in charges against six of Walker's top aides. The probe by the Milwaukee County district attorney's office is reportedly focusing on whether staffers who worked for Walker did political work with taxpayer money.
Wisconsin Democratic Party Chair Mike Tate responded by saying that Walker is the first governor to ever need a criminal defense fund.
"He has bent and broken the rules that should govern the conduct of an executive," Tate said in a statement. "Every citizen, regardless of party, agrees that our government should be free of corruption. It looks very much like Scott Walker has not given Wisconsin this honor."
A February poll by Marquette University Law School found that Walker's support had dropped, and that the John Doe investigation may be a key factor. Walker has a 46 percent favorable rating, compared to 50 percent in January, according to the poll. Fifty-two percent of respondents aware of the probe said it was "really something serious," while 40 percent said it was "just more politics."
Tim Russell, who once served as Walker's campaign aide, deputy chief of staff and county housing director, is accused of embezzling more than $20,000 intended to be used for veterans and instead spending it for personal reasons, according to the Wisconsin State Journal. Other charges in the investigation "allege a pattern of illegal fundraising and what appears to be a systemic avoidance of campaign laws by Walker's inner circle," the paper reports.
Walker has said he is "voluntarily" cooperating with the Milwaukee investigation.
Walker is also raising money to defend himself against recall efforts. On Friday, the state Government Accountability Board recommended setting a gubernatorial recall primary date of May 15, with the general election on June 12. Kristen Crowell, executive director of the labor-affiliated group We Are Wisconsin, called the dates an "unnecessary delay."