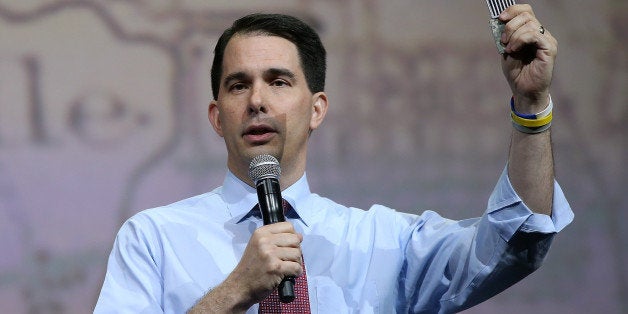 WASHINGTON -- Republicans often rail about undocumented immigrants. But Wisconsin Gov. Scott Walker, an expected GOP presidential candidate, took it a step further Monday by sounding some critical notes about the number of those who immigrate to the U.S. legally.
"In terms of legal immigration, how we need to approach that going forward is saying -- the next president and the next Congress need to make decisions about a legal immigration system that's based on, first and foremost, on protecting American workers and American wages. Because the more I've talked to folks, I've talked to [Alabama Sen. Jeff] Sessions and others out there -- but it is a fundamentally lost issue by many in elected positions today -- is what is this doing for American workers looking for jobs, what is this doing to wages. And we need to have that be at the forefront of our discussion going forward," Walker said in an interview with Glenn Beck, according to Breitbart News.
Sessions, chairman of the Senate Judiciary Committee's immigration panel, has been one of the biggest opponents of President Barack Obama's immigration policies and frequently criticizes the administration over its so-called "amnesty" for undocumented immigrants. In a Washington Post op-ed on Friday, he argued that it was time to curb immigration flows into the country "so that wages can rise, welfare rolls can shrink and the forces of assimilation can knit us all more closely together."
By aligning himself with an immigration hawk like Sessions, Walker may be hoping to placate conservatives wary over his previous support for a pathway to citizenship for many undocumented immigrants. He has since reversed that position after, he said, "talking not just to citizens all across the country but to governors in border states who face real serious concerns about what's happening on our border and elsewhere."
Walker's strategy is somewhat reminiscent of then-Republican presidential candidate Mitt Romney, who, faced with similar questions over his devotion to the conservative cause in 2011, memorably tacked far right of his GOP rivals by endorsing "self-deportation." Yet not even Romney, who lost the Latino vote to Obama by more than 40 percentage points in November 2012, supported curbing legal immigration, a concept at the core of what it means to be American. Walker's pivot to the general election, if he makes it that far, could prove difficult, given that he will need to seek the votes of many Americans who immigrated here themselves -- or whose parents or grandparents did so.
Former Florida Gov. Jeb Bush (R), who has not yet announced his official candidacy for president but is expected to, and Sens. Marco Rubio (R-Fla.), Rand Paul (R-Ky.) and Ted Cruz (R-Texas), who have all announced, have either supported increasing legal immigration or have abstained from criticizing it. The only other potential 2016 candidate to support restricting legal immigration is former Sen. Rick Santorum (R-Pa.).
At least one conservative, a former Walker aide who was pushed out of his nascent campaign last month after disparaging Iowa's influence in the presidential nominating process, accused the governor of committing an "Olympics-quality flip-flop." Liz Mair tweeted:
Internal polling must be looking dubious, showing attrition to more grassroots-conservative-preferred candidates for him to try this one.

— Liz Mair (@LizMair) April 20, 2015
Before You Go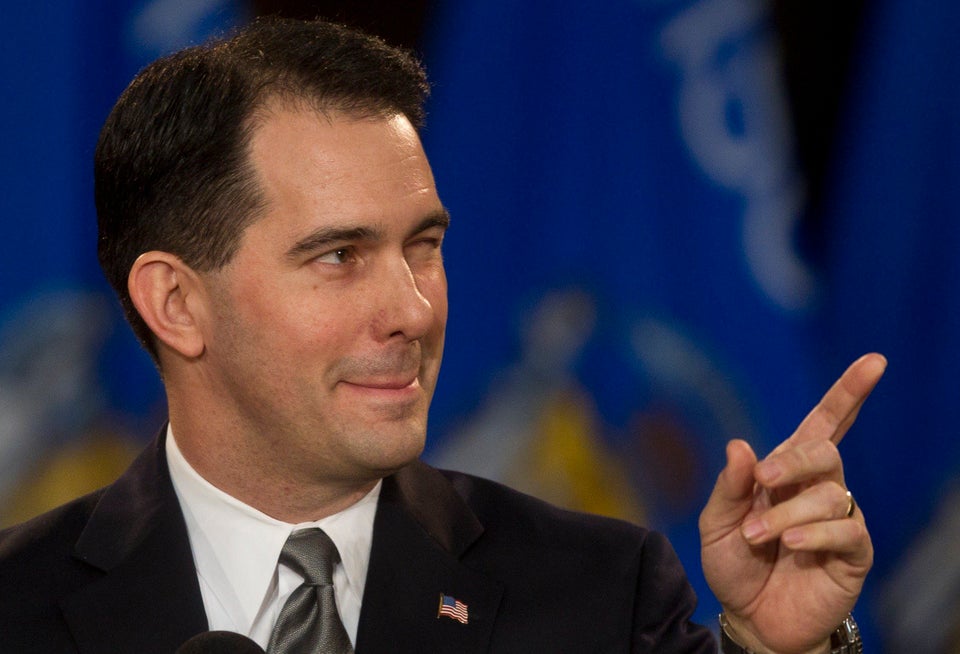 Scott Walker Pointing Fingers
Popular in the Community