WASHINGTON -- Scott Walker was supposed to be the principled candidate who could appeal to both the Republican party's conservative base and its so-called establishment wing in the 2016 presidential primary. It appears, however, that he may have succeeded in alienating both groups this week when he decided to part ways with an aide in charge of his digital communication efforts.
Liz Mair, a veteran Republican strategist, announced on Tuesday her resignation from Walker's nascent campaign after a conservative furor over a series of tweets in which she criticized Iowa's caucus system -- and its ethanol politics -- for having undue influence over the nominating process. The backlash snowballed Tuesday night, when Iowa GOP Chair Jeff Kaufmann called for Mair's firing over the "naive" and "juvenile" comments.
What came next was even more damaging to Walker's image in the GOP. How could the Wisconsin governor stand up to Islamic State terrorists, as he once claimed his experience fighting unions gave him credibility in doing, when he couldn't even stand up to a few Republicans in Iowa? And what kind of message does this send to current and potential aides? Would he fight for them when the proverbial crap hits the fan?
As The Week's Michael Dougherty put it, "How would Walker handle a tough Supreme Court nomination battle against a united Democratic Senate, if he folds instantly after some whinging from a right-wing muckraker? Until this week, Walker supporters could have pointed to his white-knuckle fight with Wisconsin's public-sector unions. Now his critics can point to the way he cowers before a few rotting corn stalks."
And as Jonah Goldberg wrote in The National Review, throwing Mair "under the bus for this, suggests not only that he's got some problems getting ready for prime time, it also suggests he can get rolled by the Iowa GOP establishment. What happens when he gets to Washington?"
The criticism didn't stop there. Rick Wilson, a Florida-based Republican operative, said that Walker's decision wouldn't bode well if he made it to the general against likely Democratic frontrunner Hillary Clinton.
"If you'll let Steve King and the Iowa GOP pick and choose your team, what happens when the Clinton machine goes at you? Disappointed, guys," he tweeted.
Even Erick Erickson, the outspoken editor-in-chief of the conservative website RedState.com, said that the governor had "botched" the episode and that it played into a narrative that he wasn't ready for prime time.
Walker was already facing charges as a flip-flopper over his shifting positions on immigration and the Renewable Fuel Standard, the holy grail of Iowa politics. The Mair affair threatens to instill that image further, a dangerous development given that Walker's entire pitch to primary voters is that he, not establishment rivals like Florida Gov. Jeb Bush (R), is the guy who will stand up for what he believes in.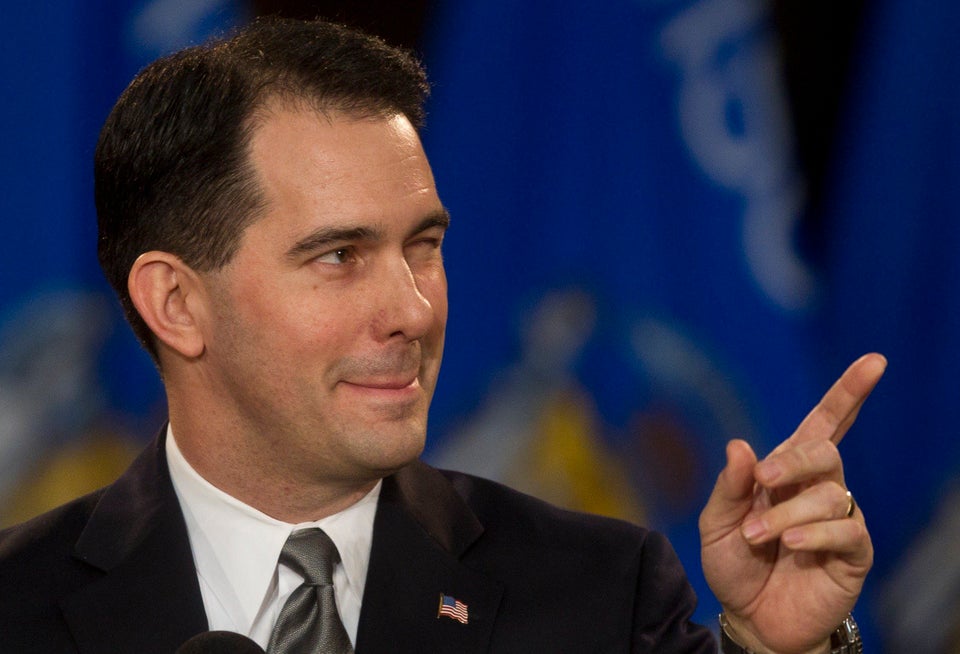 Scott Walker Pointing Fingers
Popular in the Community