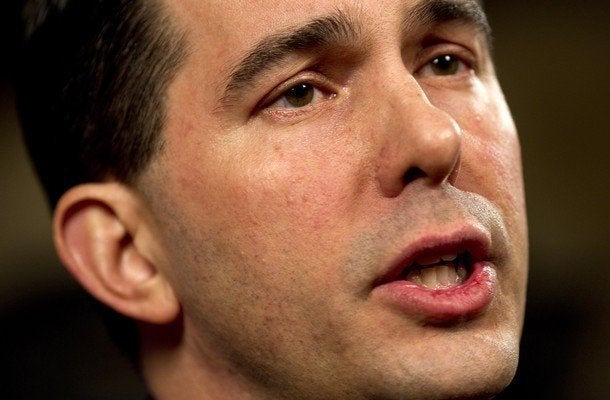 WASHINGTON -- So far, most of the attention on Wisconsin Gov. Scott Walker's (R) budget repair bill has focused on the section that would strip public employees of their collective bargaining rights. Less noticed is a provision in the 144-page piece of legislation that could dramatically change the state's Medicaid program.
The bill would grant the Wisconsin Department of Health Services (DHS) sweeping authority to making changes to the state's Medicaid program -- which covers one in five residents -- with virtually no public scrutiny. According to an analysis by the nonpartisan Legislative Fiscal Bureau, Walker's plan would use "emergency" powers to allow DHS to restrict eligibility, raise premiums and change reimbursements -- all moves traditionally controlled by the legislature.
Jon Peacock, research director of the Wisconsin Council on Children and Families, equated it to if President Obama gave Health and Human Services (HHS) Secretary Kathleen Sebelius total power to rewrite Medicare policy, even though it wouldn't save any money in the current fiscal year.
"That's what you have here in what's being proposed," said Peacock. "If President Obama proposed that, there would be rallies all over the country, and we would be marching out there arm in arm with Tea Party members, protesting against it."
Part of the reason that advocates are so alarmed at the legislation is that the man who heads DHS is Dennis Smith, someone who has advocated for states to leave the Medicaid program.
In a December 2009 article for the Heritage Foundation, Smith, who was then on staff at the conservative think tank, advocated against health care reform proposals being considered by Congress and argued it would be smart for states to leave the Medicaid program.
"By piling billions of dollars in new costs onto states and imposing greater federal control over the states, Congress is recklessly increasing the likelihood that states will exert their own authority as sovereign units of government and end their participation in Medicaid entirely," he wrote. "The savings to state budgets are so enormous that failure to leave Medicaid might be viewed as irresponsible on the part of elected state officials. The federal government, however, would be left holding a trillion-dollar-plus tab."
"I don't think Wisconsin would leave Medicaid," said Peacock. "On the other hand, the fact that someone who's suggested that strategy would be given unilateral authority to decide all the parameters of our Medicaid law is extremely worrisome."
Walker has argued that the changes are needed to give the state more flexibility in closing the state's budget deficit, which is not unrelated to his argument that public labor employees deserve fewer collective bargaining rights.
"If you look at Medicaid, out of our $3.6 billion budget deficit, about $1.8 billion of that is in Medicaid," said Walker in an interview with WISC-TV on Tuesday. "We need to have the flexibility to make changes, to make adjustments. We're not going to cut needy families and children off of things like BadgerCare. We're not going to cut seniors off of SeniorCare. But what we do need to have is the flexibility of going to the federal government -- remember, none of these changes can happen without the Obama administration signing off on them -- having the flexibility to at least pursue things."
Medicaid is a state-federal program, so Wisconsin needs waivers from the federal government to make certain changes, including the one he's proposing. But he's leaving the Obama administration in a tough situation. If Wisconsin doesn't get a waiver by the end of the year, Walker wants to drop adults at a higher income level who aren't pregnant or disabled from Medicaid by July 1, 2012 -- that's approximately 50,000 people -- which Sebelius has told governors is allowed under federal law to help states deal with deficits. Currently, Wisconsin's Medicaid program accepts adults who make up to double the poverty level -- $44,700 for a family of four. This move could save between $57 to $80 million a year.
At The New Republic, Jonathan Cohn writes that Wisconsin's BadgerCare "has traditionally been among the nation's more innovative and generous Medicaid programs -- in part because Tommy Thompson, the state's Republican governor during the 1990s, had expanded coverage in order to bolster his state's welfare reform experiment. Thompson reasoned, correctly, that people would be more likely to leave welfare for work if it didn't mean losing health insurance."
Wisconsin's senate Democrats left the state on Feb. 17 to prevent their Republican colleagues from reaching the quorum necessary to move forward with budget legislation. They objected to the fact that Walker and the GOP legislators were trying to push the measure through with little public scrutiny. The original plan was to introduce the bill on Monday, hold a public hearing on Tuesday, and a vote on Thursday.
"It's interesting that many senior citizen groups and groups that represent the disabled said ... there's an alarming proposal to modify Wisconsin's Medicaid program," said state Sen. Jim Holperin (D) in an interview with The Huffington Post. "And I think there's not been a lot of public discussion about that part, but there will be now. These groups are very upset about what the governor is proposing, as far as modifying our Medicaid program. I think they're glad now to have a few more days of opportunity to talk about that issue, and to contact their members and let older Americans and the disabled around the state of Wisconsin know what the governor is proposing for programs that many of them depend on."
On Monday, more than 30 organizations held a press conference in Madison protesting Walker's proposed changes. Peacock said that despite a blizzard, the room where the event was being held was packed.
"So while we have lots of concerns about what it would mean for Medicaid, mostly we just don't know," added Peacock. "But our much more fundamental concern is what it means for democracy and for the separation of powers between the executive and the legislative branch, that turning this over to Secretary Smith would leave the public with no ability to contact their legislators and be involved in that matter in the determination of these critical issues."
Walker's office did not immediately answer a request for comment.
Popular in the Community