WASHINGTON -- Wisconsin activists hope that several local referendums to raise the state minimum wage could threaten Gov. Scott Walker's (R) chances of re-election this fall, or at least pressure him to change his views on the issue.
Activists have successfully placed referendums to raise the local minimum wage to $10.10 on the ballot in several Wisconsin cities and counties, including Milwaukee and Dane counties, which have high concentrations of Democratic voters. Even though the measures would be non-binding, activists say that they could still increase turnout in an election that is expected to see a drop-off from 2012.
Jennifer Epps-Addison, executive director of Wisconsin Jobs Now, a nonprofit organization that organizes workers, told The Huffington Post she estimates roughly 800,000 fewer people will vote this November than voted in 2012. A proposal to raise the minimum wage from the state's current rate of $7.25 per hour -- a proposal supported by 76 percent of Wisconsin voters -- could get people to the polls, Epps-Addison said.
"A significant portion of those voters are poor and working-class families who would directly benefit from increasing the state's minimum wage," she said. "We think there is a huge base of people who this is their top issue, that will come out to the polls not because they want to support a particular candidate, but because they want to have their voice heard on this issue, which is largely being ignored in our state legislature."
"This is a really close race, and what we think will happen is that it will force the issue to become a more central theme in both of the candidates' campaigns," Epps-Addison said. "We want to make sure that folks who are most directly affected by the level of income inequality in Wisconsin have their say at the ballot box, and that will translate to some level of political power for them."
"We do think that ultimately Gov. Walker's position is going to need to evolve or he's going to be negatively impacted by his position because it's out of step with the majority of voters," Epps-Addison added.
A representative for Walker's campaign did not reply to a request for comment.
Several other states are placing similar minimum wage referendums on the ballot in November. Voters will also decide on the issue in Illinois, where Gov. Pat Quinn (D) is facing a tough re-election effort, and in Arkansas, where Sen. Mark Pryor (D-Ark.) is locked in a close battle.
Ballot measures are often used by both sides to persuade voters to turn out. In 2006, conservative activists in Wisconsin placed an amendment to ban same-sex marriage on the ballot, hoping to draw out Republican voters and oust the state's Democratic governor at the time, Jim Doyle. The amendment passed but Doyle was re-elected, in large part because of the number of students who flooded the polls to vote against the amendment, said Patrick Guarasci, a Democratic operative in the state.
But Guarasci argued that this minimum wage referendum is different, both because it focuses on an economic issue rather than a social one, and because it asks voters to vote for something rather than vote against it.
"I have a hard time believing that working-class conservatives will come out and vote against a raise for themselves or a raise for others," Guarasci said.
Even so, Guarasci said that he wouldn't "bank" on the referendums to drive turnout.
"As a political professional, I would look at these and say, 'That gives us something to build around,' but we're still going to do all of the blocking and tackling that needs to get done this cycle," he said.
Before You Go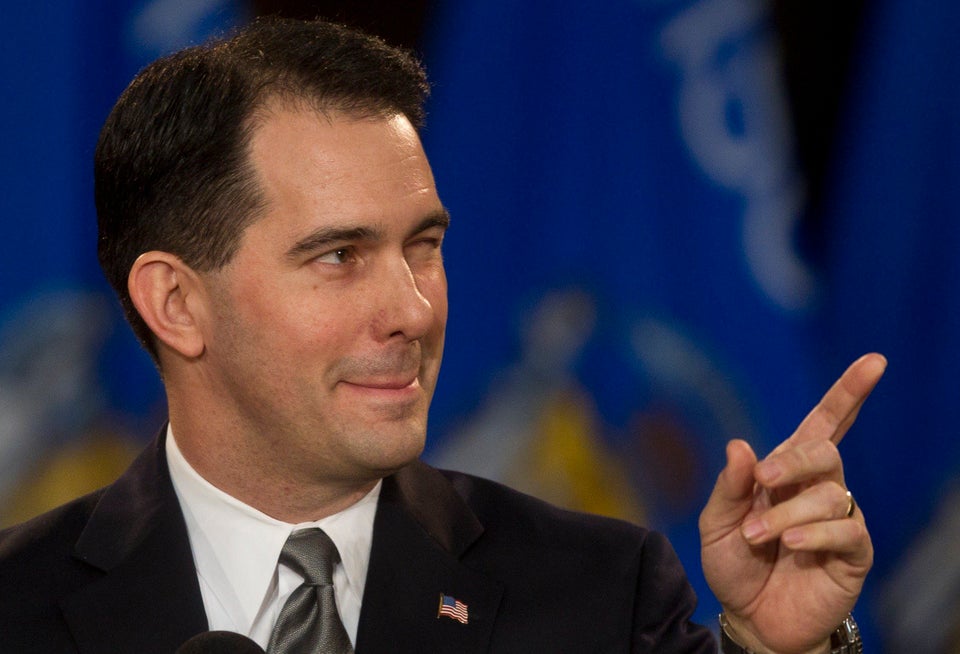 Scott Walker Pointing Fingers
Popular in the Community