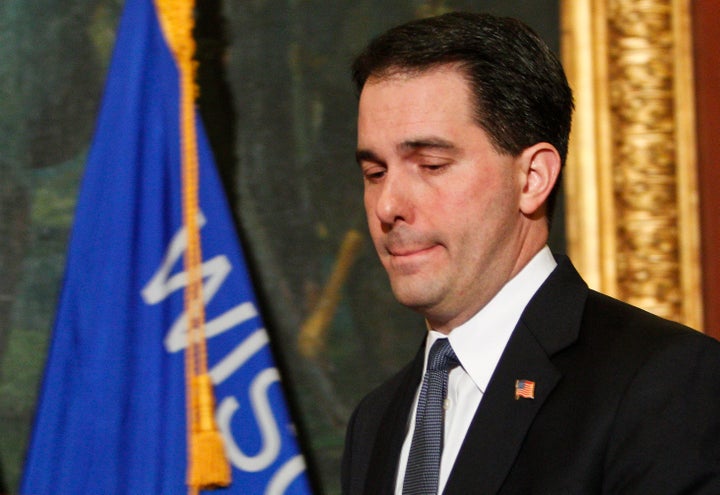 SALT LAKE CITY, July 16 (Reuters) - Wisconsin Governor Scott Walker, whose moves to curb state workers' bargaining power brought massive protests, said this weekend he made mistakes but defended the policy steps of his rocky first term.
The fractious debate over the union measures propelled Wisconsin to the front of a wider national political battle over benefits and bargaining rights for public sector employees and triggered the biggest opposition demonstrations in the state since the Vietnam War.
Aside from criticism by those who thought Walker was unfairly undercutting state worker rights, he and his fellow Republicans came under fire for tactics seen by some as bullying and not allowing for sufficient debate or possible compromise.
"The mistake I made early on is, I looked at it almost like the head of a small business: identify a problem, identify a solution and go out and do it," Walker told Reuters at the National Governor's Association meeting in Salt Lake City.
"I don't think we built enough of a political case, so we let ... the national organizations come in and define the debate while we were busy just getting the job done," he said.
Walker has argued the state's agreements with public sector workers were unaffordable, and said his moves had helped prevent layoffs of middle-class workers.
Groups from outside Wisconsin lent support to both sides of the controversy, and are providing funding to recall elections sparked by the political sparring.
Six Republican senators who supported the anti-union measure, and three Democrats who opposed it, will be forced to defend their seats in August elections after recall petitions were signed by thousands of disgruntled voters.
Democrats say they will also seek to recall Walker, who was elected last fall and can't be removed until he has served a year in office, in 2012.
If Democrats gain just three of the seats at stake in the special summer elections, they will take control of the upper house and have a better chance at thwarting Walker's far-reaching legislative agenda, which includes measures to trim government spending and programs.
However, Republicans will continue to have a majority in the lower house, or Assembly.
"If the Republican candidates are outspent two to one, it's pretty difficult," Walker said of the recall effort.
"Conversely, if things end up being relatively even and the message gets out," the party will have a better chance of prevailing, he said.
Walker said he did not plan to campaign in the contested districts.
As for his own political prospects, Walker said many Midwestern governors are also suffering low poll numbers, and each of them will be judged on whether voters see improvement in the economy. (Additional reporting by James B. Kelleher in Chicago; Editing by Jerry Norton)
Calling all HuffPost superfans!
Sign up for membership to become a founding member and help shape HuffPost's next chapter