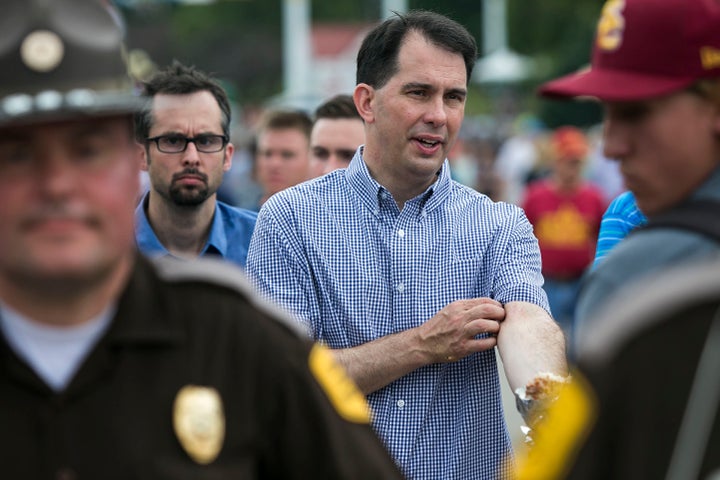 WASHINGTON -- Wisconsin Gov. Scott Walker (R) unveiled his health care plan on Tuesday, promising to do on day one of his presidency what members of his own party have been unable to do for five years: repeal and replace the Affordable Care Act. Yet the Republican presidential candidate drew fire from one of his rivals, Louisiana Gov. Bobby Jindal (R), for not offering a sufficiently conservative alternative.
In what his campaign billed as a major health care speech in Minnesota, Walker blamed GOP leaders in Washington for failing to repeal the 2010 law.
"Republican leaders in Washington told us during the campaign last year that we needed a Republican Senate to repeal Obamacare. Well, here we sit," Walker said. "There's not a bill on the president's desk to repeal Obamacare. Americans want more than campaign promises, they want results."
Walker's plan -- titled "The Day One Patient Freedom Plan" -- is a patchwork of recycled health care proposals that various Republicans have put forth over the years, none of which the party has been able to coalesce around in Congress.
The plan would cap some Medicaid payments to states and create health savings accounts that would allow people to transfer funds to loved ones. It would create state-based high-risk pools, allowing people to shop across state lines. Instead of subsidies, which are currently offered under Obamacare, Walker's plan would provide age-based refundable tax credits for people who lack employer-sponsored health coverage. Walker would also undo some popular patient protections currently in place under the Affordable Care Act, like leaving it up to states to decide how long children can stay on their parents' health plans.
But it was his embrace of federal tax credits in particular that one of Walker's fellow conservatives took issue with.
In a sharply worded statement following Walker's remarks, Jindal accused the Wisconsin governor of endorsing the "fundamental underpinning of Obamacare."
"In Governor Walker's plan, a new entitlement is created for every single American human being from the time they are born right up until they grow old and become eligible for Medicare," Jindal said. "It is frankly shocking that a Republican candidate for President would author a cradle to grave plan like this."
"When did conservatism die? When did we accept the idea of dependence on government?" Jindal went on. "Governor Walker is confused here. In his stump speech he has some clever lines about how the Fourth of July is about independence, not dependence. I like those lines. But with this Obamacare lite health care proposal, he's going to have to drop those lines from his speech."
Piling on further insult, a staffer with Jindal's campaign reportedly said they suspected Walker "collaborated on [his plan] with Bernie Sanders," the Vermont senator and self-described democratic socialist who is running for president as a Democrat. 
Walker may have shied away from proposing even more radical reforms because he is thinking about the general election. It's possible that he believes that a plan like Jindal's would be even tougher to defend from attacks by the eventual Democratic nominee.
Still, the Democratic National Committee didn't hesitate to criticize Walker's health plan, dismissing it in a statement Tuesday as as a step backward at a time when the country's uninsured rate is still declining under Obamacare.
"If this vague grab-bag of conservative wish-list items is the best health plan the GOP can come up with for the largest economy on earth, it's the clearest signal yet that Republicans like Scott Walker are out of ideas and out of touch," said DNC spokesman Eric Walker.
The Wisconsin governor has a bit of a record of not staking extreme positions on health care. In September 2013, when congressional Republicans appeared to be girding for a government shutdown with the aim of defunding the Affordable Care Act, Walker urged a different approach.
"I support limited government," he said then. "But I want the government left to work."
UPDATE: 2:50 p.m. -- Walker's campaign spokeswoman, AshLee Strong, pushed back on the criticism Tuesday, noting in an email that refundable tax credits like those included in Walker's plan "have been supported by many conservatives because they put health care decision making in the hands of the American people where it belongs."
Calling all HuffPost superfans!
Sign up for membership to become a founding member and help shape HuffPost's next chapter