 MILWAUKEE -- With a notable lack of public unity, fellow Republicans are now criticizing Wisconsin Gov. Scott Walker's attacks on his Democratic challenger -- in particular, those aimed at her wealth and the business practices of her family's company. But late Tuesday Walker blamed it all on the media's distorting his re-election message.
The Wisconsin state GOP has called Mary Burke "Millionaire Mary" for months and even posted photos online of her "swanky second home valued at nearly $600,000." In mid-July, Walker's campaign upped the ante with ads accusing the Wisconsin-based company founded by Burke's father, Trek Bicycle Corporation, of outsourcing jobs to China.
Earlier on Tuesday, Sen. Ron Johnson (R-Wis.) expressed dismay over Walker's campaign tactics, saying that "far too often in the political realm we demonize success; we demagogue against it."
Sources have told The Huffington Post that Johnson's public remarks reflect growing concern among several other Republicans in Wisconsin's congressional delegation over the focus of these tactics.
The governor shrugged off the senator's comments. Johnson was "reacting to ... the way the media's portrayed it," Walker said during a brief interview before an event at the Wisconsin State Fair. He added, "I just saw Ron the other day. He did an event for me."
But Walker also signaled that he is backing off the outsourcing line of attack.
The governor, whose electoral contest has become tighter than many expected a few months ago, pushed back against the idea that he was vilifying Burke, a former Trek Bicycle executive, for being wealthy in the same way that Democrats went after Mitt Romney in 2012.
"We've said all along ... I point out the hypocrisy. I haven't gone after Trek, I haven't gone after Mary Burke, I haven't gone after her wealth at all. I could care less what her wealth is, what her personal wealth is. What I care about is pointing out the hypocrisy," Walker said.
When asked about the Wisconsin Republican Party's use of the term "Millionaire Mary," the governor expressed disapproval.
"You're not going to hear me or my campaign talk about it," he said. "I prefer the party talk about the differences on jobs."
The Burke campaign has hit Walker for promising 250,000 new jobs in his first term. Walker noted that Wisconsin lost 133,000 jobs under the previous governor, Democrat Jim Doyle, when Burke was the state's commerce secretary.
"It's a shift from losing 133,000 jobs over four years to us gaining more than 100,000 jobs. So you see a shift of about 230-some-thousand jobs," he said.
According to Walker, it was Burke who started the outsourcing debate when she criticized two businesses that she said used financial aid from the state to send jobs out of the country. He said his campaign has merely been pointing out that when she worked at Trek, the company sent jobs to China, where Trek makes many of its bikes.
On Wednesday, a Walker spokesman said that it was hypocritical for Burke to criticize companies that took state money when Trek itself received $875,000 from the state to build a plant and just a few years later closed that plant and laid off workers while still owing money to the state.
Ever since his campaign began running two anti-Burke ads with the outsourcing attack, Walker has insisted that he was going after hypocrisy, not outsourcing. But in campaign politics, the nuance is often lost. The two TV ads dispensed with the context, as 30-second spots usually do.
"Mary, Mary, quite contrary, how does your fortune grow?" a woman says while reading a children's book to a young boy and girl in one spot. "By making millions of dollars sending jobs overseas that could have been done in Wisconsin, to countries where women and children work up to 12 hours a day, earning only $2 an hour."
A picture in the fake children's book shows Burke holding two big bags of money.
And some of the criticisms of Burke have gone beyond the hypocrisy argument to what Republicans in other circumstances have denounced as class warfare.
"Madison Millionaire Mary Burke is completely out of touch, and her personal balance sheet sets her far apart from the hard-working folks living on Main Street," the Wisconsin GOP website says.
Walker has struggled to answer growing questions over the outsourcing debate. When asked about his defense of Romney in 2012 against Democratic attacks that Romney-affiliated businesses had outsourced jobs, Walker said that the GOP presidential nominee "did not run his campaign on the basis of arguing his experience in the business world was a reason to vote for him." That is demonstrably incorrect, and Politifact rated the claim "pants on fire."
Walker has also faced increasing criticism from his own party and from fellow conservatives for his populist strategy, which is aimed at deflating Burke's support among progressive Democrats and union members. The governor has been hit in the pages of The Wall Street Journal, by Real Clear Politics, and by the Milwaukee-Wisconsin Journal Sentinel editorial board, which endorsed Walker for governor in 2010 and again during the 2012 recall effort.
In addition, Walker has risked irritating some Wisconsinites by criticizing a state-based company with a solid reputation.
"I find it ... ironic that you have a sitting governor dragging a great homegrown Wisconsin business through the mud, when they employ nearly 1,000 people here and have been a great company since my dad founded it nearly 40 years ago," Burke said in an interview. "I'm really proud of the company and proud of my role in the company. I want to be a governor who celebrates the successes in Wisconsin regardless of people's political leanings."
Add to all that Johnson's comments, and Walker is under increasing pressure to go in a different direction. He seems to be making a shift. His own Twitter feed has recently been focused more on comparing jobs added during his administration with those lost during the previous four years under Doyle. His campaign released a new ad Wednesday on the same topic, arguing that Burke would take the state backward while Walker will take it forward.
Even as her opponent appears to be easing up, Burke expressed some anxiety about the political impact of the outsourcing debate.
"Yeah, the messaging that's being sent is one that people are worried about, and they should be," she said. "We saw a lot of manufacturing jobs leave this country over the last couple of decades. My feeling is what we need to be doing is creating a more level playing field so Wisconsin manufacturers can better compete."
"But consumers don't always understand that they can't walk into a bike shop" where most of the bikes aren't produced in China, Burke said.
The Walker campaign's outsourcing ad ends with the woman closing the book and saying, "To be continued."
"You mean there's more?" the young boy asks her.
"So much more," the woman says.
After the backlash from the right, however, it seems less likely that will be the case.
Before You Go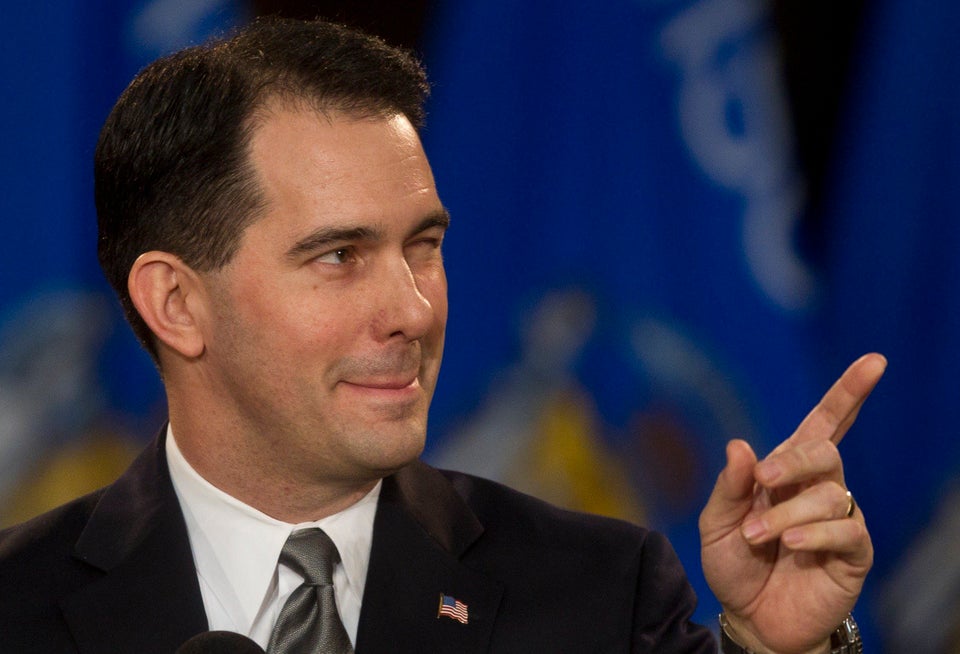 Scott Walker Pointing Fingers
Popular in the Community